Artwork Akwaglot, floating in the Singel canal, meant to be meeting point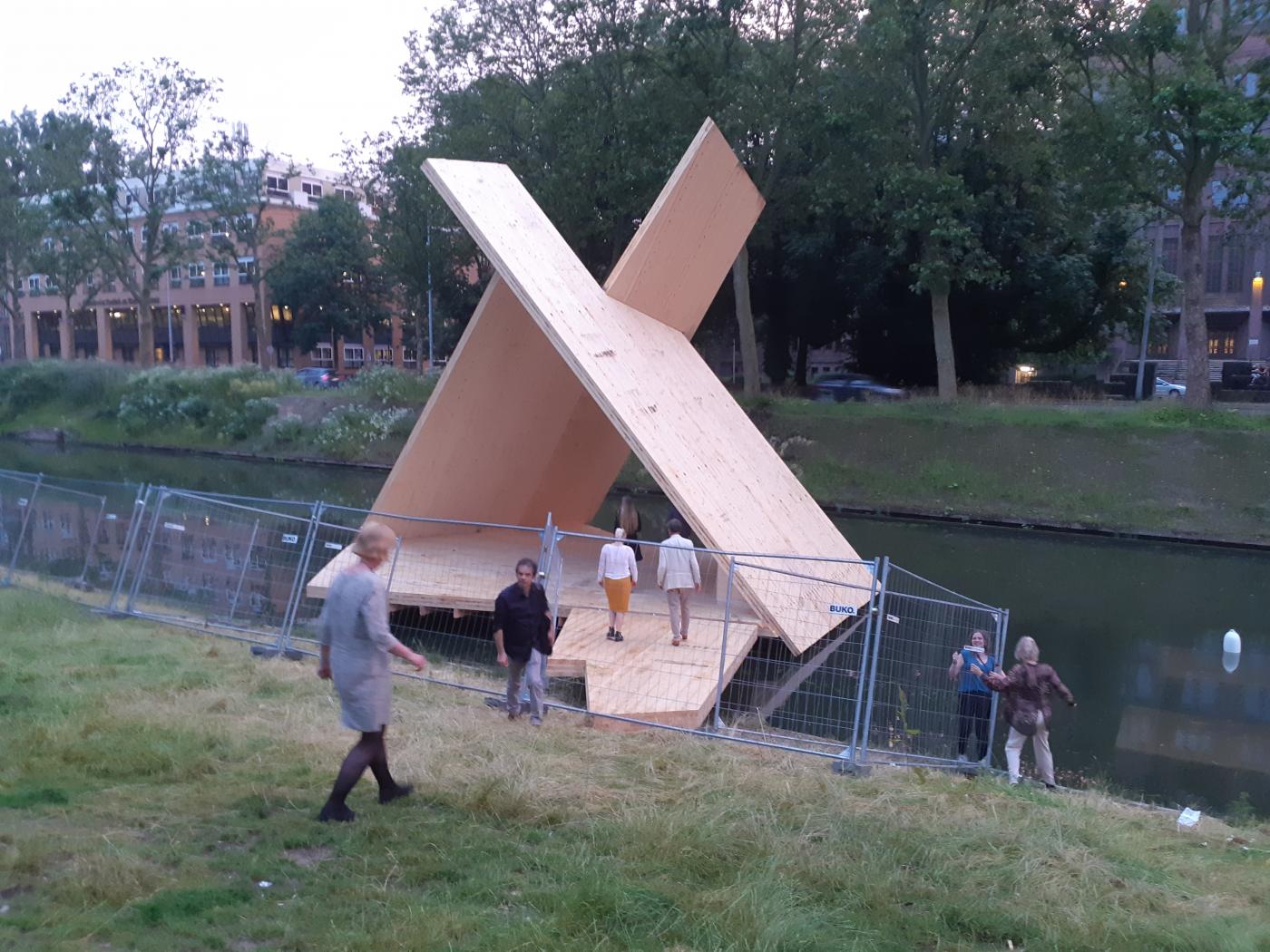 "We wanted to create something that brings people together," says Belgian artist Santiago de Waele. He and his Norwegian colleague Vibeke Jensen started building the art installation last Friday, June 25. It looks a little like a twisted tent made of wood, floating on the water. Jensen: "We came up with this construction by playing with origami, the art of folding paper. It's very open, yet sturdy."
De Waele is also the mastermind behind The Skyscraper – often called The Whale – which became really famous in Utrecht a few years ago. The Whale is currently on a world tour, whose last stop was New York. Rebecca van Musscher, Impact Manager at the Faculty of Law, was the one who brought the Whale to Utrecht. She also made sure the same team was commissioned for a special lustrum artwork.
Meeting point
A long time was spent trying to decide on a name. In the end, the artwork is called Akwaglot. "Akwa stands for water and Glot is Greek for tongue or language. It combines our vision for this artwork. A meeting place in the city, on the water", explains Jensen.
Akwaglot is meant to symbolise the lustrum's theme, 'Creating tomorrow together', according to a speech by rector Henk Kummeling. "For this lustrum, the university and the Utrecht Medical Centre want to show the city what these knowledge institutions do and what they can do for people. At the same time, we want to collect questions. What's on the minds of people in the city, and which questions would they like to see answered? Akwaglot could be a place where we start a dialogue with the city's residents."
Healthy urban living
The official launch of the artwork, however, did not take happen at the actual meeting place. Instead, it was held at the HKU music college at Mariaplaats. Technological issues made for a somewhat improvised evening. Through fits and starts, they explained the piece and showed a video of its construction. There was also a discussion about healthy urban living which served as an example of a dialogue with the city.
The evening's organisation was handled by the New Utrecht School, a collaboration between Utrecht University, UMC Utrecht, and HKU art school, which searches for interconnections between medicine and health. The three institutions attempt to find those connections in education, research, and public dialogues. UMCU President Margriet Schneider spoke with pride of the new Bachelor's in Healthcare, Health, and Society. It's an interdisciplinary track uniting the Medicine, Veterinary Medicine and Pharmacy programmes, which is scheduled to start in 2022 and will aim for a broad, interdisciplinary approach.
Comprehensive wellbeing
For this evening's dialogue, the dean of the Faculty of Law, Janneke Plantenga, spoke about wellbeing gaps in the city. She stated that the differences regarding 'undeserved income' – that is, the advantage you get through birth – are becoming bigger and bigger rather than smaller. UMCU professor Niek de Wit noted that the degree of healthy living environments varies per neighbourhood, and asked how to improve that. Deputy mayor Lot van Hooijdonk made a case for bicycles instead of cars. Daring to say goodbye to cars would strongly improve the health and happiness of the city's residents, she thinks.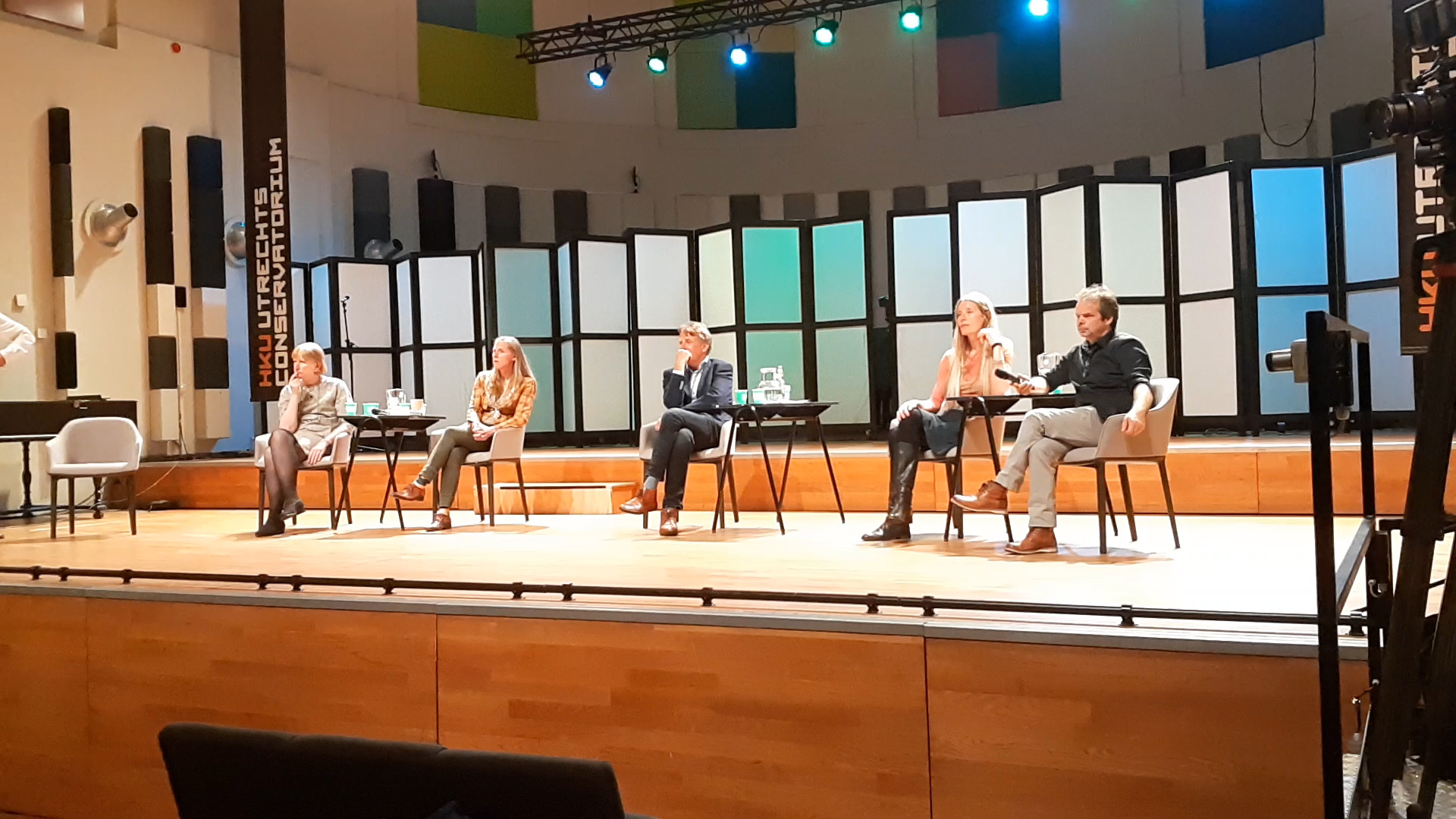 The panel, from left to right: Janneke Plantenga, Lot van Hooijdonk, Niek de Wit, Vineke Jensen, and Santiago de Waele 
Dance performance
Afterwards, the attendees proceeded to a walk towards the Akwaglot. Three young people had defied the fences that were still there and were drinking a beer together. "Nice place," they said. "Those fences have to be removed soon," replied Jensen. "Of course there's the risk that the artwork will be destroyed by vandals. But we want an open place, where everyone's free to walk in." Soon, Akwaglot will be the setting for several activities organised by the university. Other organisations are also welcome, however. Initiator Rebecca van Musscher: "The first request came from a dance group that wants to practice there. Sure, go ahead."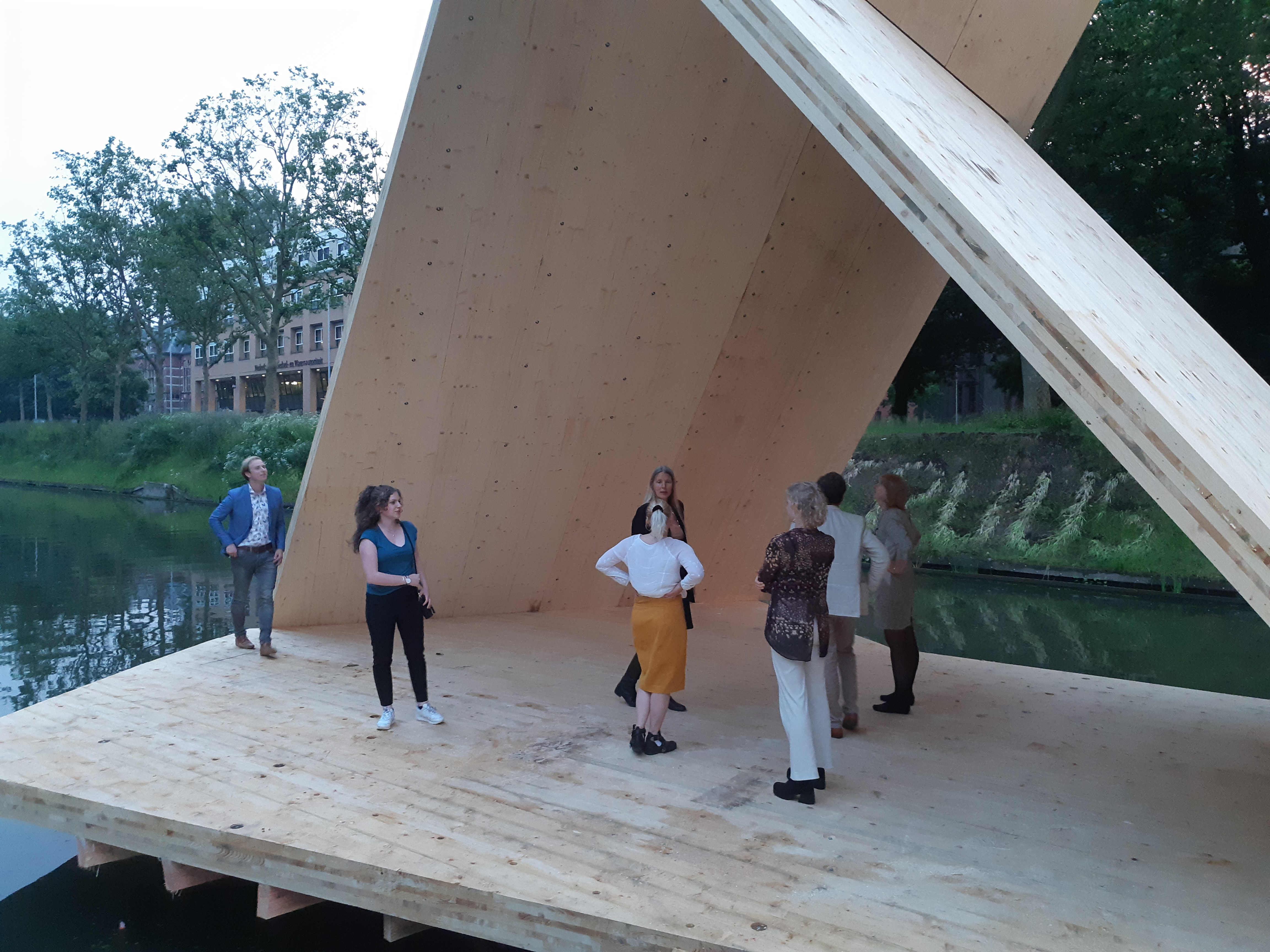 Advertisement