Audio city tour launched on International Women's Day celebrates diversity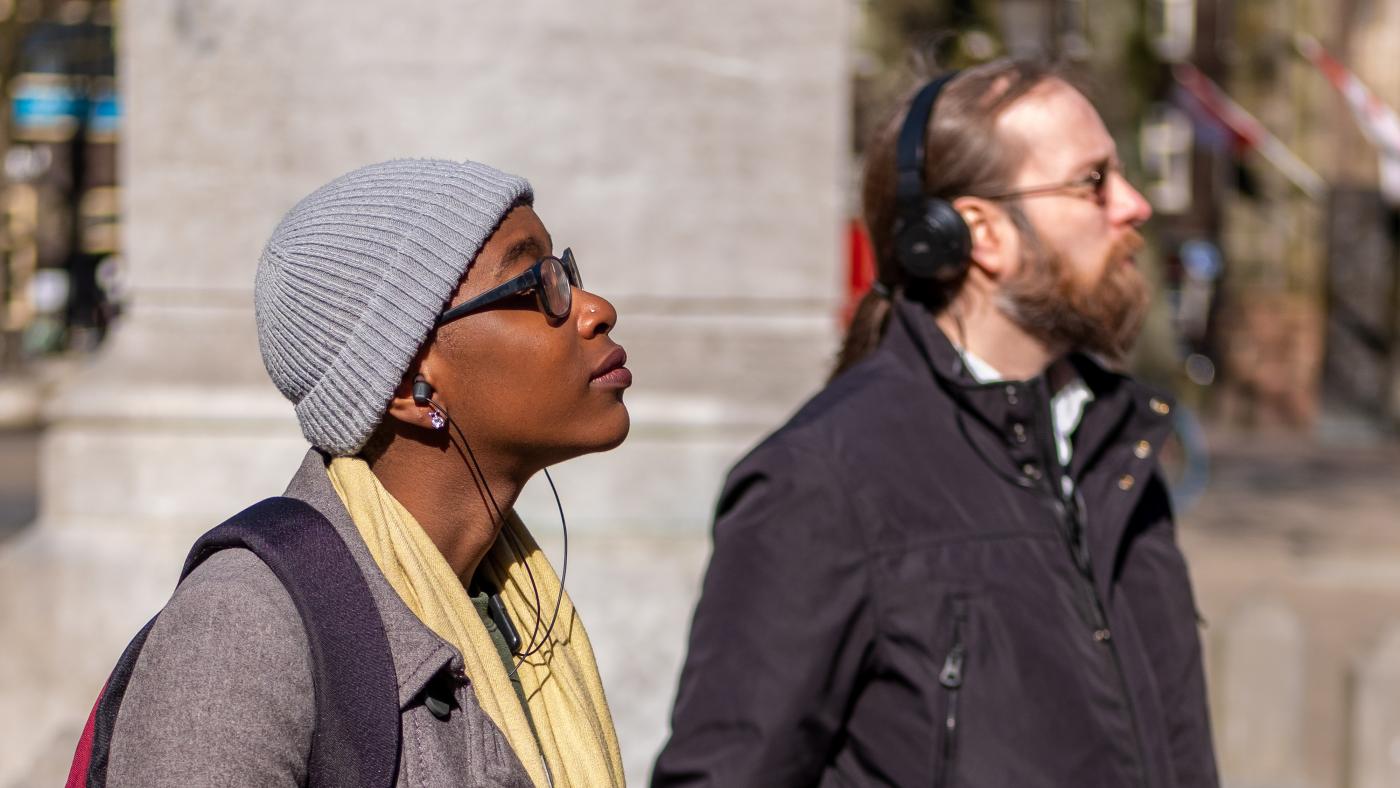 A group of guests attends the launch of the audio tour on March 8. Photo: Kees Gort, courtesy of UU
There was no gathering at the Academy Building to mark International Women's Day this year, but the university didn't let the date go by unnoticed. 
"Last year, we organised an online gathering. When we started talking about this year, we didn't yet know what would be allowed by March 8, but we knew one thing: we did not want to have another digital lecture. That's why we chose to celebrate this day differently", explains Rooks Wijnants, the communication officer who came up with an alternative alongside the Equality, Diversity and Inclusion programme. The solution was an audio city tour, in which participants would listen to six stories where women play the main role. Titled With Retroactive Force, the walking tour was launched last Tuesday at the square in front of the Academy Building. Wijnants: "This audio tour is not only about women, it rather focuses on emancipation and intersectionality".
Audio collective Horens was in charge of making podcasts about places in the city that are connected to remarkable women in History. You can either listen to the podcasts at home or go to the locations mentioned to see them for yourself. All episodes (except for one) are in Dutch, but you can download a transcript in English on their website. 
The first black woman to attend UU
The tour starts in front of the Academy Building with the story of Nadia Comvalius, the Medicine student who was the first black woman to attend university in Utrecht. Now 96 years old, Comvalius lives in the United States. She can no longer tell her own story, so her nieces Ernestine Comvalius and Pearl Pengel were invited to do it. They told the podcast that, right after the Second World War, a few people from Suriname were allowed to come study in the Netherlands. Nadia was one of them. Once she got here, she was flabbergasted at how little the Dutch knew about Suriname, while she had to learn about Dutch topography at school. She also told her nieces that she hated Sinterklaas because people would compare her to Black Pete (Zwarte Piet). After graduating, she left the Netherlands to work in the United States.
The next stop is Janskerkhof, where one hears about Utrecht in times of slavery and how that history can still be seen in the city. Many of the buildings in Janskerkhof square and Drift were built with money from the slave trade. Culture historian Nancy Jouwe, who has recently published a book about slavery in Utrecht, talks about her research and how hard it is to find correct information about that time. "The more you scratch out the varnish, the more visible it becomes", she says. To show how complex this history is, the researcher mentions Dutch writer Belle van Zuylen, who got famous for being a strong and engaged woman. However, she profited from the slave trade. "But that doesn't mean we should cancel her", notes Jouwe.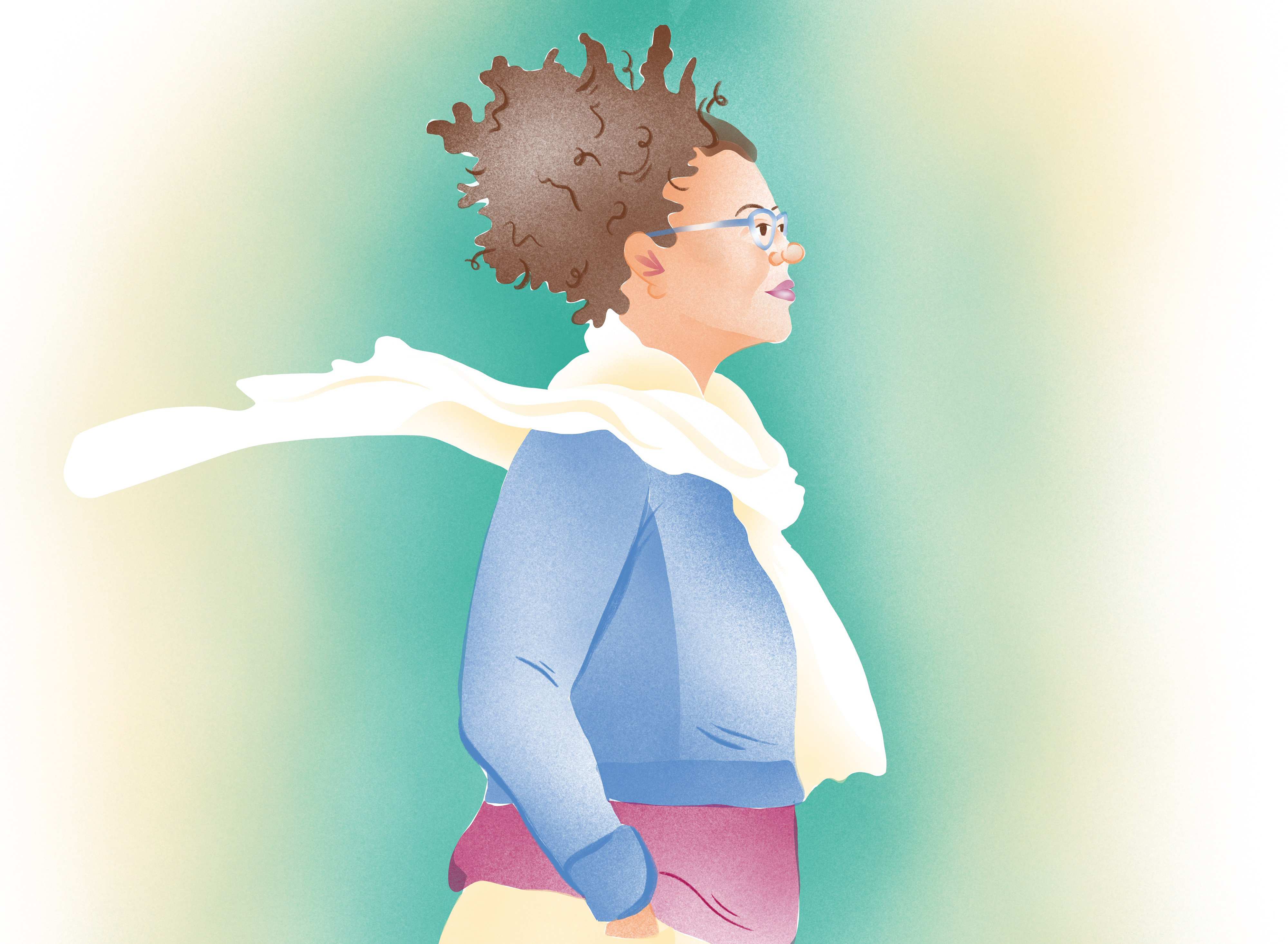 Illustrator Nanna de Jong made illustrations for each episode. Depicted: Nancy Jouwe.
Occupying the tracks
The following story, told by Eline Pollaert, combines feminism with the battle against ableism, which is the discrimination or lack of appreciation for people with a disability. "It's the world that disables me", she says. Her story begins at the Central Station, platform 11. In 1988, young people with disabilities occupied those tracks to demand accessible trains. "What an impactful image, a train that can not move forward because those young people stood in its way", describes Pollaert.
Pussy Riot at the Tivoli
The sole episode in English features Gender Studies Professor Rosi Braidotti, who talks about the relationship between feminism and pop music. One of the examples mentioned is Pussy Riot, the punk group that staged a protest against Putin in an Orthodox church in 2012. Braidotti managed to bring the group to Tivoli once they were released from prison (article in Dutch only).
Terrorism expert Beatrice de Graaf tells the story of Hortense de Beauharnais, the first queen of the Netherlands, wife of Lodewijk Napoleon. She lived part of her life in the building that now hosts the university library in the city centre. She hated Utrecht. Not so much because of the city, but because her husband pushed her aside when she started getting too popular.
Finally, Marischka Verbeek and Melle Schakel talk about the importance of Savannah Bay, the bookstore in Utrecht that started selling books by women only. Today, it also sells books about gender and sexuality.
The audio tour 
With Retroactive Force
 can be found on Utrecht University's website. The episodes are available on Spotify and Soundcloud. Each one of them is accompanied by a transcript in Dutch and another one in English, which can be downloaded on the website.