Campus columnist finalists describe campus life in Covid times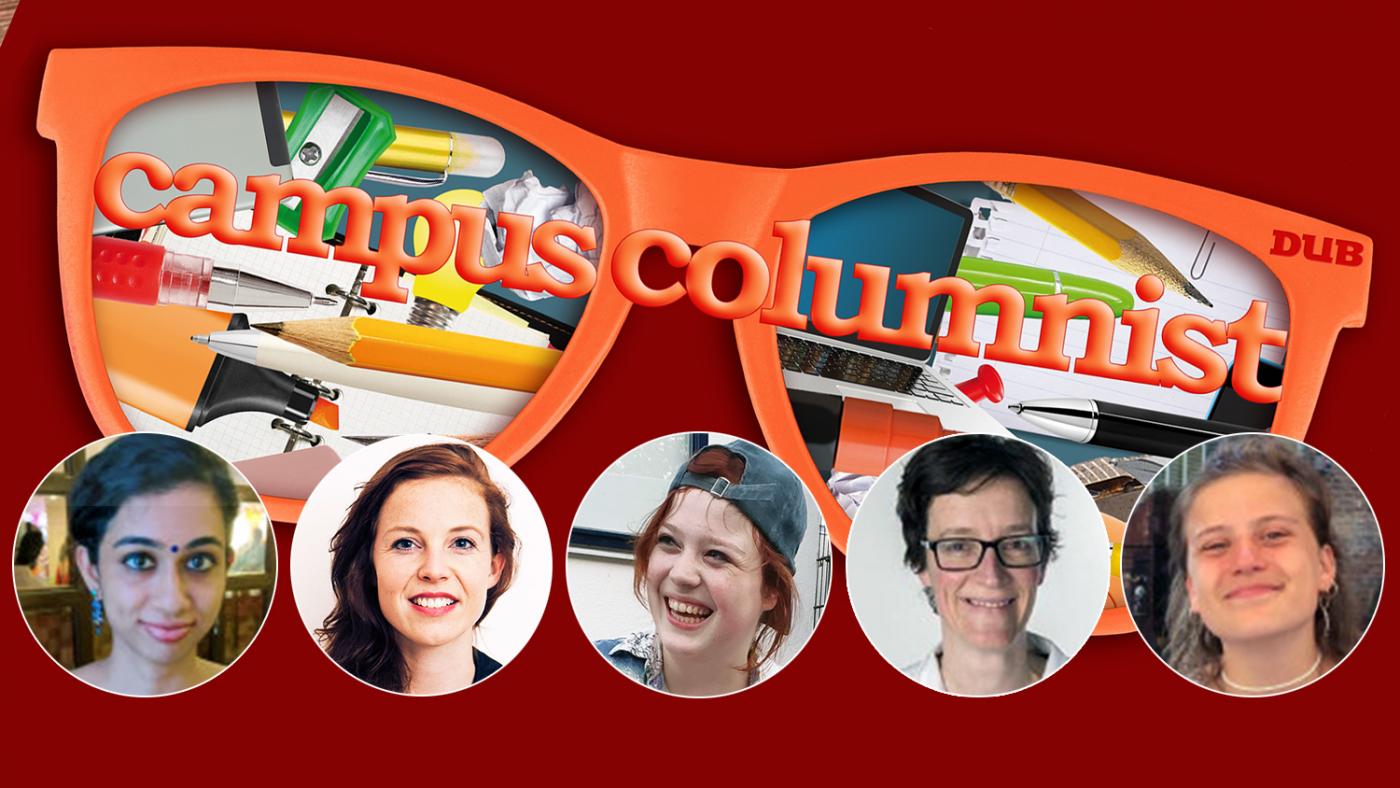 Chandni Shyam, Reineke Maschhaut, Robin Harsmolle, Leonie van Bruggen and Ida van Zwetselaar. Illustration: DUB
Although this year's competition didn't draw a record number of participants, the quality of the entries was high and the subject matters varied widely. The first entry was sent in right after the competition was announced on our website and was more of a cry for help than a column: a student with a rare muscular disease wrote about how she experiences life as a ticking time-bomb. She beautifully explained how hard it is for her to let people in, and how insecurity and fear of rejection cause her to be slow in admitting a crush. Even so, she chooses to keep on fighting.
Taken together, the entries provide an overview of what studying or working at the university feels like amidst a pandemic. Yes, once again Covid is the red thread connecting all the columns, even when they don't specifically talk about the virus. 
Today, it's time for DUB to reveal the finalists. Just like last year, the jury decided to pick two winners: one for the Dutch page and one for the English page. We've received fifteen entries in Dutch and five entries in English, which is why there are three finalists for the post of Dutch campus columnist and two nominees for the post of English campus columnist.
The winners will be announced on Tuesday, January 18, in an online ceremony. Each of the new campus columnists will receive the Erik Hardeman stipend of 1,000 euros and publish a biweekly column in 2022.
The English-language nominees
Despite having Dutch roots, the parents of second-year UCU student Ida van Zwetselaar (19) live near Mount Kilimanjaro in Tanzania. She was born in Utrecht, moved to Tanzania in 2012 and came back two years ago to attend university. In her column Oliebollenkraampjes, she writes about the say she went to buy oliebollen (Dutch doughnuts) with a friend and the saleswoman treated them unfairly because she'd ordered in English. The thing is: the saleswoman didn't know Ida could understand every single word she was saying about her. 
The second nominee is Chandni Shyam, a Master's student of Cultural Anthropology currently doing fieldwork on Covid vaccinations in India. In her column, My LDR with UU, she shows how difficult her relationship with the university became when the Netherlands got a little break from the pandemic last summer, while India's cases spiked.
The Dutch-language nominees
Robin Harsmolle (21) is the first nominee for the position of campus columnist for the Dutch website. She is a Bachelor's student of Language and Culture. "It's quite a broad program, so most of the time I just tell people that I study English literature with a pinch of Gender studies", she writes. Robin wants to become a writer and has done quite well in a few singing competitions. In her column, titled De dode man (The dead man), she vividly describes how she got to know what it's like to live in a big city when she cycled past the body of a deceased person.
The second nominee is Reineke Maschhaupt. She studied History with a minor in Journalism, after which she began working as a copywriter and interviewer. Since this past summer, she has been working as a communication officer at the Centre for Digital Humanities, part of the Faculty of Humanities. Her column, Post Apocalyps (Post-apocalypse), is a remarkable account of what it felt like to go back to work for the first time in months, after the first lockdowns had rendered the office empty.
Leonie van Bruggen is the eldest nominee. She obtained her degree in Veterinary Sciences twenty years ago and traveled the world working as a veterinarian. Now she has returned to Utrecht as a senior staff member at the Radiology department. She also teaches and tutors freshmen, in addition to conducting PhD research into forensic veterinary science. In her column, Je gaat het pas zien als je het door hebt (You'll only see it once you get it, a famous quote by the late Dutch footballer Johan Cruijff), she writes convincingly about what forensic veterinary science means.
The results
The jury consists of Floris van den Berg, who teaches Environmental Ethics at UU and is attached to the Copernicus Institute of Sustainable Development; Lisanne Sadelhoff, a columnist at the daily AD Utrechts Nieuwsblad, among other publications; Nina van der Bent, Master's student of Health Humanities; and DUB editor Ries Agterberg. All participants had to send in two entries. The jury members did not know who wrote which entry while evaluating them and choosing the three best entries for both categories.
The winners will be announced on Tuesday, January 18, at 3:00 pm, in an online ceremony. Do you want to watch it? Please sign up here. 
Advertisement