Change comes to University College Dining Hall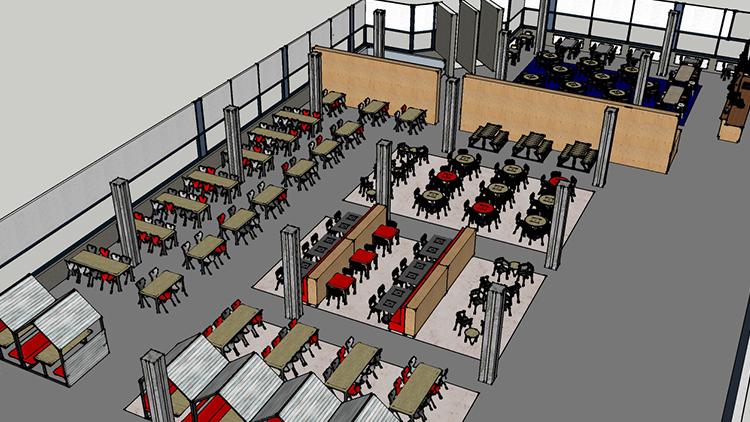 Artist impression of the new Dining Hall.
Twenty years ago, UCU was founded with the philosophy that those who study there, will live on campus and will eat their meals in the dining hall, together with all other students. Students pay a room and board fee for this service.
In the past few years, some food-related things have started to change. The cost for meals was lowered, because students didn't want to eat in Dining Hall every day, but want to go out sometimes, too. Next academic year, the college's dining plans will change drastically, and students will not have to pay a catering fee anymore.
"It's outdated to think all students will always come together in Dining Hall for breakfast, lunch and dinner," Bettina Nelemans, UCU's managing director, says. Therefore, starting next year, students can decide for themselves whether they'll eat in Dining Hall, or prepare their own meals in their dorms.
Last year, several dorms were outfitted with a proper kitchen; this summer, the final few will be renovated. Nelemans: "There were small kitchens in all dorms, but really, you couldn't do much more than fry an egg in those."
Dining Hall will get a make-over, too. At the moment, it's one room with a self-service restaurant. After the renovations, it will contain a self-service restaurant and a grand café, as well as booths and places to study, similar to those in the new Educatorium in the Uithof. "We're hoping students and employees will still come together for coffee, food, and studying."
The new Dining Hall will need to last for about five years. UCU hopes to plan large-scale renovations by then, for all offices and classrooms. Dining Hall would then be renovated, or perhaps even demolished. These plans have yet to be developed. "We're not sure when this will happen; we're waiting for the Strategic Real Estate Policy, in which the future housing of the entire university will be determined." The Strategic Real Estate Policy will be discussed during the University council's last meeting on June 26, 2017.