Chocolate coins and signatures for the government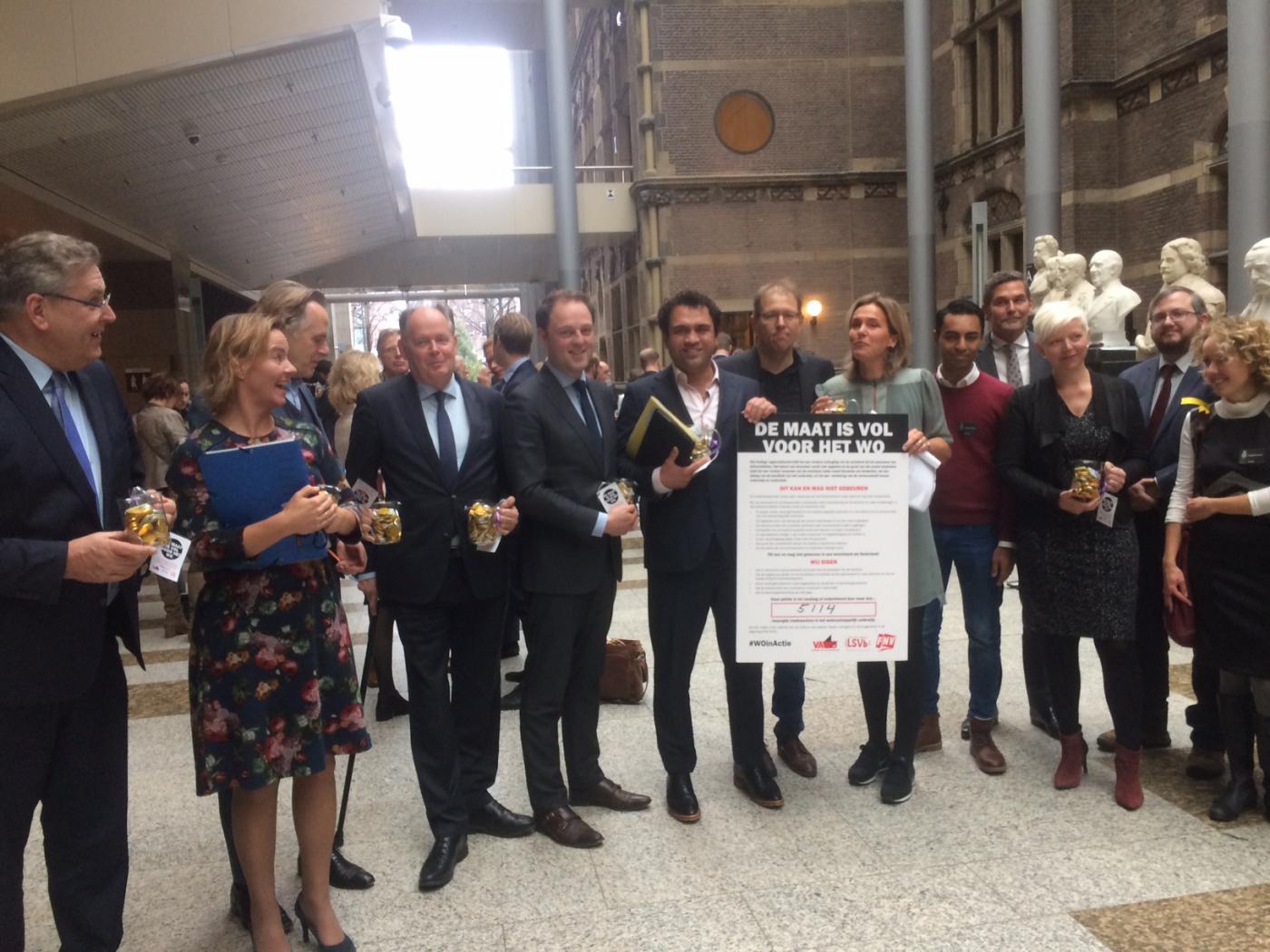 Both scientists and students are calling attention to their issues, because the Second Chamber is debating the new budget for education and science. It's the first budget of the new government: protesters are hoping everything's still possible now.
Scientists want more money, so the pressure they experience can be lowered. They suffer from physical and mental problems as a consequence of working so hard, even in the weekends and on vacation, according to UvA professor Rens Bod. He started a petition, which was signed over five thousand times.
Dutch Student Union LSVb is presenting a petition of their own. The initiative was started by Sara van Dinther, a sophomore studying to become a maths teacher at the University of Applied Sciences Rotterdam. Students say it's unfair that they've lost their study grants, but aren't getting the 50 % discount in college fees like the freshmen that will come after them. They've collected 64.000 signatures with their slogan '1000 euros discount on college fees, I want that too'.
Polite
The scientists are the first who get to deliver their petition. Next come the students. The audience consists of Chamber members of large and small parties. They're polite as the petitions are handed over. The timing is good, they say.
Rens Bod bombards them with shocking stories. Teachers sometimes confess with tears in their eyes that they don't have the time to properly read theses, they say. They give them a cursory glance, a quick skim, and then assign a grade. "We're shortchanging our students," he says.
The cutbacks proposed for education, an 'efficiency discount' of up to 183 million euros, is a thorn in his side, and needs to go. "You'd be winning so much goodwill," he attempts to clarify. The protesters give all Chamber members a symbolic measuring cup filled with chocolate coins.
Skeleton
Chamber member Harry van der Molen (CDA) understands the demands, but says there's the reality of the skeleton found in the closet of the Education ministry's budget. He's referring to the previous government, formed by VVD and PvdA. The parties had created serious setbacks in the Education ministry's budget, and as they were 'stepping down', were unable to fix it. The current government has assigned additional funds, but the rest of the gap needs to be filled by money coming from somewhere, anywhere.
That's exactly why Chamber member Frank Futselaar (SP) disapproves of the cutbacks. If you say education could be made more efficient, you also have to say how. "For all I care, they could say the wages need to be lowered, that some study programs need to be cut entirely, or that educational institutions can't visit China anymore."
The scientists are hopeful their actions will be successful; the students can't say whether their petition will have any effect. It would be rather extraordinary if the government decides to give all students a one-year 50% discount on their college fees.
The government is only hinting that they want to expand the 50% discount that's currently aimed at sophomore teacher education students ('Pabo', the study program training teachers for elementary schools) to sophomores of all teacher training study programs. We'll have to wait and see.
Math
Sara van Dinther handed over the petition herself. No, she doesn't have political ambitions, the math student says. She just heard the news and thought it was unfair. "I didn't even know what a petition was. My parents had to explain it to me." But she can always return to politics, she thinks. "D66 member Paul van Meenen just told me he'd been a math teacher too, until recently."
PVV member Harm Beertema is also present. He quips to a journalist: "You know what the weird thing is? These students will just keep voting for the same parties. They'll get exactly what they voted for."
Futselaar (SP) may well think the same, but he says: "Students don't vote exclusively based on their wallets." His party thought study financing needed to stay. "Still, students didn't massively vote for us. They have other concerns, too. They're worried about the climate, world peace, the economy. Study grants for students is, apparently, not the most pivotal issue."
Talks
Tomorrow, the Chamber will talk about the budget for education and research. Then we'll know how much room there is for negotiation, and what the minister can pull out of her hat to calm the angry scientists and students.