Construction of Platolaan-Padualaan bike path delayed and much more expensive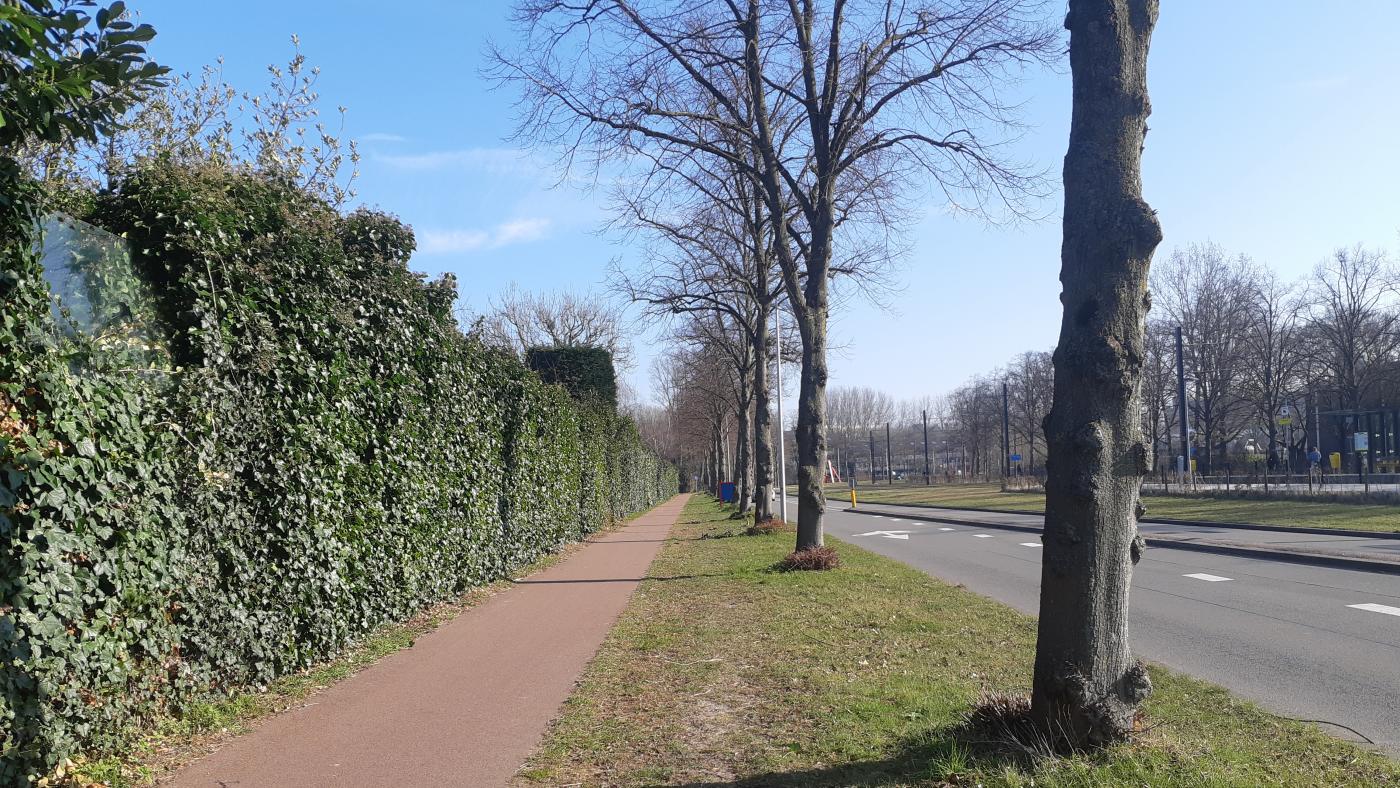 The bike path going from Platolaan to Padualaan is going to be renovated. Photo: DUB
With the new bike path, the Municipality of Utrecht aims to relieve the busy crossroads between Sorbonnelaan avenue and Weg tot de Wetenschap avenue. Cyclists coming from the city centre must now cross the road to reach the Utrecht Science Park. Tram line 22 also goes through there, which makes the crossroad even more dangerous. 
The municipality envisages widening the northbound bike path from Weg tot de Wetenschap, redesigning the junction with Sorbonnelaan, and creating a bike path on the old Padualaan bus lane, with a route for emergency services.
Preserving the trees
The new path to increase accessibility to the Utrecht Science Park was the topic of much discussion. Previously, the municipality suggested creating a path via Cicerolaan avenue, which would pass through the Rijnsweerd neighbourhood. However, residents of that area opposed the plan, fearing nuisance. Initially, the municipality saw little point in widening the cycle path on the north side at first, since the trees along the way would have to be felled, but now it has come with an alternative to widen the bike lane and preserve the trees at the same time.
The trees will be dug out and replanted somewhere else. Partly because of this decision, the initial budget of 1.3 million euros proved insufficient. In a letter to the municipality, councillor Lot van Hooijdonk writes that the costs will rise to 2 million euros.
Delayed planning
Adil Lachhab, chair of student organisation Vidius, is satisfied with the solution. "The concerns expressed by the neighbours are understandable. Now that we are welcoming more and more students to the Utrecht Science Park, traffic is bound to increase in that area. The alternative bike lane seems important to me, with regard to safety and better accessibility to the Utrecht Science Park."
The municipality intended to start the construction works this month already, but that proved to be impossible. So, they have decided that the city council will make a final decision on the design in the autumn. Only then the construction works may begin.
Advertisement