Corona hardship dominates submissions for Campus Columnist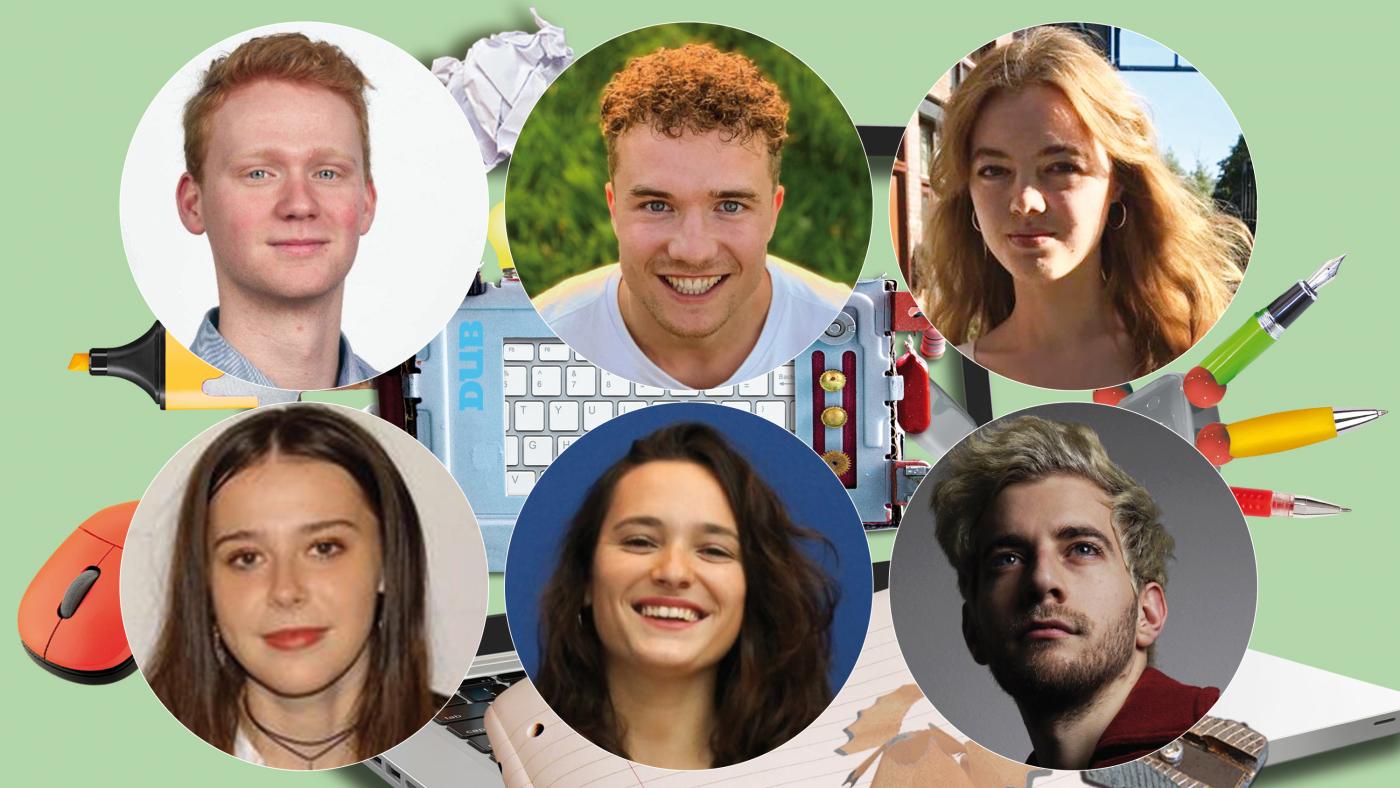 illustration: DUB
Most of the entries were submitted by students, who found inspiration for their columns in their forced stay at home. Only six of the 42 participants are UU employees. In total, nine people sent their columns in English -- a record. One international student even submitted his column in two languages. The theme? 'International students should learn Dutch'.
Today, DUB will be publishing the best column of each finalist (they all sent two). Last year, the jury chose two winners from three finalists -- one who wrote in English and one who wrote in Dutch. Because the number of entries was so high this year, and we've received a record number of international submissions, the jury decided to once again choose two winners instead of one. That's why there are three international finalists as well. All finalists are students.
The winners will be announced on Tuesday, January 19, in an online meeting. Both winners will receive the Erik Hardeman stipend worth 1,000 euros, and will publish biweekly columns on DUB in 2021.
The nominees for English columnist
This year, three columns in English were selected as finalists, of which two were inspired by the pandemic. Take Hungarian student Lili Szarvas, for example. The second-year student of Media and Culture submitted the column "Where is home in a pandemic", reflecting on what to do when you're an international student and you find yourself in the midst of a pandemic: staying in the Netherlands or returning to your home country?
The second nominee is Susanna Potestio (21). She's from an Italian-Australian family, and moved to the United States at the age of 16. Here in the Netherlands, she did a Bachelor's in International Relations in Leiden, and is now pursuing a Master's in Sustainable Development in Utrecht. In her column "Lockdown Characters", she describes the different ways students are coping with the lockdown.
The third and last international finalist is Silvio Ruberto (26), a student who grew up in Sicily. He came to the Netherlands in 2016 as part of his Chinese studies in Bologna, to write a thesis about Henk Sneevliet, the communist who helped shape the revolution in China on behalf of the international communist movement Comintern. Now, he's doing a second Bachelor in History in Utrecht. In his column "Fashion and Segregation in Utrecht", he analyses the clothes worn by Utrecht's young people, especially those in Overvecht, where he lives.
The nominees for Dutch columnist
Kees van de Sanden (22) is the first finalist in the Dutch category. He's a Biology student, and has spent his college years on the board of the Utrecht Biology Association, among other activities. Since September, he's the editor-in-chief of the department magazine The BioScope, for which he's written satirical food reviews over the past few years. In his column "Bird Politics" (in Dutch: Vogelpolitiek), he describes a colony of jackdaws who like to stay in the small square near the black library building. He observes that their corona related crisis is remarkably similar to university politics.
The second nominee is Sam de Weerd (27). He graduated from the Bachelor's in Environment and Nature Sciences, and is now doing his Master's in Energy Science.  Apart from sustainability, Sam is also passionate about writing. He's completed a Master's in Creative Writing at the University of Gloucestershire, for example, when he was there on exchange. His column "I will not betray you" (in Dutch: Ik zal jullie niet verraden) provides a different, intriguing view of the coronavirus.
Sophie Hudson (19) is the youngest nominee. She's a freshman at University College Utrecht, majoring in Philosophy and Politics. Her column "The Chicken" (in Dutch: De kip) is a hilarious story of a housemate and a piece of frozen discount chicken breast.
The results
This year's jury consists of poet and professor of Modern Literature, Geert Buelens; Rosa Falkenburg, project leader at Parnassos; Winnie Henderson, Master's student of Toxicology & Environmental Health; and Ries Agterberg, DUB's editor-in-chief. All participants had to submit two columns, which were presented to the jury anonymized. The best entries were then selected. They will be published on DUB today. The winners will be announced on January 19.
Would you like to witness the announcement of the Campus Columnist 2021? The online meeting will take place on Tuesday 19 January at 14.00 on Teams.  You can
sign up
here.