Dutch universities continue to grow thanks to international students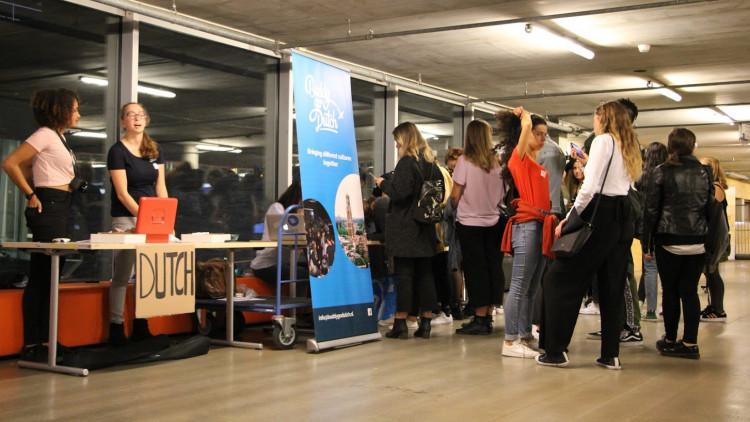 Photo: DUB
Dutch universities have announced their official head counts earlier this week (statement in Dutch only). The announcement was made with a clear intention in mind: urging politicians to give them more options to control the influx of international students.
For years, Dutch universities have been complaining that the workload has become excessive, partly because of the number of students they have been attracting. One of the reasons behind the continuous growth is that many educational programmes are taught in English, causing more and more foreign students to come to the Netherlands. The influx of internationals has further implications, such as rendering lecture halls busy and forcing programmes with a fixed amount of students to choose to admit internationals over Dutch students.
This week, the House of Representatives is going to debate the question of internationalisation in higher education. The universities would like to retain the good elements of internationalisation, they say in a press release, while limiting the number of international students in certain study programmes.
Wish
Their wish is to set a maximum number of admissions for the English-language version of their most popular study programmes. In practice, that would mean universities would only be allowed to admit a certain number of international students, while Dutch students would be able to take on the Dutch-language variant without hindrance. A bill that would make this possible has been submitted for Senate approval but is now on the back burner because of the change of government.
Universities also wish to be able to allow study programmes to establish a maximum number of students from countries outside Europe. Applicants from Germany, Belgium and Switzerland, for example, would be handled differently from those from China, India or Brazil.
Furthermore, the universities would like to have an 'emergency stop button' if the demand for a certain study programme grows unexpectedly. Currently, this is not permitted by law. Programmes must inform in advance whether they have a limit to the number of admissions.
First-year students
Dutch universities got a wave of freshmen in 2020 because of the pandemic. Since final high school exams were cancelled, more students graduated, and a gap year made little sense. In 2021, there were fewer first-year students but it was still more than in 2019, the year before the coronavirus crisis began.
Three universities are an exception, as they saw a rise in the number of first-year Bachelor's programme students. They are the University of Amsterdam (UvA), Erasmus University Rotterdam and the University of Twente. The sharpest fall in new admissions occurred in Utrecht, Nijmegen, Eindhoven and Wageningen.
At UU, the number of first-year students this year was 6,441, which is considerably less than in 2020, when there were 7,099 newcomers. Even so, the number of freshmen is still much higher than in 2019, when UU attracted 5,746 new students.
In December, UU's Executive Board sounded the alarm about a 15-per cent growth in the total number of students, in an interview with DUB. As a result, it is now necessary to introduce more evening lectures. Although the percentage of international students in Utrecht is relatively low, the board is concerned about the rapid increase.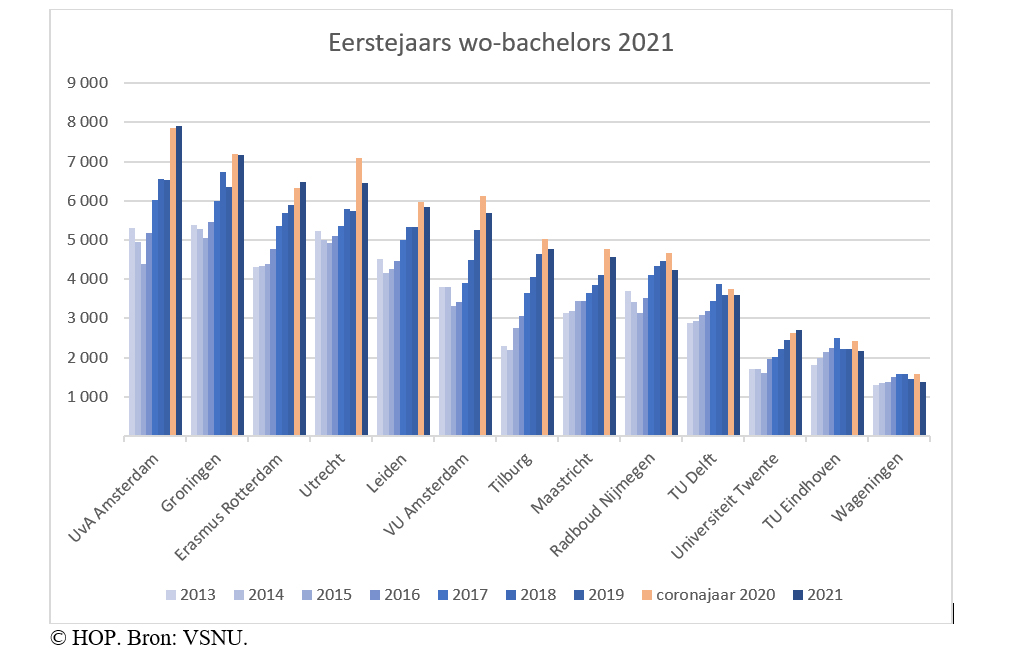 Number of first-year students per Dutch university in 2021. Source: Universities of the Netherlands, courtesy of HOP.
Advertisement