Education in empty theatres, cinemas, and office buildings is not yet happening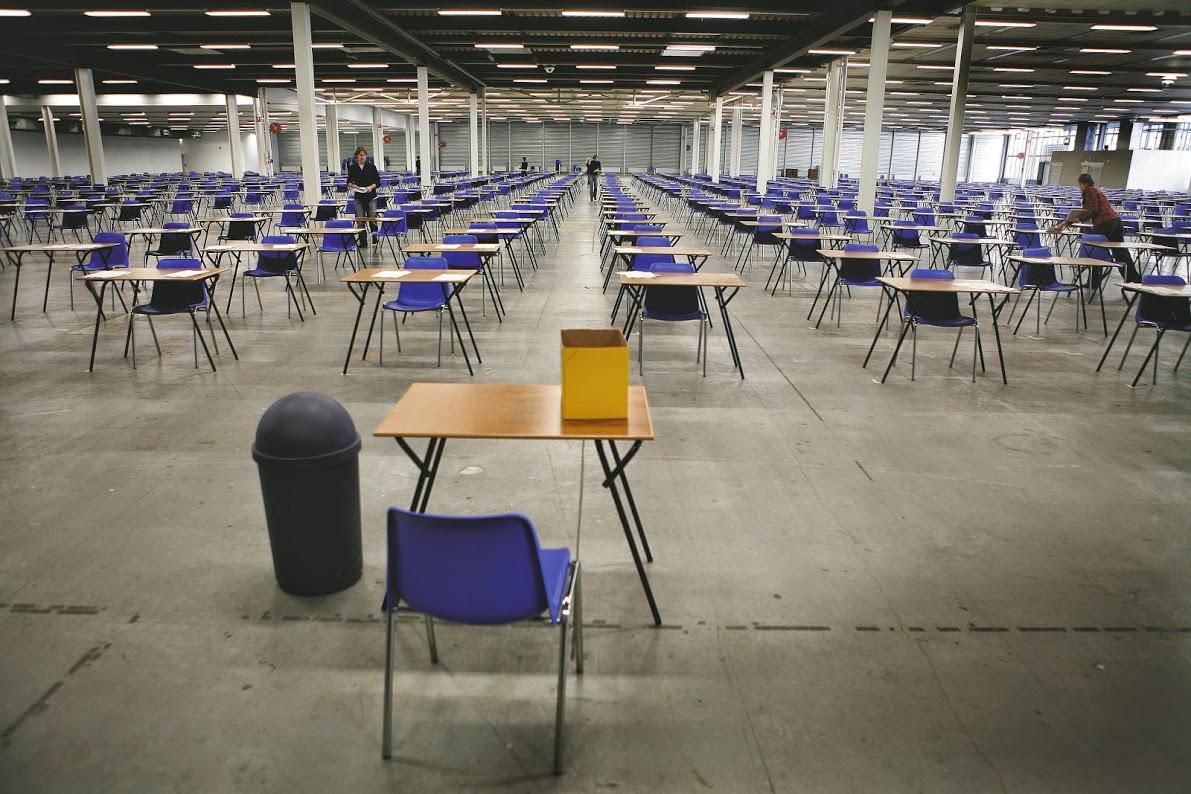 UU: in block 1, there will be exams in Jaarbeurs and Olympos, but there will be no education outside our own buildings. Photo Maarten Hartman / DUB
In the corona era, colleges and universities claim to give between 20 and 40 percent of their classes on campus. Now that everyone has to keep a distance of a metre and a half from each other, the rule, full is full, soon applies.
Protest
The national student organisations ISO and LSVb want institutions to do their best to arrange external educational locations. In Amsterdam, students are going to protest on the 2nd of October: they want the cabinet to come up with extra money.
Before the summer, Minister Van Engelshoven promised (in Dutch, ed.) to encourage higher education to "be creative with educational locations". In a recent interview with students of participation councils in higher professional education (SOM) and universities (LOF) she said (in Dutch, ed.) that she is still busy with this.
The Utrecht criminal law master's student Ama Boahene is one of the organisers of the student protest 'We want to go to school'. She notices that many UU students are currently mainly studying at home, without much contact with fellow students and without a good study place to concentrate. She hopes that the University and the teachers will support the call for more money for education in theatres, cinemas, and empty offices.
 "I can imagine that for a university this is very difficult and causes a lot of hassle. But I hope that more can be done regarding scheduling and that the Cabinet will provide the means to do so. So far, universities have received nothing for that. Students and universities must act as allies in this."
Amsterdamse Bos
There are already nice examples to mention. Master's students of the Vrije Universiteit are given a seminar at the Goat Farm in the Amsterdamse Bos, reports a spokesperson. Students from Utrechts University of Applied Sciences received a lecture in the Galgenwaard soccer stadium, and Radboud University teaches in the municipal theatre. But there is a price attached to renting those places.
"Soon we will have a graduation ceremony from a university of applied sciences," says Claudius Kuiper of pop music venue De Melkweg in Amsterdam. "Our largest auditorium normally seats 1,500 people. Now there are 75."
The costs? "That depends on whether, for example, you also need sound and tech, and perhaps one or two more people to guide visitors in the right direction. But for about 750 to 1,000 euros you'll get quite a lot, excluding VAT."
Soccer stadium
For an entire semester of lectures and seminars, institutions will have to dig deeper into their pockets. In the new national budget, the cabinet will not reserve (in Dutch, ed.) an extra penny for this.
Despite this, the University of Twente – who is among the highest percentage with 40 percent on-campus education - will rent soccer stadium De Grolsch Veste this month for a major mathematics exam. But that's a one-off, stresses press officer Laurens van der Velde. "Fortunately, we are now able to facilitate the majority of our labs, lectures, and project groups on campus."
Utrecht University's starting point is that as much education as possible takes place in its own buildings, says Miranda van Heesch, who is responsible for coordinating the timetables for the education of the faculties of Science, Social Sciences, and Geosciences. The three faculties have not hired any other locations so far. However, exams will take place at the Olympos sports centre and the Jaarbeurs due to a shortage of capacity. 
For the scheduling for block 1, the University based its scheduling on the agreements it had made at that time with government agencies and companies, and organisations in the Utrecht Science Park, says Van Heesch. "This meant that the University buildings could be occupied for a maximum of 30 percent. The faculties were able to indicate which education and which classes they would like to offer on location for certain, and that it would all fit within our own buildings. Had it not been for this, we would not have hesitated to look further."
According to Van Heesch, if the University decided to offer more 'physical' education in subsequent blocks, and its own space would be insufficient for this, education in other buildings could be considered. "However," she nuances, "such a location should also be suitable for teaching in this corona era. Experience shows that this involves more than just placing tables and chairs. And furthermore, the costs should be considered."
Ten theatres
Avans University of Applied Sciences investigates whether it is possible to rent external space for creative work and group assignments. "We have an empty garage in mind for this purpose," says Paul Rüpp, Chairman of the Executive Board. "We are also looking at whether it would be desirable to do more exams at the end of October at external locations, for example in the Brabanthallen. But you can't regularly rent ten theatres. "Financially that is impossible," he says.
Hiring spaces for exams or graduation ceremonies is also expensive, but according to Rüpp it is still possible. "Other costs have been cut over the past six months: many management conferences and team development days were cancelled."
Avans also critically examines whether the space available is being used optimally. "Sometimes classrooms are booked for education, but then no one is actually present" says Rüpp. "This happened before the corona crisis, but we are paying even more attention to that now."
Last Thursday, DUB already reported that empty lecture halls are also paid attention to in Utrecht.
Timing
Executive Chairman Ron Bormans of Rotterdam University of Applied Sciences wonders in his two-weekly blog whether the plea for more physical education is properly timed. As long as the number of infections increases, the metre and a half rule remains in force.
"Moving to other buildings will only help to a limited extent," he writes. "The costs force us to be cautious, but especially the health of our people. They walk on their toes and give a lot / everything / too much to offer that combination of online and physical education."
Good solution
The lessors themselves are open to it at least. The Maastricht conference centre MECC is currently talking with the university about additional study places. Corporate events manager Simon Bozon hasn't heard anything about lectures or seminars yet. "But if that is necessary, we want to step in, of course."
He can't mention a specific price. "That really depends on the type of arrangement. But the events industry is being hit hard, and our relationship with the educational institutions is so good that we would never let this fail on the price."
Manager Stefan Römgens of the Maassilo in Rotterdam is also enthusiastic. "At the moment, there is no contact with the university or the university of applied sciences, but we are of course open to it. The halls are largely empty, so this would be a nice solution for everyone."
He expects that talks about the rent would be "reasonable". "Of course, we can't offer it for free, but probably not for the price we normally charge for a commercial event either."