Faculty of Science concerned about parcel delivery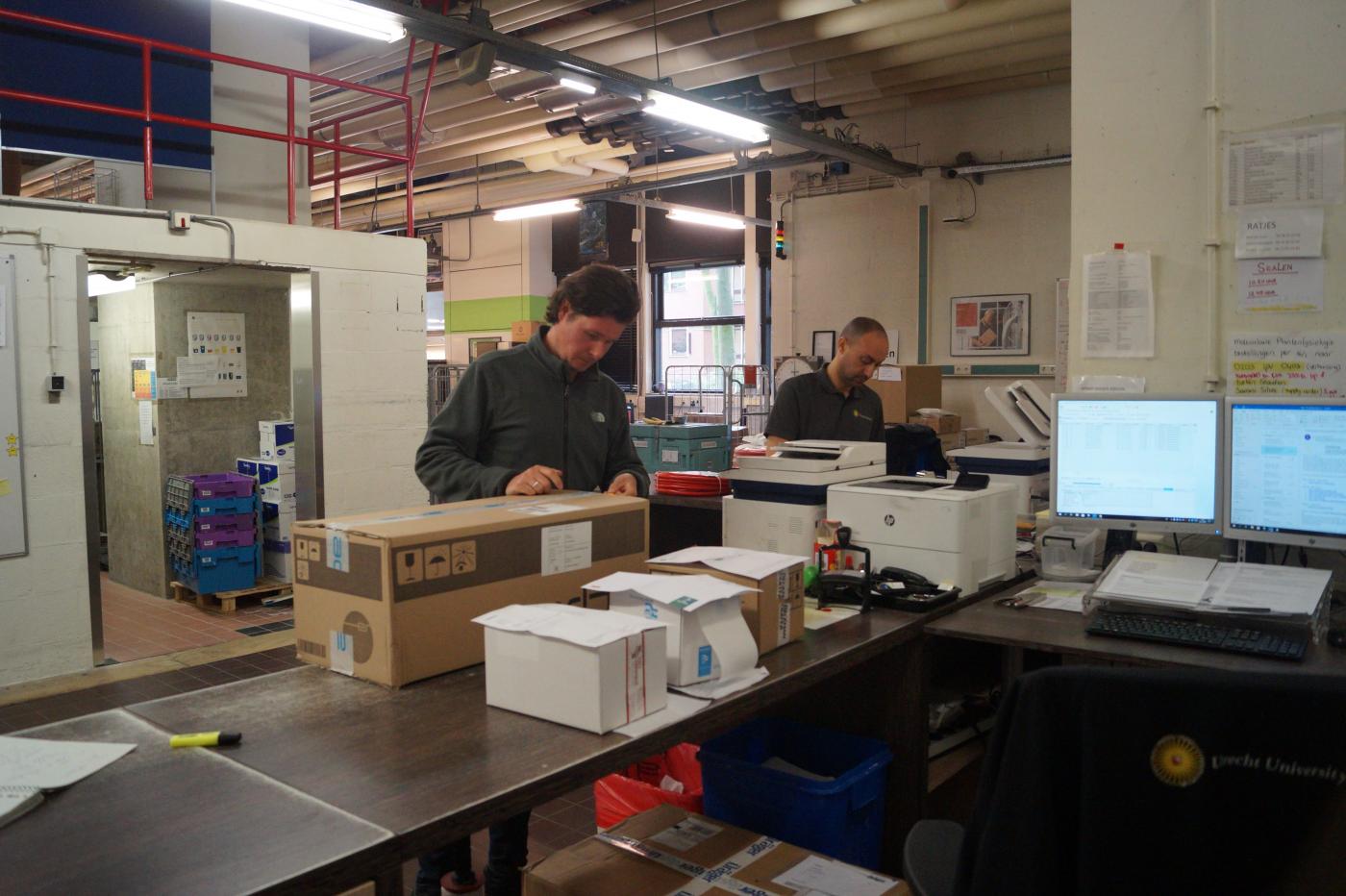 Photo: DUB
Earlier this month, the university announced that the mailroom and the central goods delivery point will be moving out of the Kruyt building. If all goes according to plan, all postal items, parcels and orders for UU employees will be delivered to Winthontlaan 30c*, in Kanaleneiland, as of May 9. UU's logistics department will then see to it that all mail is delivered to the right university buildings.
The relocation should reduce freight traffic in the Utrecht Science Park and the car fleet more environmentally friendly. The combination of the university's mail delivery service with that of other companies and organisations should make the transport of goods in the Eastern part of Utrecht more efficient, and therefore, more sustainable.
Six months of parallel work
These are great ambitions, which the council members and board members of the Faculty of Science fully endorse. However, they have also identified a few problems, as became clear last week during a Faculty Council meeting.
For example, some of the people present pointed out that the transition is being carried out despite the fact that some of the necessary arrangements have not yet been made. The communication toward employees concerning the transition has also been faulty as of yet.
Transition manager Birgit Hendriks, who the university has put in charge of relocating the warehouse to Kanaleneiland, was also invited to the meeting to give an explanation. According to her, the university understands that it is not possible to effect a smooth transition right away, which is why two logistics employees will continue to work in the Kruyt warehouse for at least another six months, in parallel with their colleagues at the new location.
Frozen samples
The faculty's council and board members are less concerned about the regular orders that run through the university's SAP system. Their suppliers will soon realise that they will have to deliver the goods to Kanaleneiland from now on.
The biggest concern lies with the postal items and parcels that are frequently sent from abroad by other universities and researchers to individual UU staff members. At present, these items are still collected in the Kruyt building. From there, they are forwarded to the postal collection points in the science buildings, but many employees are also aware that they can pick up parcels themselves at the central goods delivery point.
Council member Suzanne Ruijtenberg repeated her concern about the delivery of sensitive materials, such as frozen samples. She had already drawn attention to this issue in previous meetings and in a report by DUB. This time, she was backed by the Faculty Board.
Hendriks stressed that there is no reason to assume that the new working method will lead to major delays or other problems. However, she also acknowledged that the relocation will affect employees of the Faculty of Science more than those employed at other faculties.
This is because science staff currently enjoy the luxury of having the goods delivery point nearby, in one of their own buildings, which makes it easier for them to pick up or drop off a parcel themselves. "For the other faculties, very little will change. That's why this is the only Faculty Council meeting I'm attending to shed more light on the matter."
Communication concerns
According to Hendriks, it is very important that individual employees clearly indicate the delivery address for their parcels. The communication department is now considering whether it is appropriate to add a "parcel address" to the e-mail signature template. In addition, employees will be encouraged to keep the addresses on their personal profile pages up to date.
Director Klaas Druijf fears that this will cause problems. Many employees already use two addresses: one for their workplace and one where the university postal service delivers letters and parcels. These are often not in the same building. Do they really have to add a third address?
He also doubts whether all staff members will be aware of what is expected of them now. "How are all the young scientists and international employees supposed to know this? I don't think they're going to check the intranet to see what address they're supposed to use. What's more, communication on this matter seems to have started very late.
According to Hendriks, it was not possible to start informing people about the relocation earlier because there simply was no location yet, and therefore, no address. "Finding a place that met all our requirements was the biggest task for me." She reiterated that there will be a transition period to deal with any problems that may arise.
Although she expressed understanding of the concerns, Hendriks thinks the relocation provides a great opportunity to make UU more sustainable. "I can help with that", Hendriks said, "but I can't do it alone; this is something we will all have to do together."
*In an earlier report by DUB, a different number was mentioned. However, the situation has changed since then.