Departing Managing Director Leon van de Zande:
'Find a new name for the support staff'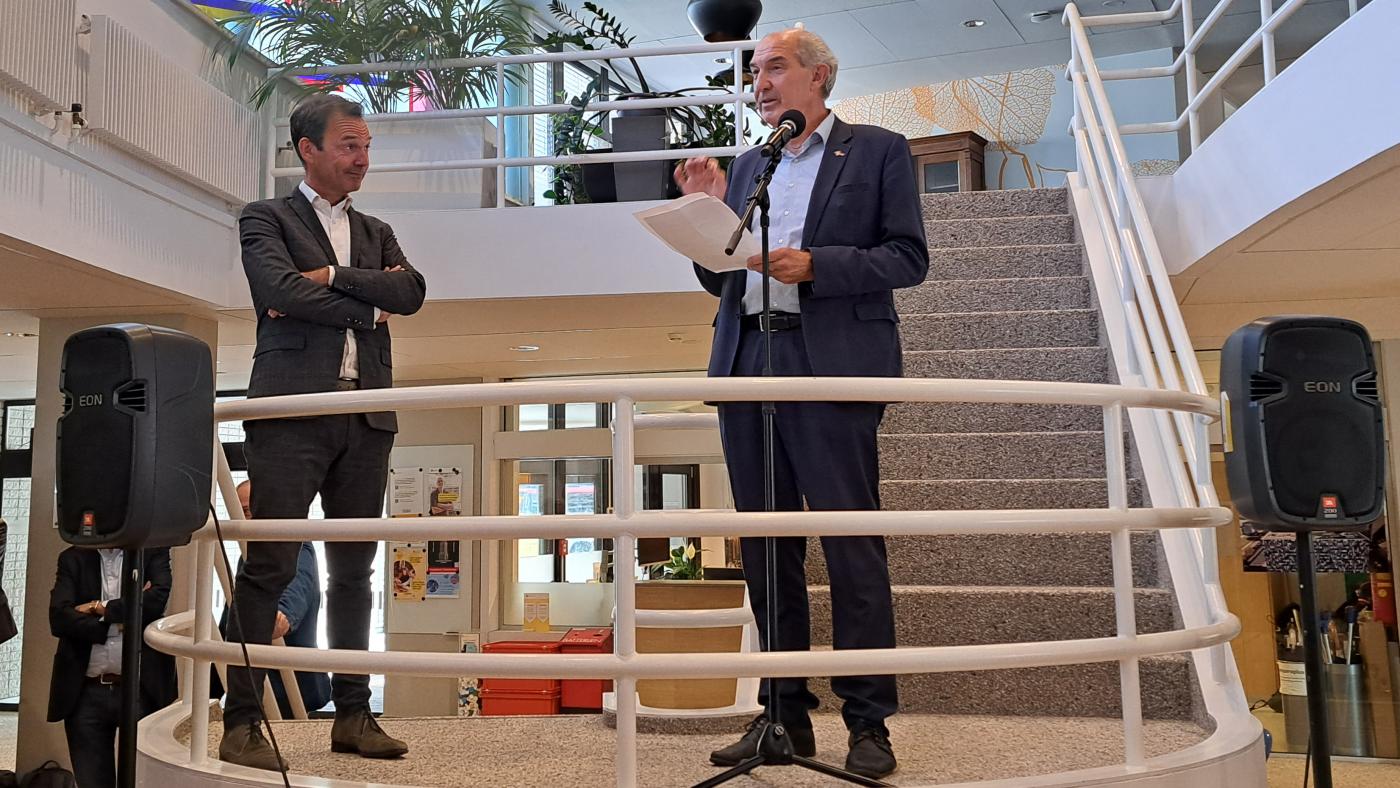 UU President Anton Pijpers giving a speech upon Leon van de Zande's departure. Photo: DUB
The Administration building was full last Monday, September 19, afternoon. Not only the deans, directors and former board members came to say goodbye to Leon van de Zande, but also his former colleagues from the Dutch programme and the department of Academic Affairs, where he served as a director for many years.
This spring, the managing director announced he would be leaving the university. He's switching to the University of Amsterdam, where is going to take a position as Advisor of Governance & Strategy. "We regret to see you make this decision," said UU president Anton Pijpers in his speech. Van de Zande contributed to two of the university's strategic plans, in addition to leading the Corporate Office and the faculty directors. He was the first advisor to the Executive Board.
In his farewell event, Van de Zande was praised for the attention he pays to people. "When he talks to you, he's really there," Pijpers reminisced. Directors could always find a listening ear in Van de Zande to discuss their issues, said Martine Verbeek, director of the Faculty of Law. She called it a gift that he managed to get so many egos with so many strong opinions on the same page. "He could be critical about the input from the University Council but he was always constructive," said University Council president Harmen Binnema. The accusation he'd heard in the council – that Van de Zande put the interests of the Executive Board above those of the university – was patently untrue, he said.
Van de Zande himself said that after 25 years, it was time to go elsewhere. The final months of his contract were filled with fierce discussions about the continuing existence of the Corporate Office. The position of managing director was to be dissolved entirely and, instead, there was to be a Secretary to the University. Pijpers publicly stated several times that he would have liked to have Van de Zande in that position – a statement he repeated at the latter's farewell event.
In his speech, Van de Zande made a warm plea for the university's support staff, who he says are often dismissed as 'overhead' or as a group that's by definition too large because they don't have any core tasks. He disagrees. "Especially during the Covid lockdowns, it became clear how essential the support staff are. The IT department ensured that everyone was able to work from home. The schedulers managed to create flexible education schedules, even in the most challenging of times, and the security staff kept an eye on everything, while the communication department kept everyone informed about the latest developments."
Van de Zande called for a name change for the support staff. "That name does not do justice to the important role this group fulfils within the university."
 
Advertisement