Former vice-president of the World Bank gets honorary UU doctorate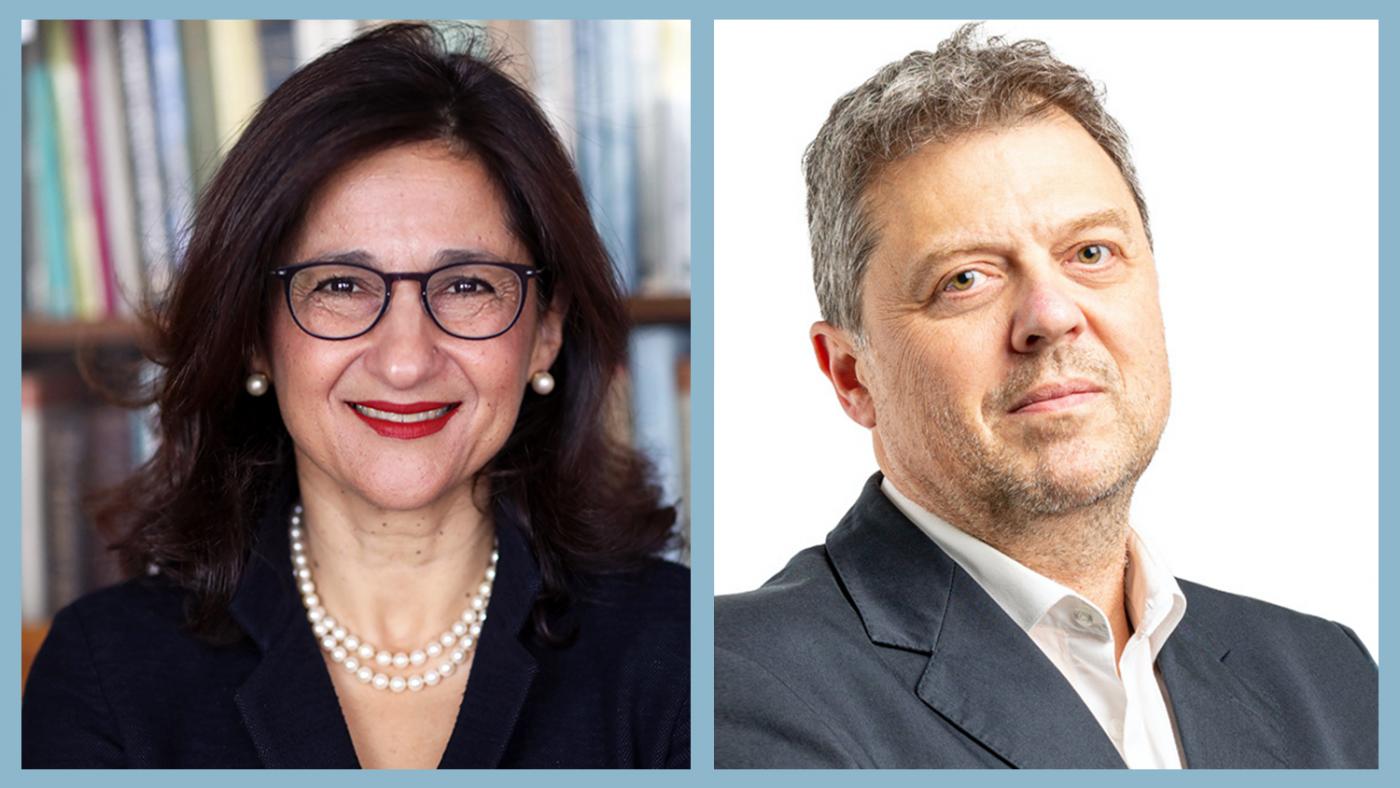 The economist Baroness Minouche Shafik and the biotechnologist João Mano have been both granted a UU honorary doctorate. Photos: courtesy of UU.
Lady Shafik's career navigates between international public organisations and renowned scientific institutions. The daughter of an Egyptian scientist who fled the Nasser regime, she studied at the University of Massachusetts-Amherst and at the London School of Economics (LSE), later obtaining her PhD in Oxford. She taught at Georgetown University and Wharton Business School.
At the age of 36, she was the youngest vice-president of the World Bank ever. After the World Bank, she joined the International Monetary Fund and the Bank of England. In 2017, Lady Shafik was appointed the director of the London School of Economics. Since 2020, she is a member of the House of Lords, the upper house of the parliament of the United Kingdom.
A fairer world
Based on her academic knowledge and experience with international economic policy, Lady Shafik speaks out regularly against the excesses of the capitalist system and in favour of a fairer distribution of wealth. One of the avenues through which she does so is her book What we owe each other - A new social contract for a better society.
In an interview with The Guardian about the book, she quotes her friend and Harvard professor Michael Sandel. Like him, she believes that after forty years of individualism, it is time for a collective effort to improve the world. Interestingly enough, Sandel was also awarded an honorary doctorate by the UU eight years ago.
The work of both laureates is therefore linked with one of the university's strategic themes, Institutions for Open Societies, which aims to research the role played by institutions in a world marked by increasing social inequality.
Lady Shafik will receive one of the two Utrecht honorary doctorates on March 25, during the university's anniversary (dies) celebrations at the Dom church. The honorary promoter is the professor of Global Economic Challenges, Joost de Laat, who also serves as the director of the Centre for Global Challenges (UGlobe). On March 28, the new honorary doctor will take charge of UGlobe's annual lecture, set to take place at TivoliVredenburg.
A longer and healthier life
The other honorary doctorate goes to João Mano, professor in Aveiro, Portugal. He is an expert in the field of regenerative therapies, researching the repair or renewal of cells, tissues and organs with the goal of achieving a longer and healthier life. Mano is a pioneer in mimicking biochemical processes and applying nanotechnology with natural materials.
In Utrecht, researchers and doctors from the Faculties of Science and Veterinary Medicine, as well as the University Medical Centre, work together with the Centre for Regenerative Medicine. They hope that the cooperation with Mano can strengthen this research. Honorary promotors are UU professors Roos Masereeuw and Jos Malda.
Advertisement