Gold medal for Kramer and Voets: the successes and failures of UU athletes in Tokyo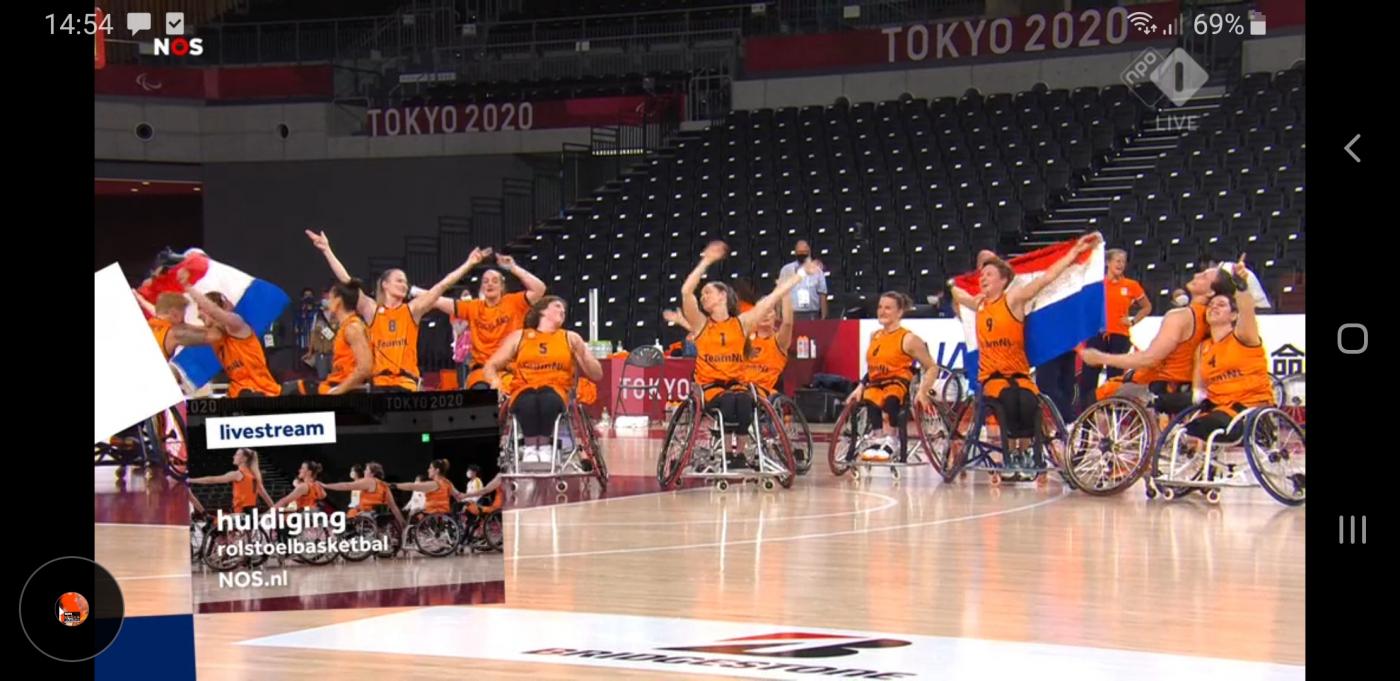 Screenshot: NOS. Bo Kramer is the one on the right, carrying a flag.
With fifteen points, Bo Kramer was the top scorer in the final match against China. She was one of the most important players of the Dutch wheelchair basketball team, which became a Paralympic champion for the first time.
The win meant a dream come true for Kramer, who completed a pre-Master's in Health sciences this year. UU Psychology alumna Carina de Rooij also played in the successful team.
Dutch Studies alumna Sanne Voets was pretty successful at the Paralympic Games, too: she managed to win three golden medals in dressage – two individual ones and one with the Dutch team.
Olympic winners
Earlier this summer, the Dutch ladies' hockey team won gold. UU Economics alumna Caia van Maasakker, Psychology alumna Laurien Leurink, and Law alumna Josine Koning played for the winning team.
Disappointment reigned for discus thrower Jorinde van Klinken (Liberal Arts & Sciences alumna) and hockey player Thierry Brinkman. They both had high expectations for Tokyo, but were unable to live up to them. Van Klinken did not make it to the finals, while Brinkman and the Dutch men's hockey team did not move past the quarter finals.
No medals
Inge Janssen (Geocommunication), rower for Utrecht rowing association Orca, didn't win any medals in her third participation in the Olympics. She won a silver medal at the Rio Olympics, but came in last at the finals this time.
Waterpolo player Dagmar Genee (International Economics & Business alumna) ended her long career without Olympic medals, after her team was defeated by Hungary in the quarter finals. Beach volleyball player Madeleine Meppelink (Pharmacy alumna) and her partners were also unable to win a single set at her third Olympics.
Mountain biker Anne Terpstra (Medicine) impressively placed fifth in Tokyo, which proved she was in good shape. Last week, she became the first Dutch woman to win a medal (silver) at the World Championships.
Hurdler Nick Smidt was the only athlete in Tokyo who's still studying at the UU. He's pursuing a Master's in Business Informatics. Smidt was hoping to reach the finals, but to his disappointment, placed seventh in the semi-finals.
In an interview with RTV Drenthe, he said: "I feel so stupid, as though it wasn't just that my competitors are better, but it's actually all my fault, because I couldn't get through the hyperacidity."
Advertisement