High skills were required to deliver CT scanner to earth scientists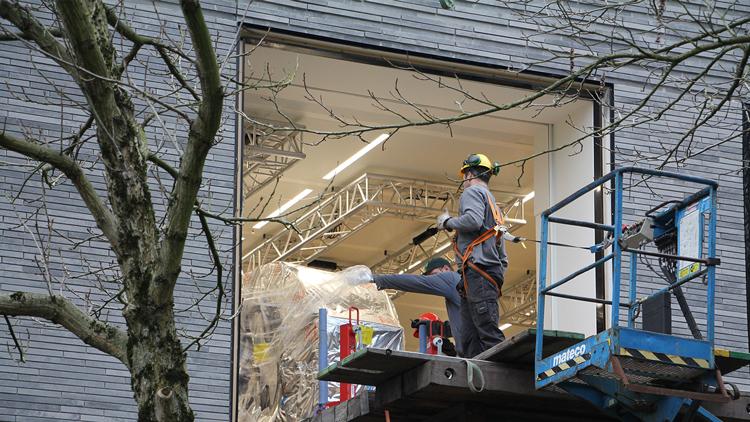 The CT scanned had to get in the building through the window. Photo: DUB/Menke Leber
Placing the CT scanner , along with a patient table, in the room that had been designated for them was no easy feat. Because of the size and weight of the machine, it could not enter the Earth Simulation Laboratory (ESL), where the Teclab is located, through the doors. And so a backside window from the building's first floor had to be removed to make way. In order to do that, first a team of professionals had to place a so-called platform scaffolding. Then, a crane lifted the scanner from a truck onto the scaffolding, and the scanner was pushed into the laboratory without further ado.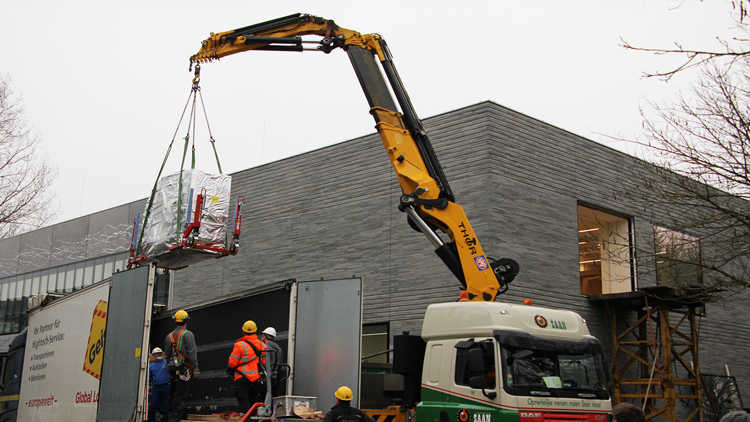 Ernst Willingshofer, Senior Lecturer of Earth Sciences and head of the TecLab, was there when the CT scanner arrived. He had been waiting for the machine for years, as the purchase procedure was partly delayed because of the pandemic. He explains that the CT scanner, which will be installed and tested next week, can be used to look through materials and get three-dimensional images.
The scanner will be used frequently to accurately depict the formation of fractures in geological scale models. The models consist of layers of sand, clay, silicone putty and liquid, and are used to simulate and study new mountain ranges or oceans in the lab. They are also used in studies for the extraction of sustainable geothermal heat from the subsoil. Just like it does with a bone fracture, the scanner can photograph fractures in sand, clay, and putty.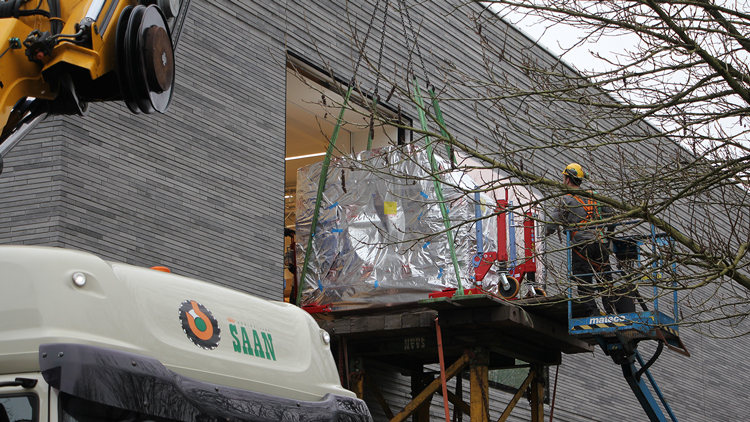 The CT scanner will also be used to depict the inside of core drills before these are divided into parts for further research. A core drill is a a piece of rock that's brought up during a drilling in the subsoil with a hollow drill.
The scanner enables making a detailed three-dimensional image of the internal structure of a drill core, for example to determine which parts are most porous. Scientists can also use the scanner to check whether there are fractures in a structure, which shape or orientation they have, and whether there might be parts of fossils present somewhere in the core.
Fossils can also be examined with the CT scanner, which depicts their smallest details. Therefore, the machine makes it possible to study the inside of unique fossil bones, teeth, and skulls without having to open or destroy them.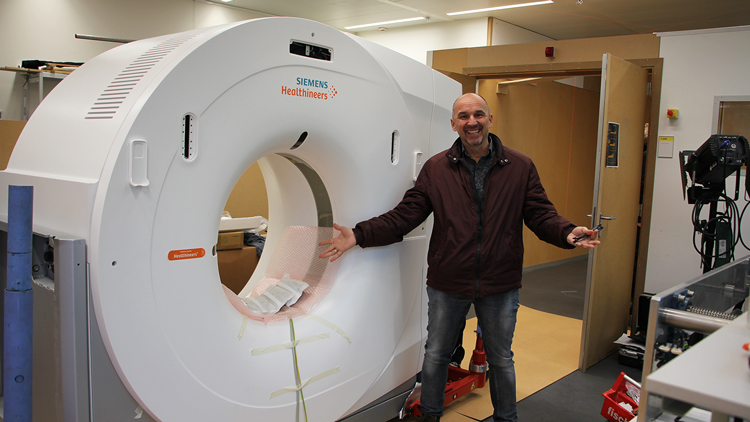 Ernst Willingshofer, head of the TechLab, with a smile from ear to ear after finally receiving the long-awaited CT scanner.
ESL's CT scanner is part of a large-scale European research programme, the European Plate Observing System (EPOS), in which 47 institutes from 22 European countries participate. In this context, foreign scientists will also regularly be visiting UU to use the scanner. UU students will be involved in these projects whenever possible, for example to carry out their graduation project using the CT scanner.
Advertisement