Historian David Onnekink wins Teacher of the Year, Danny Broere wins Teacher Talent
David Onnekink listening to his laudation. The two other nominees for the 2022 Teacher of the Year award, Anna Salomons and Belinda Hibbel, are sitting on the couch. Captured from the event's livestream.
David Onnekink was nominated by UHSK, the association of History students. Jury president and professor of Medicine Ronald Bleys praised the winner for his involvement with students, his visible effort as teacher and tutor, and his extensive international network.
The jury noted that the Teacher of the Year ensures students actively participate in classes. For example, Onnekink's students are able to indicate what they find important in the course they are taking. He was able to keep students motivated even amidst a two-year pandemic, which has caused most classes to go online.
Bleys said in his laudation: "Students told us that they had the feeling of being heard. The voice of the student is very important to you". The other nominees were Economics teacher Anna Salomons (nominated by study association ECU'92) and Pedagogical Sciences teacher Belinde Hibbel (nominated by study association PAP).
Fascinating students
Nominated by study association Proton, chemist Danny Broere won the Teacher Talent award, which is given to teachers with less than 5 years of experience.
According to the jury, Broere is an inspiring example for students as he makes them aware of the link between their academic knowledge and possible practical applications. To accomplish this, he uses various teaching methods and tools, such as apps.
In this way, Broere is able to often bring tricky subject matters to life, according to Bleys in his laudation: "You fascinate students and guide them into the world of chemic reactions, organic molecules, and scientific research."
Educational Sciences teacher Marjoleine Heijboer (nominated by study association VOCUS) and Global Sustainability Science teacher Sanne Akkerboom (nominated by study association Storm) were also nominated for this award.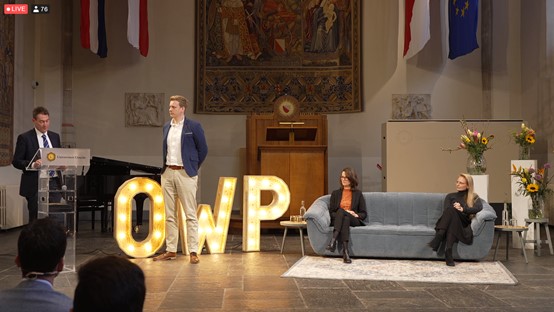 Chair Ronald Bleys talking to Teacher Talent winner Danny Broere. Sitting on the couch are nominees Marjoleine Heijboer (left) and Sanne Akerboom (right). Captured from the event's livestream.
Official ceremony
The two awards, created to recognise extraordinary teachers, have been given since 1994. In so doing, the university hopes to stress the importance of good education and motivate teachers to improve. Last year, the winners were pedagogical and educational scientist Lotte Henrichs and veterinarian Luciel van Vuuren.
There were a total of 34 nominations for the two awards this year, 16 for the Teacher of the Year and 18 for the Teacher Talent. The official ceremony will take place on March 25, in the Dom church, as part of the Dies celebrations.
Apart from a trophy, the winners receive a monetary prize of 5,000 euros (Teacher of the Year) and 3,000 euros (Teacher Talent of the Year). The other nominees all receive 1,000 euros. In addition, the two study associations that nominated the winners also receive 1,000 euros each.
Advertisement