HKU alumni and UU law students join forces to set up exhibition on equality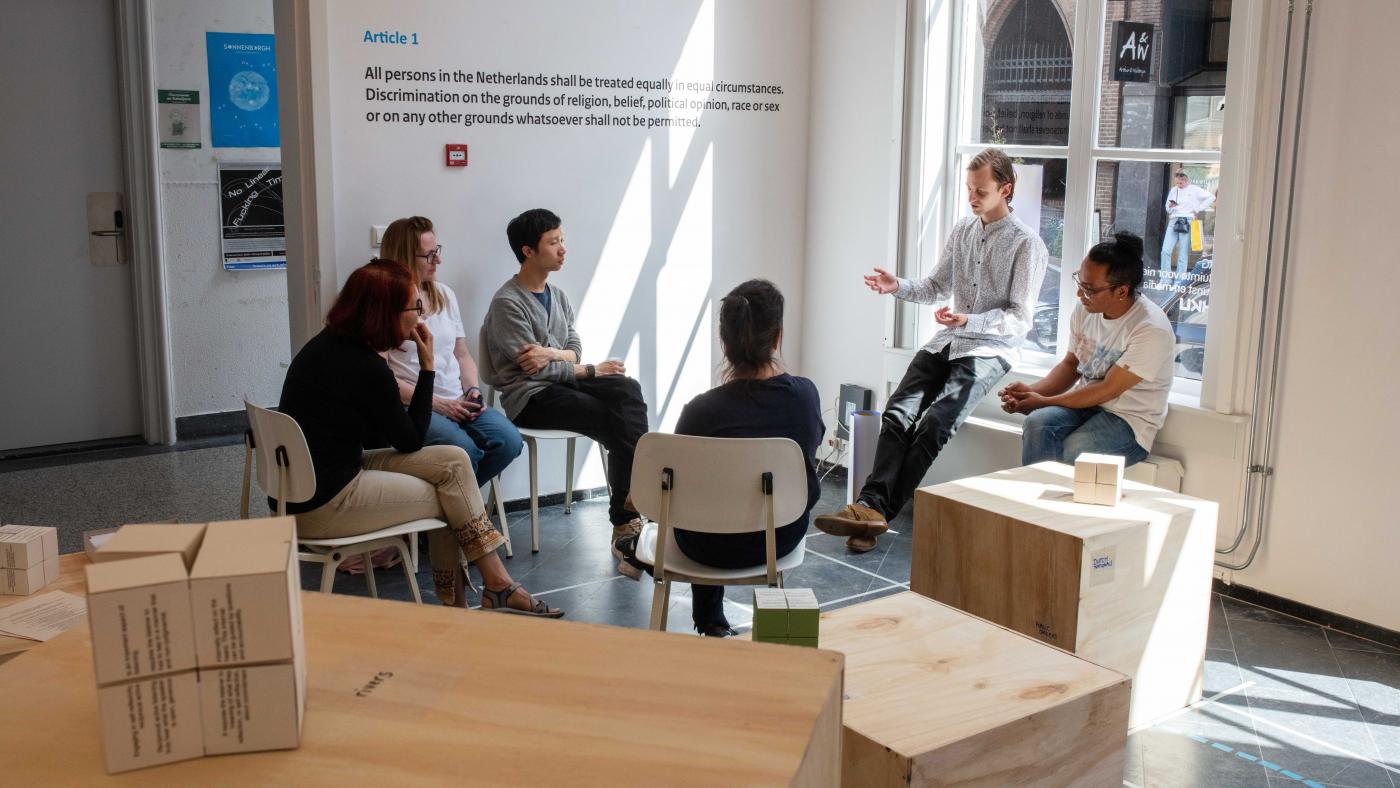 Photo: Chunyao Lin
The exhibition ART. 1 is part of the 2023 Constitution Campaign, an initiative by Bas de Gaay Fortman, a Professor of Law at UU and former member of the House of Representatives. Law students Marc and Sarah joined the project to help artists gain a better understanding of the Dutch Constitution. Marc says to have learned a lot as well: "I arrived here thinking 'look how great our Constitution is' but then I heard the artists' experiences with discrimination. The article does not correspond to their lived experiences. That opened my eyes."
On November 3, 2023, the Dutch Constitution celebrates its 175th anniversary. The campaign is planning to inaugurate a work of art in Utrecht around that date to increase the Constitution's visibility. The place is yet to be defined. The idea is to launch the complete exhibition by then as well. Currently, not all of the artworks are completed.
ART. 1 consists of artworks made by five HKU alumni of the Master's of Fine Arts, exhibited alongside several installations. The exhibition, which opened on Friday, May 13 and lasts until May 21, offers a preview of how the international community experiences the Dutch Constitution. But Marc stresses that the target audience is much broader than just the international community: "It is important to take the meaning and awareness of Article 1 from the Law classroom and make it accessible to the rest of the society, to anyone who is interested".
Niels and Victoria, international students of Anthropology at the University of Amsterdam, came to the opening in search of inspiration for their own research on decolonisation. "As a student, I am looking for motivation and a connection with what I research. ART. 1 shows that research doesn't have to come from afar, it can also be something personal," says Victoria. Niels also finds the exhibition fascinating: "The artists describe their work here as 'research'. It is interesting to look at art in that way."
The exhibition can be seen in the HKU building, located at Minrebroederstraat 16. Click here for more information.
Advertisement