The UIT week begins
'I hope I won't just get hammered, I'd also like to explore the city'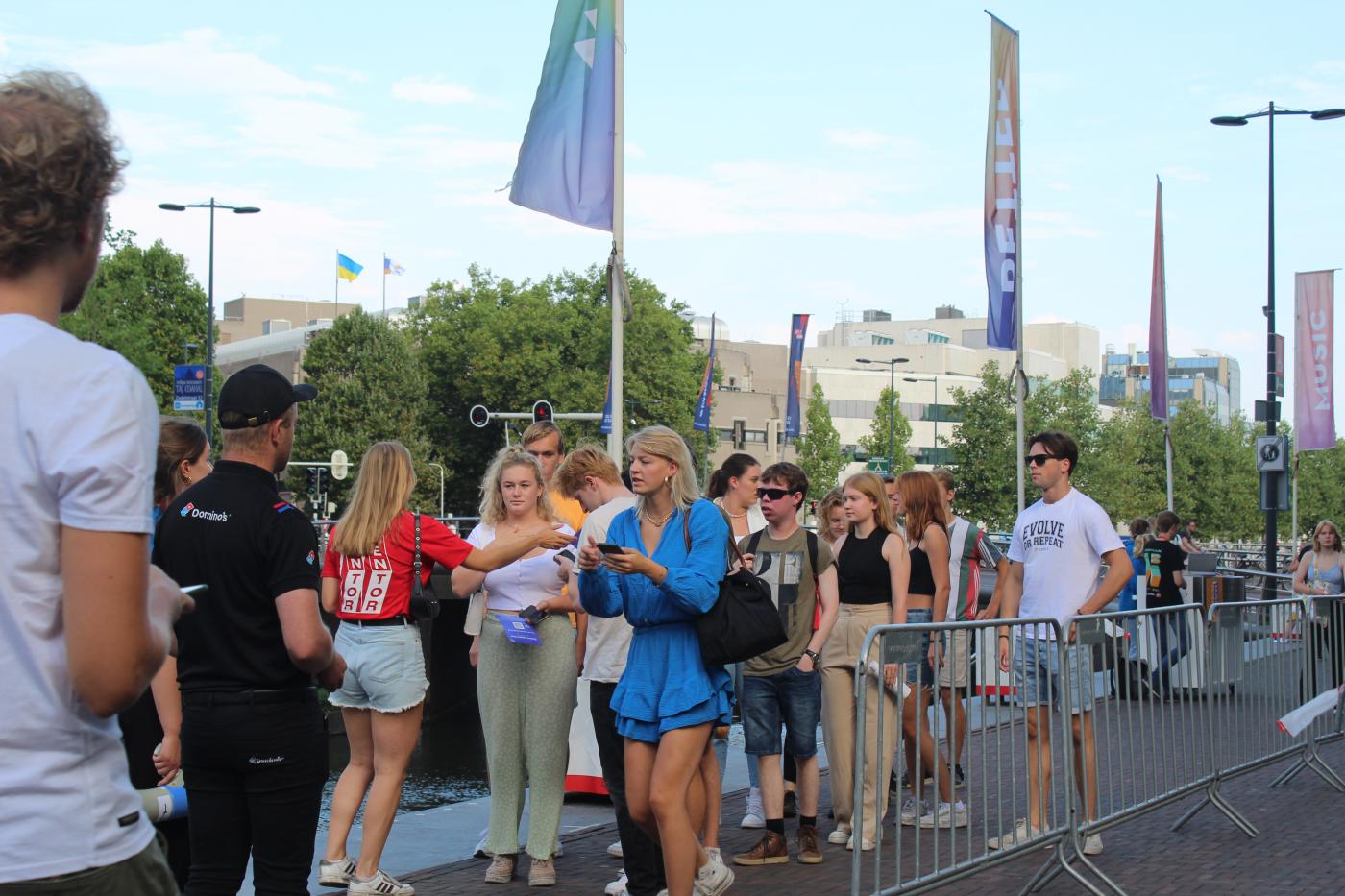 Photo: DUB, by Isabella Hesselink
Monday morning. Slowly but surely, TivoliVredenburg is filled with hundreds of first-year university students. Before the opening concert starts, they all queue up to get an armband that gives them access to all the activities planned for UIT's 25 edition.
Soon, a few groups form in front of the building. Liv, Demi and Jouke are excited about the week ahead. "I'm not really familiar with Utrecht and I don't know a lot of people", says Master's student Demi, who got her Bachelor's degree in Groningen.
"Since I'm a Master's student, I hope I won't just get hammered. I also want to get to know the city and new people". Bachelor's student Liv actually already knows the city quite well, but she figured it would be "fun" to meet new people in Utrecht following the pandemic. "Most of all, I hope to have a really good time."
Utrecht lets it all out
This is the first time in three years that first-year students can gather in person to socialise, explore the city, and familiarise themselves with student life.
"The fact that UIT is finally allowed to take place after three years makes people even more excited", explains Casper van Strien, spokesperson for the event. "That's why this year's theme is Utrecht pakt UIT (Utrecht lets it all out). Here we go again. I'm sure this is going to be a great week."
About 3,900 first-year students from Utrecht's higher education institutions are joining the event this year. More than half of them (2,542) are UU students. This is the first time that those enrolled in secondary vocational education are allowed to participate as well — however, only 26 of them turned up.
Cycling competition
As part of UIT, workshops, fairs and festivals are going to take place all over the city. Neude, the big square in the city centre, is traditionally the base of the event, but several activities are going to be organised at Park Transwijk this year. In addition, this year's UIT is going to be one day shorter than usual because, on Friday, Utrecht will be the starting point of Vuelta, the Spanish cycling competition. Traditional locations such as Griftpark and TivoliVredenburg will hardly be used this year. 
If you're one of the students taking part in the event, a raincoat or poncho will certainly come in handy as rainfall is expected despite the heatwave. The first day is going to be hot still, with temperatures not surpassing 28 degrees Celsius, but the weather is set to cool down during the week. Thursday is going to be a cloudy day with a maximum of 23 degrees.