Pilot
Introduction week (UIT) welcomes MBO students for the first time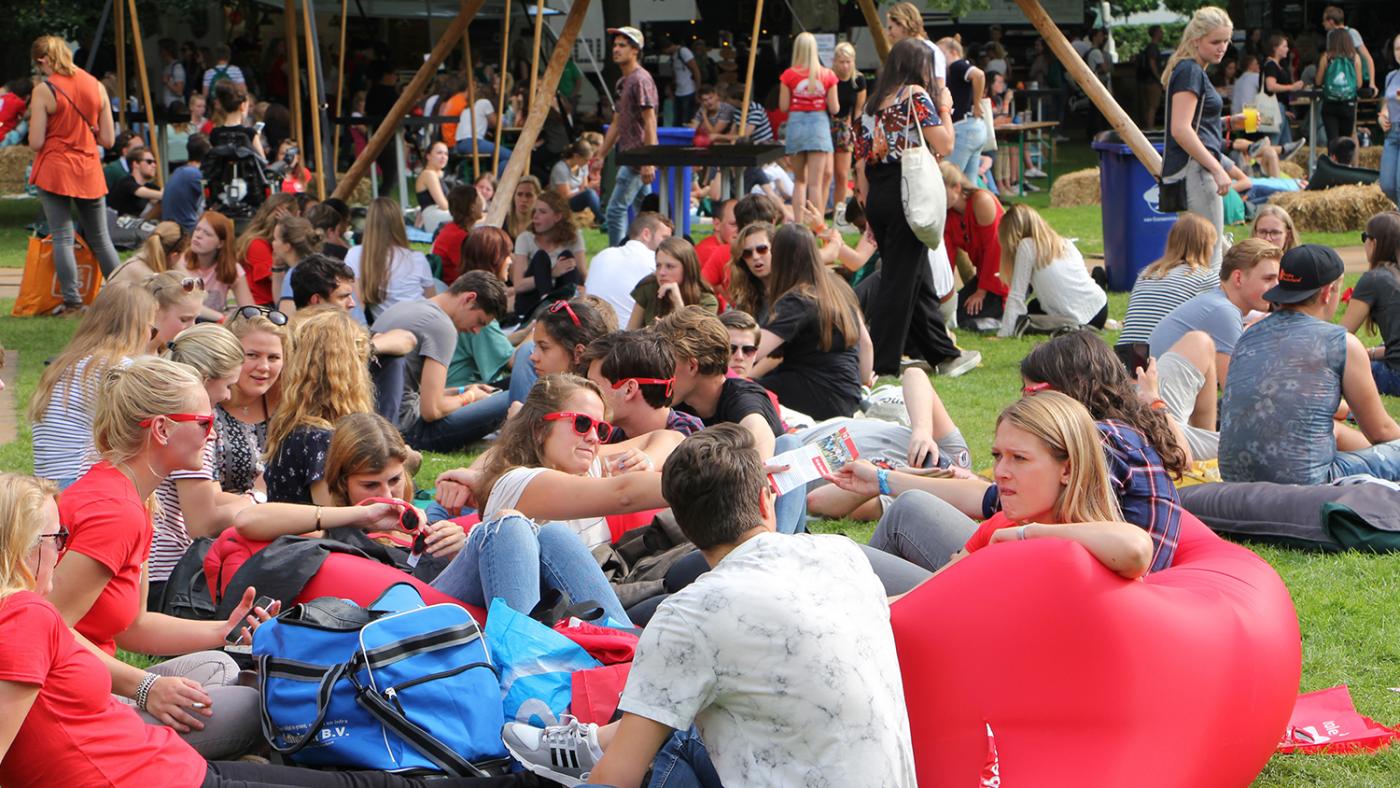 UIT 2017. Photos: DUB
This year, UIT is going to last four days (August 15-18). 4,000 students are going to be guided by student mentors, who will introduce them to the city and to student life. The event starts with an opening party on Monday, followed by workshops and information markets such as the sports market and the associations' market, which will take place on Tuesday and Wednesday, respectively. UIT will be closed by an outdoor festival on Thursday.
A few changes have been made to the event, compared to pre-Covid times. One of the reasons is that UIT overlaps with the Spanish cycling competition Vuelta, which includes the city of Utrecht this year. That's why usual venues like TivoliVredenburg and the Griftpark were hardly included in the programme this year, if at all. Most activities are set to take place at Neude square. The markets and festivals have been transferred to park Transwijk — the same place where the Liberation Festival happens annually.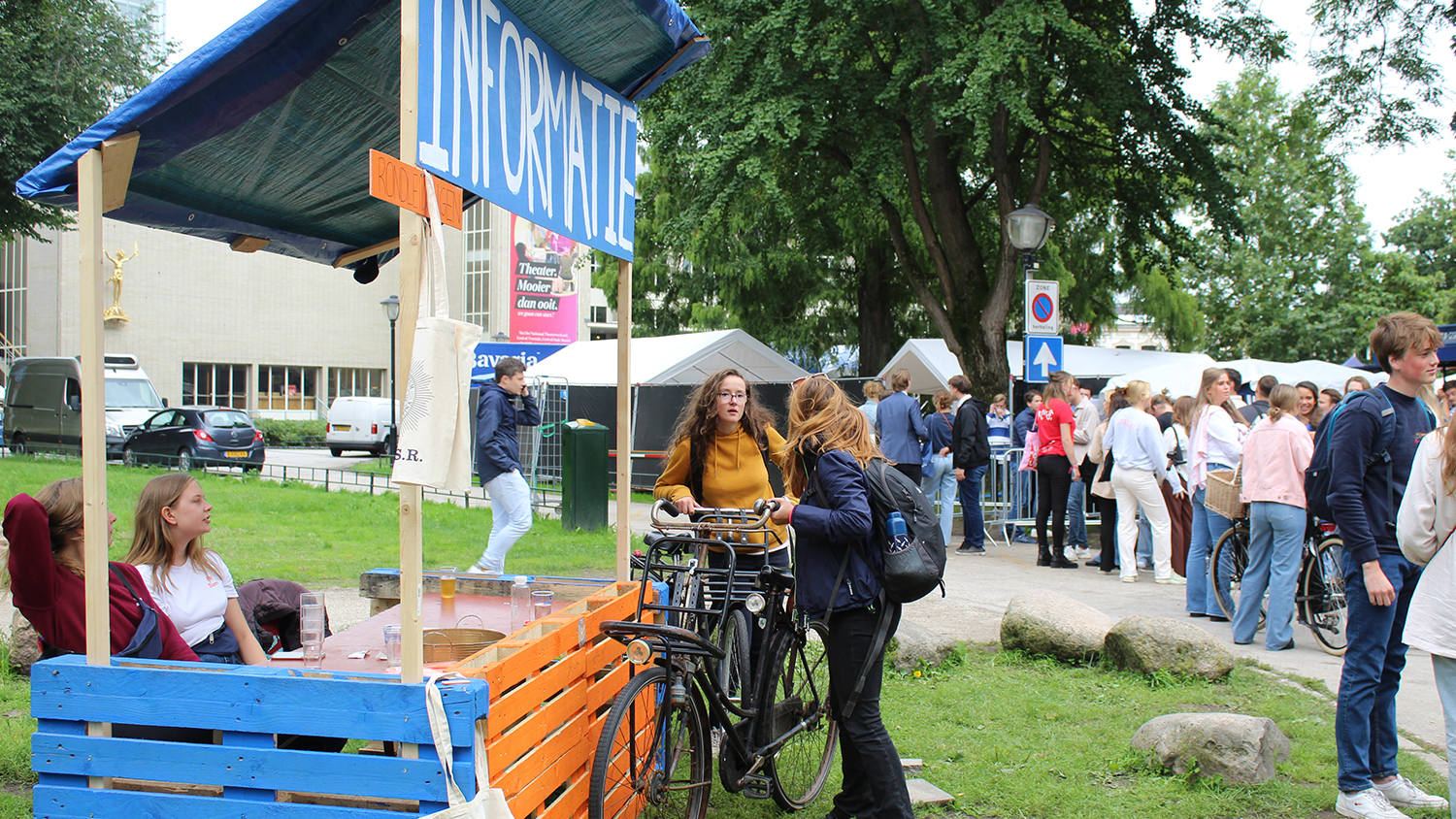 One of the information markets from 2021 was held in the Zocherpark, in the city centre 
MBO students joining in
For the first time, first-year MBO students (those enrolled in secondary vocational education, Ed.) can also take part in the event. Casper van Strien, Communications Officer for the UIT board, explains: "Everyone should be able to take part in the UIT, which is why we're running a pilot to allow MBO students to join in as well. The idea came from the MBO students themselves. They pitched it to the municipality, which facilitated it and then presented it to us. We thought it was something worth pursuing and we're curious to see how it goes. UIT is relevant to them as well, so we don't think there's any reason not to have MBO students join in."
Because it's a pilot, there's a limit to the number of MBO students that can participate. "200 of the 4,000 available tickets are reserved for MBO students. This is the first time that MBO students join an introduction week in a university city. With this pilot, we will discover whether unforeseen challenges will arise."
UIT participants are divided into groups. Casper explains that they will be mixed. Only Master's students will be free to choose to experience UIT with Master's students alone. Why? Because those students are slightly older. The board is also making sure that there will be more than one minor per group. That way, that student will not be the only one who isn't allowed to drink yet.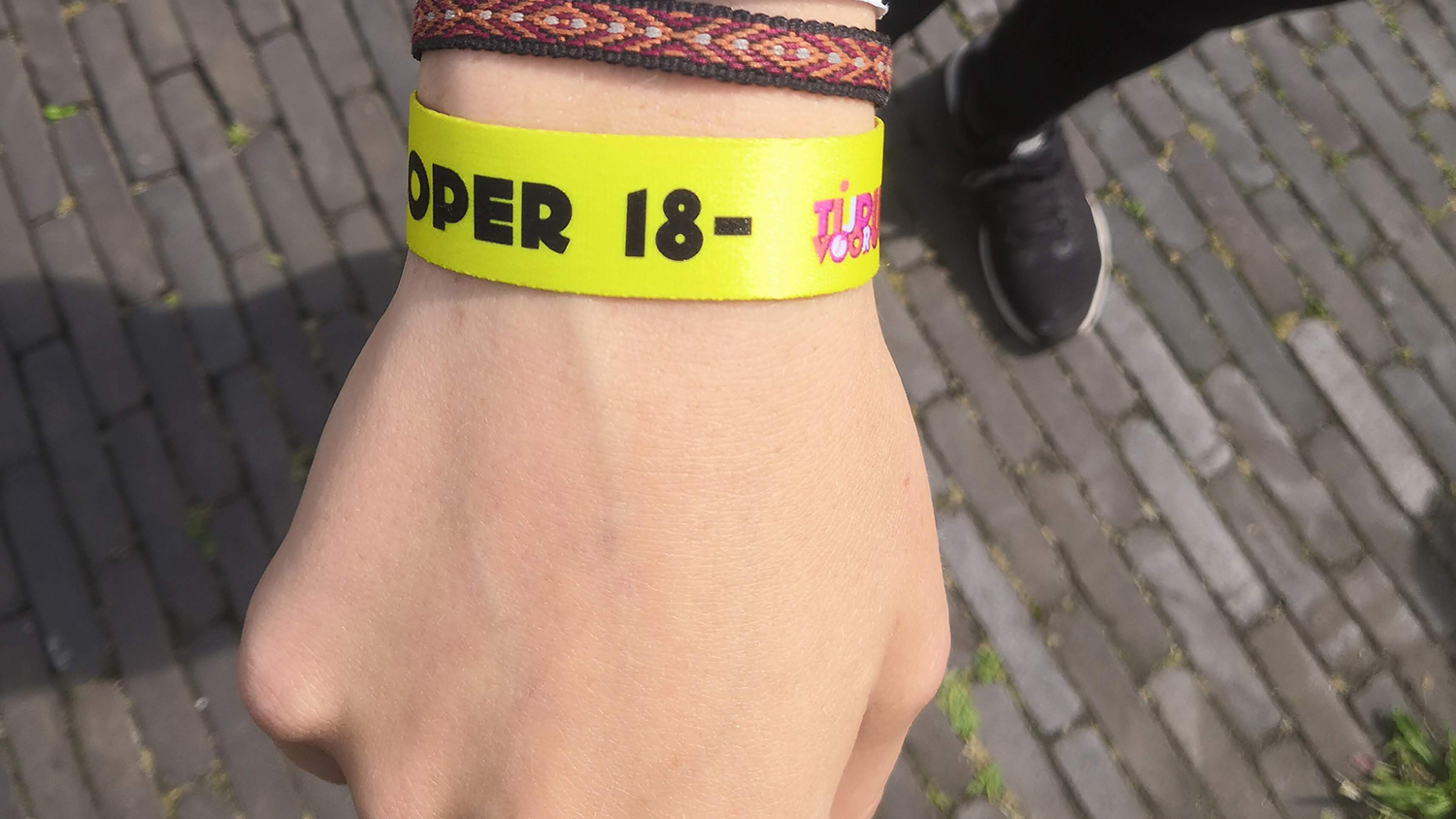 In 2019, minors got a bracelet to signal that they weren't allowed to drink alcohol
Sustainable UIT
In addition, the new board would like to make the event more sustainable this year. "We have a sustainability plan, meaning that, with every step we take, we think about how it could be done as sustainably as possible. We hardly have any printed materials, for example, we strive to distribute our information digitally as much as possible. We plan the events as sustainably as we can and we want to make the participants aware of the importance of sustainability. Participants can choose to only have vegetarian meals, for example. We actually encourage them to do that on our website."
"Last but not least, UIT is joining in the Sustainable Introduction Week game. After all, that's what we're aiming for. An independent person from the 'Sustainable Barometer' will come and check whether we meet all the sustainability requirements."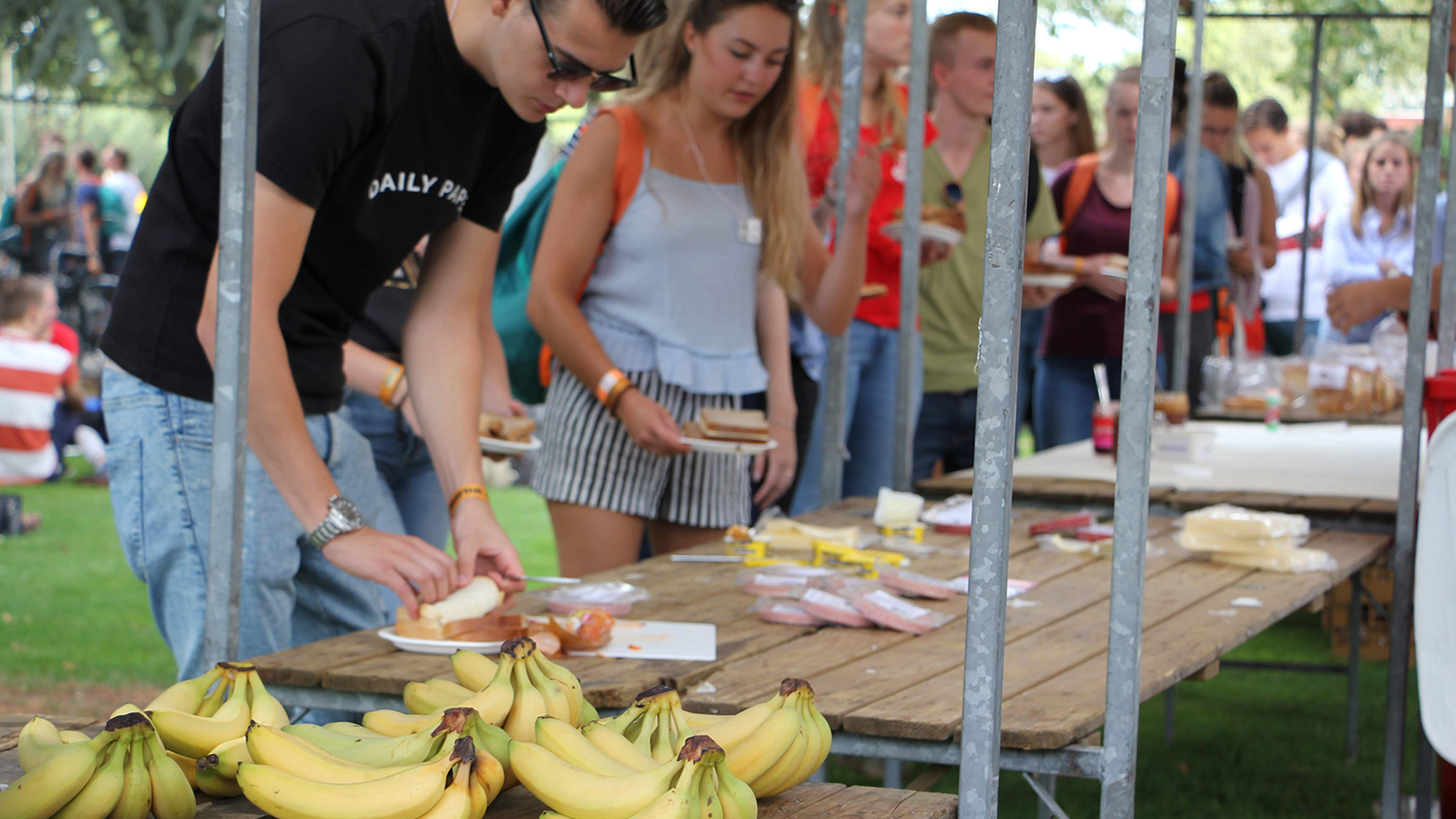 Sustainability was also taken into account in 2018: UIT participants could make their own sandwiches at a station set up in the Botanical Gardens, in the Utrecht Science Park
Vuelta
Vuelta — which begins on Thursday, August 18 —  has forced UIT's organisers to find alternative locations outside the city centre. "Vuelta was a challenge for us sometimes. But the most important thing is that it's going to be a wonderful week. Experiencing such a huge event as Vuelta at the same time as the introduction week is a great way to kickstart your college years", says van Strien.
The programme is similar to that of pre-Covid editions. The pandemic forced UIT to take place online in 2020 and adopt a hybrid form in 2021. The board admits that, although almost everything can be organised face to face now, they did take a possible Covid outbreak into account. "We have been organising this since November, so in the beginning, we came up with all kinds of scenarios. There are five in total, but should things really go sour, we can also fall back on previous editions. We are carefully considering social distancing and group sizes, in addition to an online programme. But we are going for scenario number one, of course, which is 'no Covid'".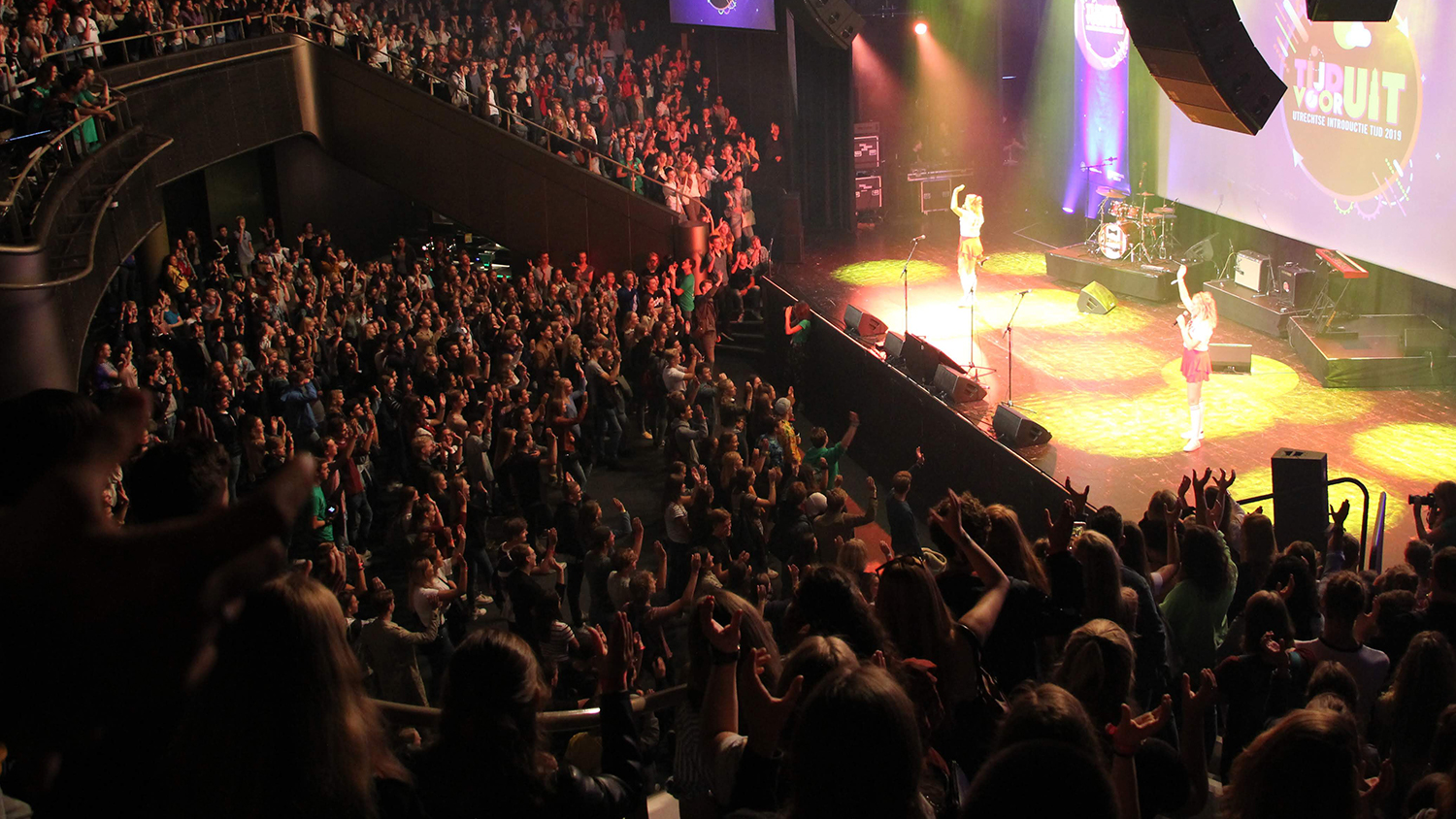 UIT 2019's opening party took place at concert hall TivoliVredenburg
After the opening party at TivoliVredenburg, the events will be rather familiar. There is going to be a market where organisations and associations aimed at students will introduce themselves, a cultural festival, and a 'playground' for students. All this will take place in the Transwijk park. The sports market will happen at the sports centre Olympos, as usual. 
The sports market in front of Olympos. Photo from UIT 2018
Thursday's festival will also take place in Transwijk park. The line-up is going to be announced soon. What's more, the programme includes a summer party: "It's going to be kind of a mix between a laid-back and a music party. That way, we are going to end the week with a bang."