Read in Dutch
"I'm proud that Move started in Utrecht," mayor Jan van Zanen tells the audience in a gym in Overvecht, where the party is held. "The idea is both simple and brilliant. Children can do more than they think." Ten years ago, the Move Foundation was established by a few members of student rowing association Orca. Now, the foundation is active throughout the country. Move connects primary school pupils and vmbo (high school) students to college students to start projects together that improve their neighbourhoods. Students help the younger pupils come up with actions, such as playing games with elderly people to make sure they feel less lonely. The pupils in turn get to visit student houses, university lecture halls, and student association buildings. That way, they can get to know each other's worlds.
The Move Foundation is supported by the Orange Foundation (Oranjefonds), of which king Willem-Alexander and queen Máxima are patrons. The king had previously visited Move in 2012, when he watched how students and pupils worked together to realise projects. This year, he was once again invited to celebrate the foundation's party with them.
During the meeting, Van Zanen recalled one of Move's earlier projects especially. "Pupils of a primary school in the Ondiep neighbourhood said it was important the residents would come into contact with each other more. Members of student association Veritas helped them realise that. The pupils learnt from Veritas that they had to use their left pinkie fingers to ring the doorbell of their association house, and that they should not applaud but instead thrice salute. And since then, they did nothing but that in their class."
Student home
After a short moment of thanks from Michiel Bodt, director and co-founder of the foundation, it's time to reminisce about previous projects with the king. Provided with coffee and tea, pupils and students take turns telling stories. One pupil in his last year of primary school, who'd once visited a student home, is absolutely certain he will not live in a place like that when he's older. "It's not for me," he says. When the king asks why he wouldn't like it, the boy carefully states that the house wasn't very tidy. "The students probably did tidy up, but it didn't make much of a difference," the king laughs.
The king enthusiastically joins the conversation and is curious to see what Move will do in the coming decade. Bodt relies on the experience they've earned in the past ten years. "I hope that in the future, we'll be able to realise even more beautiful, diverse projects, in which we'll bring together multiple target groups."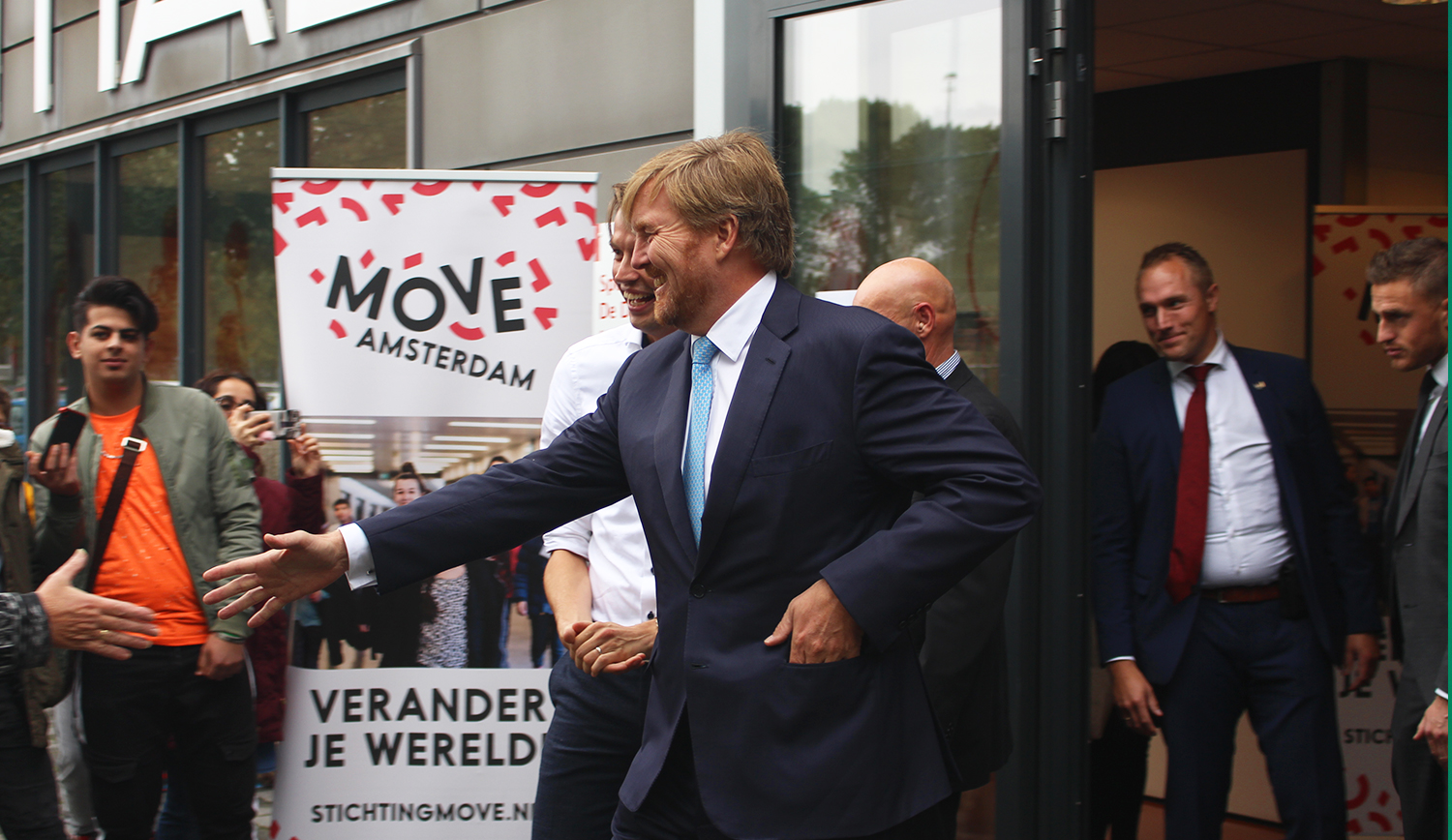 Sustainable projects
Around the table, the discussion also moves to the downside of the Move projects. The pupils' actions are a one-time venture. One primary school teacher wonders whether it'd be possible to set up projects that last longer. "Our projects are indeed usually temporary," Michiel Bodt says. "But we regularly leave something lasting behind. Think of play structures, painted rubbish bins, or decorated sidewalks." In the future, Bodt hopes to create a more sustainable collaboration between partners and primary schools, to perhaps establish more long-term projects.
After another workshop, it's time for the king to take his leave. Afterwards, Bodt says he's immensely proud that the king was present at their anniversary party, and says the king can expect another invitation in ten years' time.
The Move Foundation (Stichting Move) brings together primary school pupils and students to let them develop projects. It once started as a student initiative, but grew and became a national organisation. Students at primary schools or vmbo high schools get the chance to turn their ideas into reality, guided by students. The projects vary from events in a neighbourhood to bring people closer together to decorating the area. The projects can be realised thanks to collaborations with partners such as the Oranjefonds (Orange Foundation) and the Vriendenloterij (Friends Lottery).

Are you a student who wants to become a volunteer for Move? Contact them through the website. You can choose between projects at primary schools or vmbo high schools. Move regularly works with student associations and study associations. You can work for the foundation on behalf of your own association to set up projects with pupils from around the city.