Lecturers protest in Utrecht against temporary contracts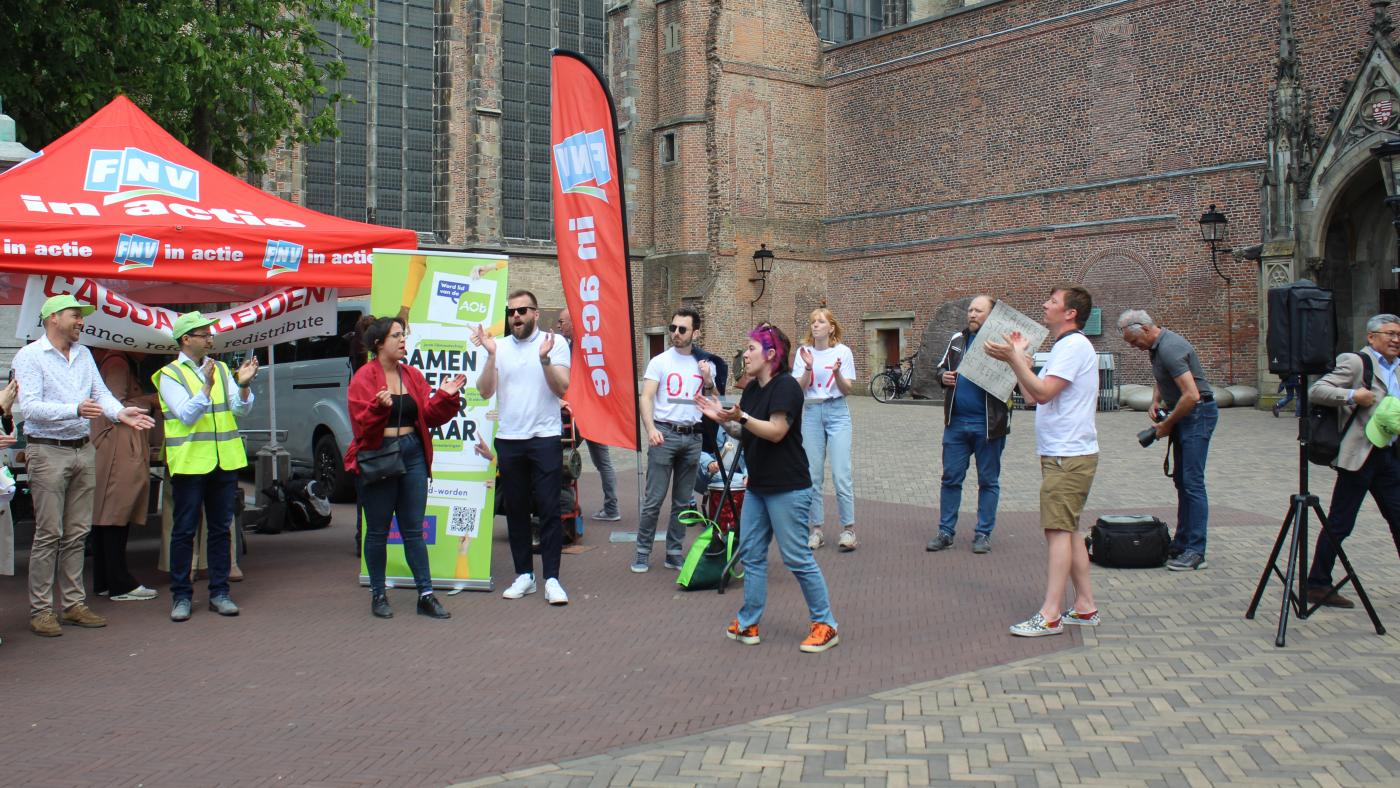 Unions and protest groups have opposed the "culture of flexible employment" for many years – and with increasing vigour. Many lecturers and postdocs are fed up with going from temporary contract to temporary contract.
Gathered at Dom square, the demonstrators handed over a symbolic "temporary contract" to Marcel Nollen, a member of the Executive Board of VU Amsterdam. He represents the universities in the collective labour agreement negotiations. "If you keep on exploiting us, we will resist", a member of protest group 0.7 said on Twitter. 
The teachers present applauded and cheered. A few professors were there as well, to show solidarity with the colleagues lower on the career ladder.
Interrupted
When Marcel Nollen tried to say a few words, he was interrupted a few times by the demonstrators around him, who said they did not want any more lip service, only action.
The current collective labour agreement, which expired on April 1, includes arrangements for reducing the number of temporary contracts, but these apply only to university teaching staff, senior lecturers and professors. Other types of teaching and research staff are excluded, a decision that sparked a lot of resentment among activists.
Almost all the professors and senior lecturers have a permanent employment contract and 30 percent of the university teaching staff have a temporary appointment. The figure for lecturers who only teach, without conducting any research, is 60 percent. For postdocs, the proportion of temporary contracts even approaches 90 percent. "We are working on it", was the unions' response.
Differences
But the collective labour agreement is not entirely to blame. There are substantial differences between universities as well. UU tops the list: 90 percent of other teaching staff have a temporary contract in Utrecht. At the University of Amsterdam, the figure is less than 50 percent. Nevertheless, a strike is going on there since April to protest against the number of temporary contracts.
Unions and universities held further negotiations in Utrecht about the new collective labour agreement. Reportedly, the universities are looking favourably at the compensation demands but are less inclined to give in with regard to the issue of temporary contracts.