Lotte Henrichs and Luciel van Vuuren win UU Teacher Awards 2021
Lotte Henrichs and Luciel van Vuuren, winners of the Teacher of the Year and Teacher Talent 2021 awards.
The announcement was a little different this year. The winners were unveild last Thursday, during the annual Education Parade. Jury Chairman Ronald Bleys, Professor of Medicine and a former winner himself, stood alone in the Aula while the six nominees waited in room 1636. 
Lotte Henrichs was nominated by study association VOCUS. After learning that she was this year's big winner, she walked through the corridors to the auditorium, where Bleys said on behalf of the jury that she is as a "bridge builder" pur sang.
According to UU's website, one of the elements taken into account by the judges is how the lecturers transformed their teaching throughout the coronavirus crisis, making sure that quality was kept despite the forced switched to online education. Colleagues, friends and students of the winners watched at home via livestream.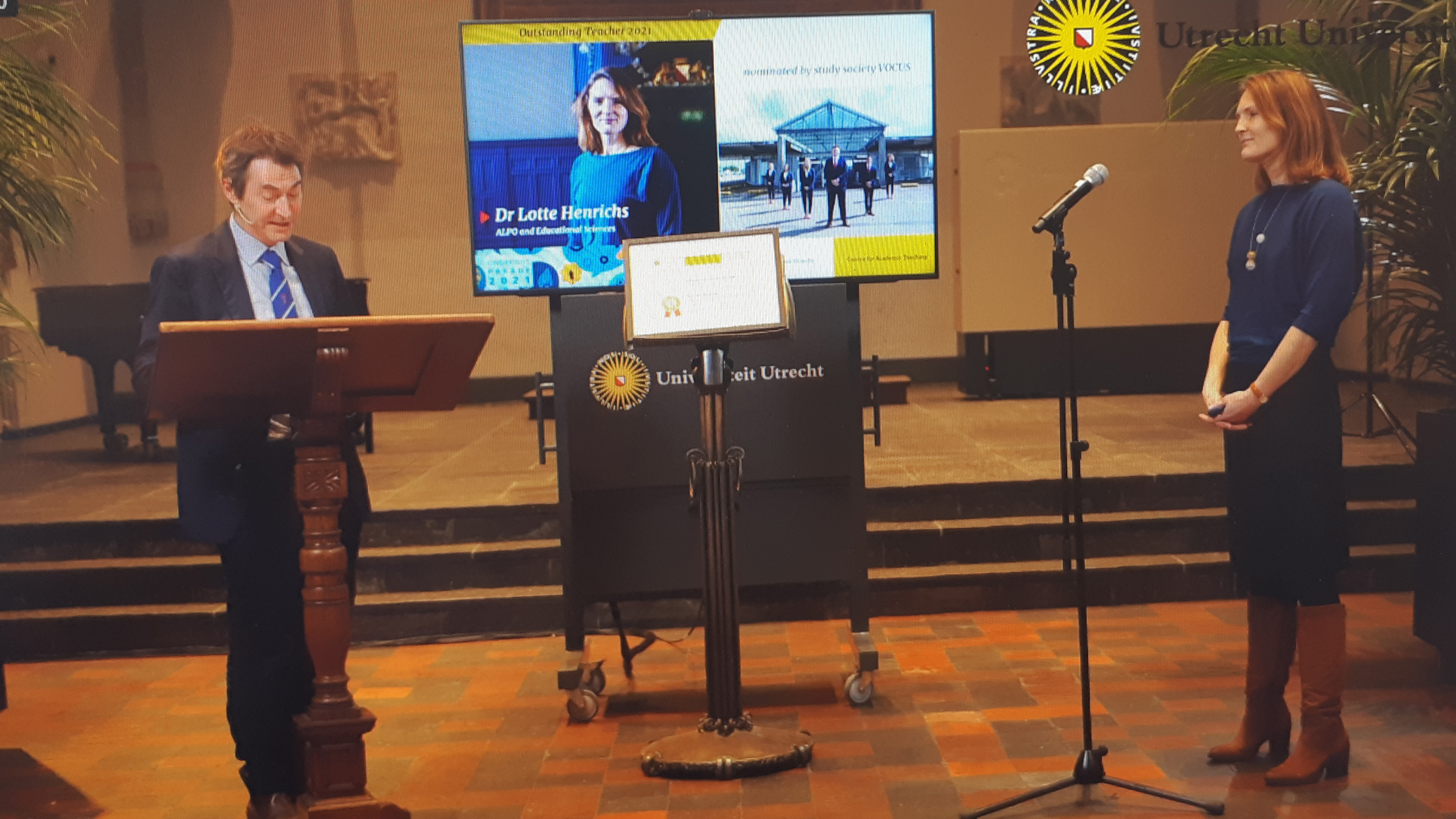 Henrichs is an expert in connecting scientific research and educational practice at primary schools. She also has a large network outside the university. Bleys stressed that both things benefit ALPO students, who often find it difficult to communicate their added value. "You give them the confidence to manifest themselves as academically-trained teachers when they graduate", he said. 
Henrichs also involves students in her own research. In 2020, she and her students examined the consequences of the closure of primary schools due to the coronavirus lockdown.
The other nominees for the Teacher Award were Veronique Schutjes (nominated by Vugs, the study association for Social Geography and Planning) and Ferdi Engels (nominated by UPSV, the study association for Pharmacy).
The Teacher Talent award, given to those with no more than five years of experience, went to Luciel van Vuuren this year. She's a teacher of Anatomy and Physiology within the Veterinary Medicine Bachelor's and Master's programmes. Nominated by DSK, van Vuuren is defined as a teacher who is "very involved in education and is driven to provide the best possible education, both in terms of content and didactics", according to UU's website.
As he announced her as the winner, Bleys stated that Van Vuuren has quickly proven herself as one of the driving forces within the faculty of Veterinary Medicine.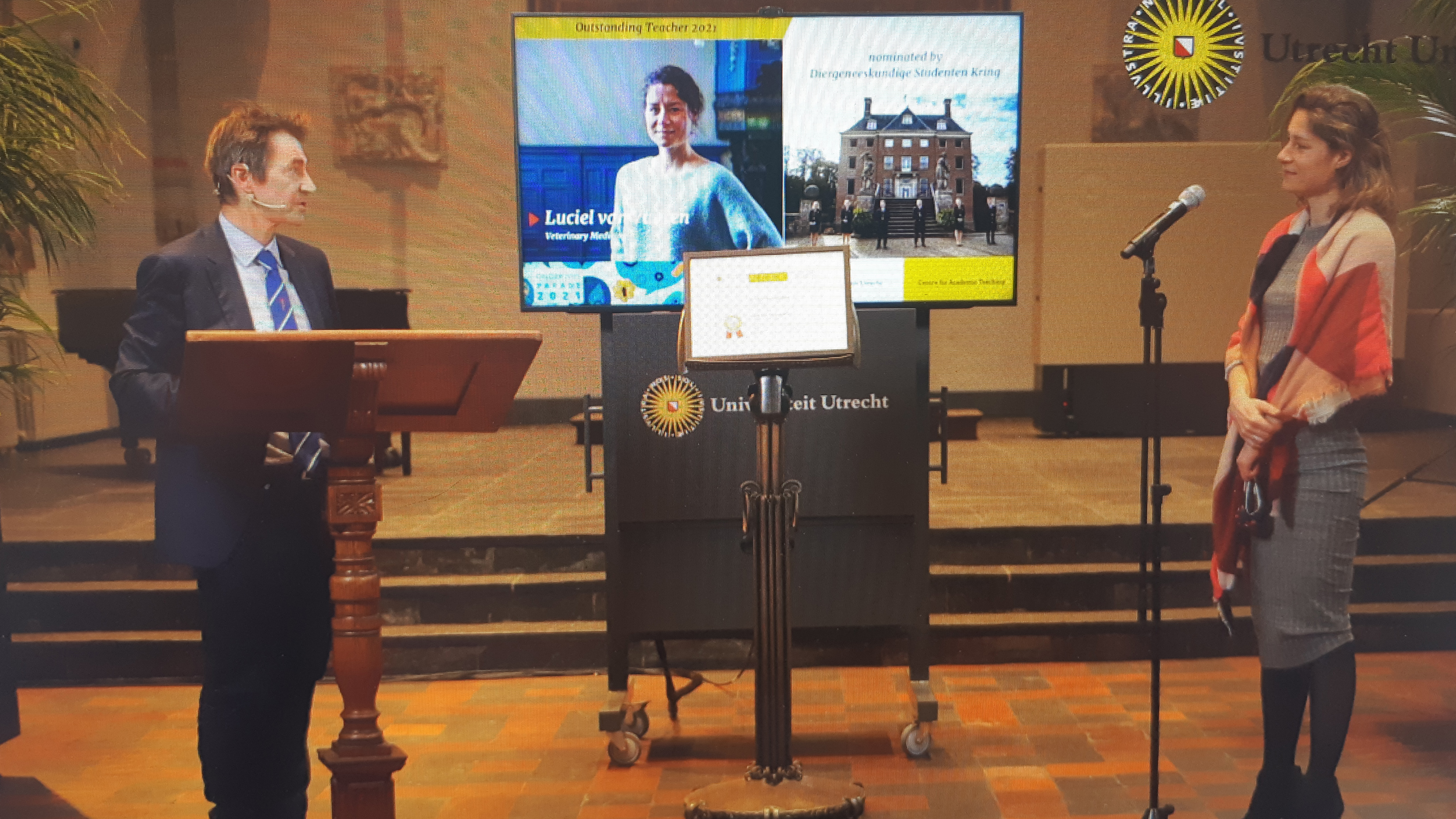 According to Bleys, students emphasised how much they appreciate that van Vuuren has practical experience as a veterinarian. She makes sure that students don't think "I have to learn this", but rather "I want to learn this". She also cares about students' mental health and personal interests. Bleys: "This involvement helps students to reduce their workload and stress".
Rogier Bos (nominated by Proton, the study association of Chemistry) and Laura Karreman (nominated by Akt van Media en Cultuur) were the other nominees for this year's Teacher Talent Award. 
The official prize ceremony will take place during the University's Anniversary Day (lustrum) on Friday, March 26. In addition to a trophy, the winners will receive 5,000 and 3,000 euros, respectively. The student associations that nominated the winners will receive 1,000 euros each.
Advertisement