A neat college memento: posing naked for a photo in front of the University Hall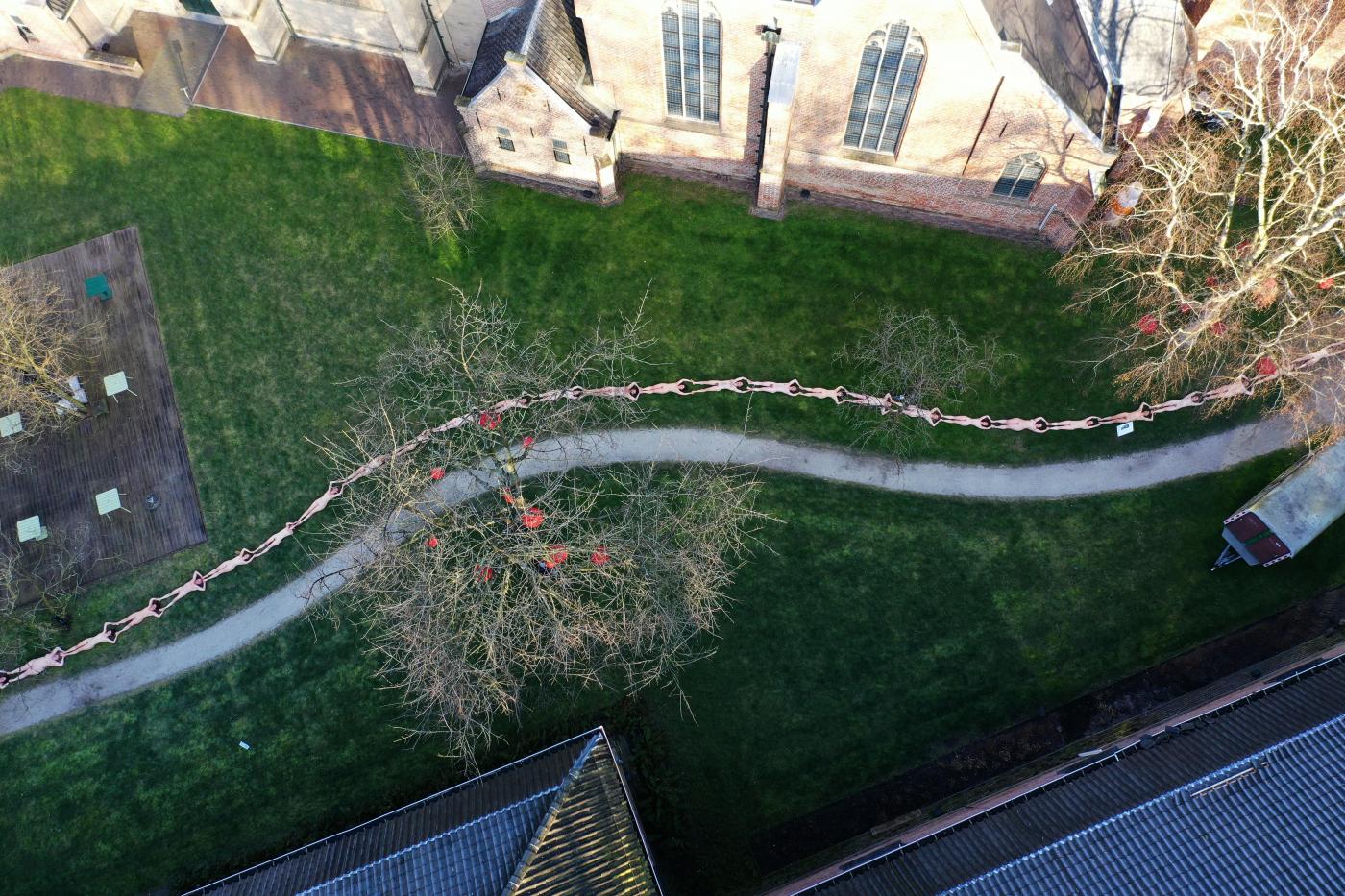 Photo from Dronude, taken in the garden of the Central Museum in Utrecht. Photo: Tom Durden
Most people are probably familiar with the work of the American artist Spencer Tunick, who takes pictures of naked people at landmarks in the world's biggest cities. The number of participants and the magnitude of the landscapes in cities like Sydney or Mexico City give the photographs an abstract feel.
Now, a similar art project is going to take place in Utrecht this month, as part of the experimental theatre festival Spring. Nude people will be photographed at the Central Museum, the Rietveld-Schröder house, the Vechtsebanen ice rink, and in the Pandhof courtyard between the University Hall and the Dom church. The abstract effect will be created by letting a drone take the photos of the group from a great distance.
The photos, which will be taken by drone photographer and artist Tom Durden, will be exhibited in mid-May in the municipal theatre (Stadsschouwburg) during the Spring festival. Everyone who poses for the picture is going to be gifted a print of their own.
Normalising nudity
"I think that a photo like that at the Pandhof is a neat memento from your college days," says UU Philosophy teacher Floris van den Berg. He is going to participate in Spring both as a philosopher and as one of the people behind the Dronude initiative. 
So far, around 150 people have signed up, but Van den Berg is looking for even more participants. He's mainly interested in getting more people from Utrecht — after all, the participation of locals helps to strengthen the ties between the festival and the city. "That's why I'm hoping more UU students and employees will sign up."
Van den Berg says the project aims to help normalise nudity and promote body positivity. The philosopher has similar goals when he released his book The Happy Nudist. "We're really struggling to find locations for this project. The municipality didn't want us to take photos in the Amelisweerd woods. At the same time, however, there are all sorts of nude statues throughout the city. Apparently, public nudity isn't offensive when it's in stone."
A beautiful experience
In the experimental theatre at the heart of the Spring festival, nudity is far from taboo. As festival philosopher, Van den Berg wants to talk to visitors about what they experience during the performances. "I don't want to know what is or isn't beautiful in their opinion, that's usually not the point. Theatre has to affect you in some way. I want people to think about what they feel."
Van den Berg says participants in the Dronude project get both a special photo and a beautiful experience. He concluded this after taking similar photos last month at the Central Museum. "Just doing this is sort of theatrical. You're naked in the grass, with people you don't know, for art. What's that like?"
Are you interested in participating or would you like to know more? Click here.
The video below gives you an idea of how the photoshoot at the Central Museum went: