Only two parties running for University Council elections; fear of low turnout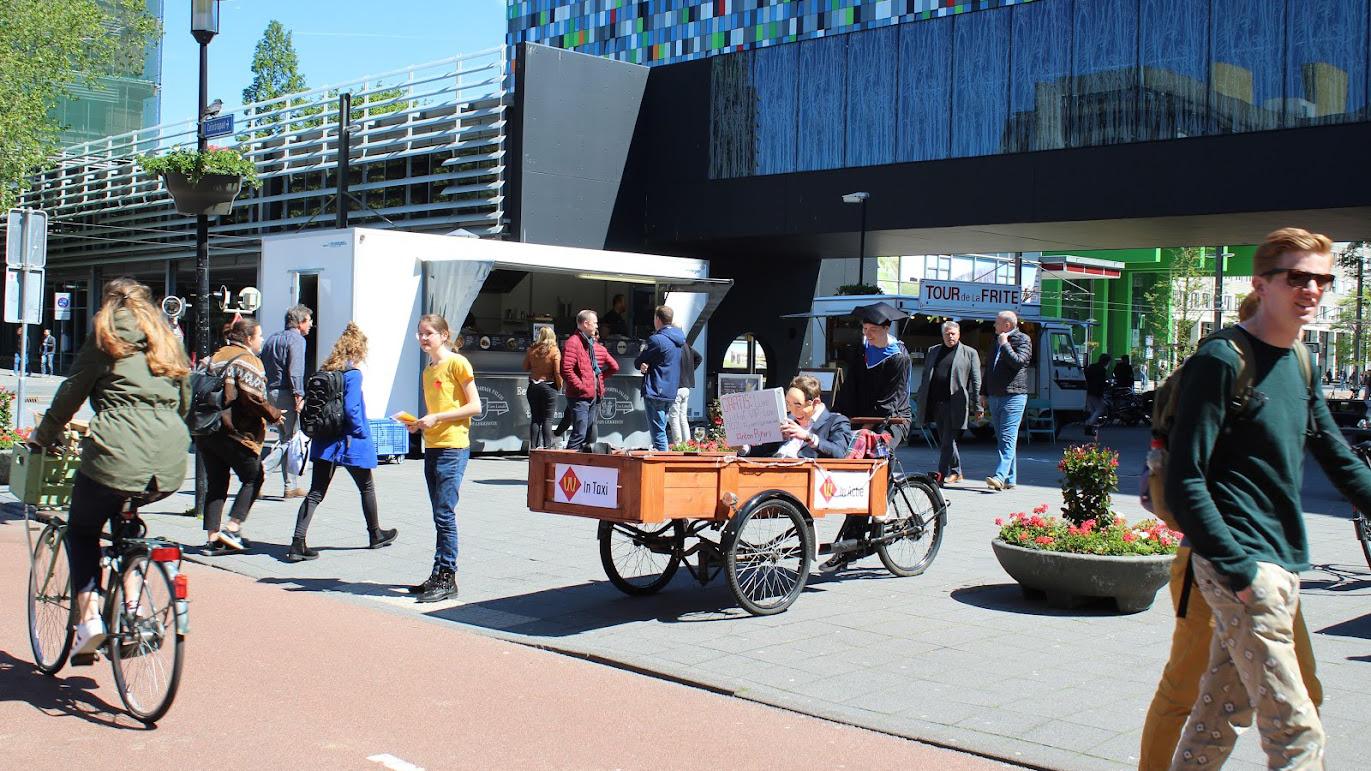 UUinActie campaigning for the 2019 elections. Photo: DUB
This year, the choice is anything but wide. From May 16 to 18, Utrecht-based students can vote either for Lijst VUUR or Partij voor de Utrechtse Student (PvdUS). The two parties most prone to manifesting opposing views in the meetings are precisely the ones not running this year.
With De Vrije Student and UUinActie out of the elections, many of the current council members fear that the turnout is going to be even lower than last year, when only 18.7 per cent of the students made an effort to vote online. One could say that the pandemic is to blame for the lack of involvement, but even before Covid-19 the turnout was already on a downward trend.
Low participation
According to Gijs Markwat, council member representing De Vrije Student, his party has done everything in its power to put together a representative list, but students' enthusiasm was low.
A History student, Markwat cannot tell whether this is the end of the De Vrije Student's Utrecht branch (the party is also active in Groningen and Amsterdam). This year, in Utrecht, the party only has one candidate running for the council of the Faculty of Humanities. "But when it comes to student participation, things are not going well, that is clear", Markwat concludes.
Sifra Meijers, council member representing UUinActie, also informs that they were "simply not able to find successors for next year". There will still be two employees representing the party in the council, but no more students.
Meijers does not dare to say whether the student branch of the party will cease to exist. "We have the feeling that we have realised many of our goals with our activist approach. Issues such as work pressure and social security are now on top of UU's agenda. On the other hand, there is still a lot of work to be done".
Consequence of the pandemic
Gijs Markwat can't say why students are not showing any interest in the elections. "Why aren't students going to class anymore? Why don't they fill in course evaluations? I think the low turnout reflects a more general trend."
In his view, the pandemic has contributed to reducing students' involvement with the university. In addition, the image of the University Council did not improve during the pandemic.
In the past few weeks, Markwat heard from many students that they would rather go on exchange abroad than join a student or political organisation. "Representative councils are just not very well known, even though I have found it an enjoyable and instructive experience."
Sifra Meijers draws a similar conclusion. "It's gotten harder to find people for all student positions, especially in the councils. It is a tough job that keeps you busy for 32 hours a week, not to mention it is hard to enthuse people for something that initially seems rather 'dusty'"
Not an extensive network
Additionally, Markwat thinks that his party and UUinActie have failed in their search for new candidates because the other two parties have a more extensive network and a more mature organisation: Lijst VUUR has a strong base among study associations, while PvdUS is strong among student associations.
However, these two parties also had a hard time recruiting candidates. PvdUS says it can relate to the problem. According to the party, this is "an ongoing trend" which they have also felt this year. "But, at the end of the day, we were able to find enough potential successors". 
Finding candidates was not a walk in the park for Lijst VUUR either, reveals council member Chiara Stam, who says the party was barely able to find enough students to run for the University Council and the faculty councils. "But we did have to push the deadline because there weren't enough candidates initially."
Stam also notes that many students don't stay tuned to the council. It's just not on their radar. Like Markwat, she met many potential candidates who preferred to go on exchange abroad. "After all, they can do that now, after two years of Covid."
With only two parties and fewer candidates, Stam, a student of Media and Culture, fears the turnout in May. "What I regret most of all is that fewer students will feel represented now that De Vrije Student and UUinActie have dropped out. Real democracy requires more extreme voices to be heard as well. VUUR is really going to try its best to represent all students, but I would have preferred to see four parties running."
A lot on their plate
In the past few months, the members of the University Council have been thinking about what they can do to make the council more attractive to potential candidates. One of their conclusions is that being a council member is a lot of work.
Markwat: "We read documents, ask questions, participate in meetings, and make our own statements on subjects that matter to us. Additionally, you have to keep in touch with your supporters, promote the importance of the council, and recruit your own successors. We have so much on our plate that the last two things are sometimes neglected."
Therefore, one of the ideas to solve the issue is to appoint a coordinator to support the council members. They are considering asking the Executive Board to make the funds for that position available. It is unclear whether a student assistant or a policy officer will fill the position.
"It would be nice if someone like that could support council members during their training period and promote student participation across the university", states Chiara Stam. "Then the members would be able to focus on real council work."
In an initial reaction, UU's rector Henk Kummeling says he finds it regrettable that two student parties will not return to the council next year. "It is important that all voices are heard in a university. It's a shame that it seems harder to achieve that now."
The rector acknowledges that the student council members find their function pretty heavy and that they are consulting with each other on how to make the council more attractive. He says he is waiting to hear their proposals.
After four years, we're back to two parties
Both Lijst VUUR and PvdUS have submitted a list of thirty candidates for the elections. The progressive VUUR has Lune de Rijck, a student of Philosophy, Politics & Economics, as its party leader. PvdUS, a party that attaches great importance to student association life, chose Maud Duurkens, a student of Management & Organisation Sciences, as its leader. 
2017-2018 was the last year that only VUUR and PvdUS represented students in the University Council.
De Vrije Student debuted in the 2018-2019 academic year, while UUinActie joined the council a year later. This past academic year, both parties had two representatives in the council, occupying a quarter of its twelve seats.
De Vrije Student has repeatedly made its presence felt over the past three years by asking questions about the inclusivity and sustainability ambitions of the university, which they find "overblown". The party is known for opposing quotas and targets. Last year, they resisted the Cultural Diversity Barometer, a project that aimed to measure how diverse Dutch universities are. 
UUinActie emerged from the protest movement WOinActie, which campaigns against heavy workloads, temporary appointments, and the underfunding of higher education. It was the only party with both students and employees represented in the council.