Witnesses sought
Person dies at University Library's parking lot *updated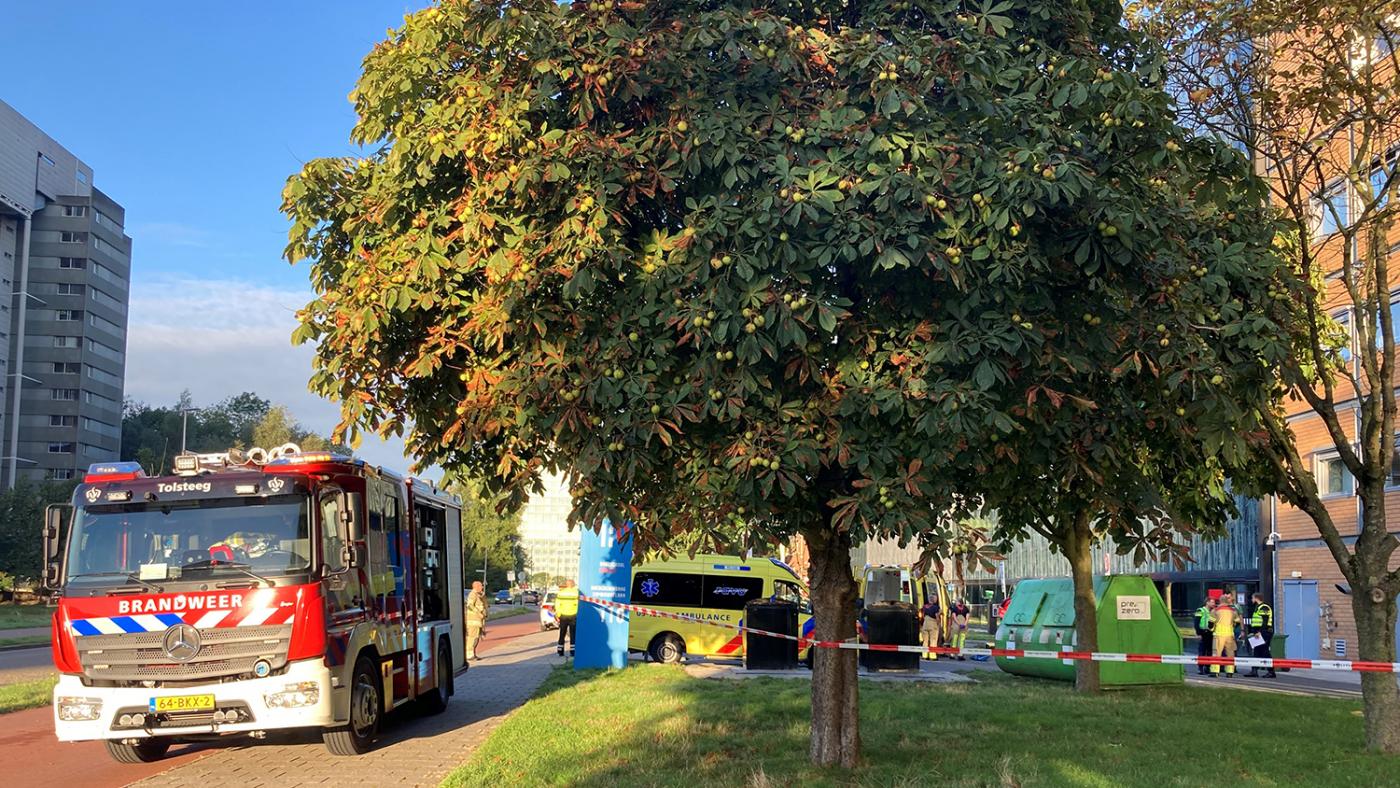 Ambulances were soon called to the scene. Photo: DUB
The police arrived at the scene around 8:00 am. Firetrucks and ambulances were also quick to arrive, but the person was found dead. About half an hour later, it was time for the air medical services to land on the field of the Johanna student housing complex.
The police are looking for people who saw what happened to the person. "We always do that when someone dies in unknown circumstances," explains a spokesperson for the police. They aim to find out whether the person fell from the roof and, if so, how exactly that happened. A lot of people gathered at the parking lot around 8:00 am. Those who did see or hear anything are asked to get in touch with the police through the following phone number: 0900-8844. Utrecht University also offers assistance to anyone who saw the accident happening. They can contact Koos Maissan, from Corporate Social Services, by calling 06-4155 1478.
Aan de #Cambridgelaan in #Utrecht is een overleden persoon aangetroffen. Politie doet onderzoek naar de toedracht. Heb jij iets gezien of gehoord? Neem dan contact op met de politie via 0900-8844.

— Politie Utrecht (@POL_Utrecht) September 21, 2022
Once the police arrived at the scene, the place was immediately isolated and the parking lot was closed. Aid workers from the Utrecht University of Applied Sciences conducted cyclists and pedestrians to the other side of the road. Car drivers were allowed to use the parking lot again by 10:00 am.
Update from September 22, 2022:
The Utrecht Police announced via Twitter that no crime has been committed. The investigation has been closed.
If you're having suicidal thoughts, talking to others can help. You can chat anonymously, 24 hours a day, on www.113.nl. You can also call 113 or 0800-0113. The service is free of charge.
Advertisement