Professional rower Monica Lanz does not wait for the Olympics and becomes a researcher at UU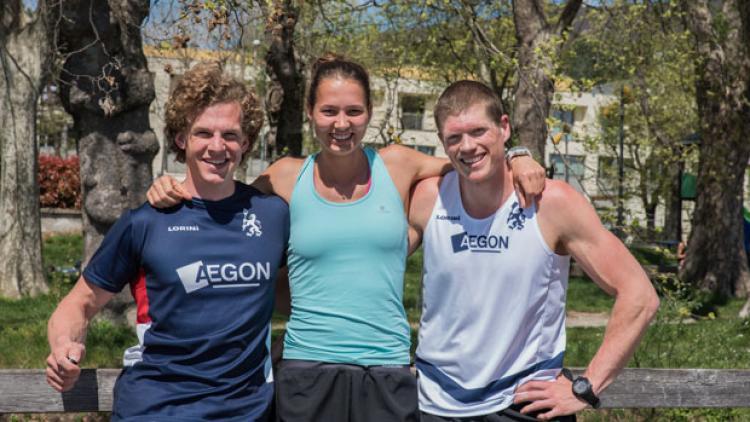 Three Olympic rowers from Utrecht. Monica Lanz in 2016 in between Harold Langen and Kaj Hendriks. Own photo.
Lanz (29) was part of the Dutch rowing selection for seven years and participated in every major international rowing event. Her sporting highlight was the Olympic Games in Rio de Janeiro in 2016. The Dutch Women's Eight reached a sixth place there, while perhaps there was hope for a little more. "But it was great to be able to row an A-final there under that mighty statue of Christ and to celebrate the sport with all those other athletes."
She would have liked to have had another experience like that this summer as a farewell to professional rowing, but it was not meant to be. The Olympic Games have been postponed to next year because of the coronavirus and it is still questionable if there will be an event next year in Japan at all. For Lanz, this is the end. "I have to follow my instincts, and they tell me: stop."
Researcher
From September on she will be working full-time as a junior researcher at the Utrecht Centre of Water, Oceans & Sustainability Law. Since completing her Master's degree in Constitutional & Administrative Law last year, she has been working one day a week on the research of a large consortium that investigates various aspects of flood protection in the Netherlands. Eventually, she has to write a dissertation.
But that is certainly not the only thing she is looking forward to. "As a rower you always live according to a schedule. You know exactly where and when you will be for the rest of the next year and what you will do at that time. Now, I look forward to weekends with two days off, and holidays with my boyfriend and with my friends. Not that rowing or training hard bothered me, but I was looking forward to life after rowing too much. There was no turning back."
Difficult for new talents
With Inge Janssen of Orca, Monica Lanz was the only one from Utrecht who managed to hold her own among the Dutch rowers training on the Amsterdam Bosbaan. It looks like few Utrecht women's rowers will join the Dutch Team for the time being.
Lanz: "I don't know why exactly. But of course the Merwedekanaal in Utrecht is by no means ideal rowing water. It has always been cramped, but that is only getting worse with the increase in pleasure boating and the new plans for the area of the Merwedekanaal. It would be nice if a solution could be found for this, otherwise it will be very difficult for new talents to make some mileage and take the next step to professional rowing".