Promotions cancelled, university buildings closed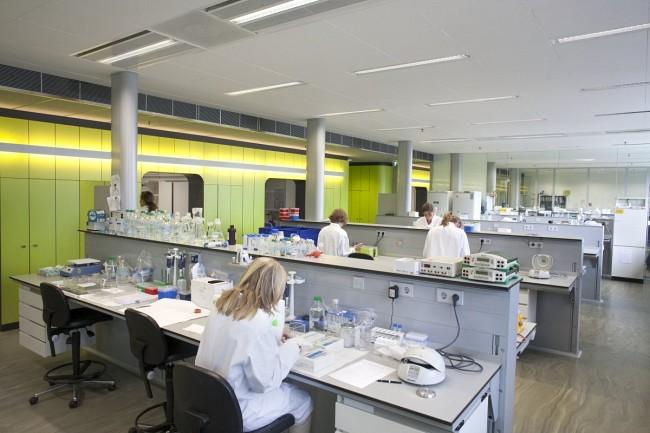 A UU laboratory where you can only work with permission, photo Kees Rutten
All staff and students received an e-mail from the three-headed university board on Tuesday March 17 about the tightened rules. Instead of continuing promotions with a limited number of attendees, the Executive Board has now decided to completely discontinue them until and including April 5. Whether promotions will be possible again after that date is unknown. Because the consequences for the PhD candidates can be enormous, such as missing an appointment, the university will either mediate for them or the promotion can still take place in an adapted version. Until April 6, this concerns a total of thirty promotions. If the measure lasts longer than that, the promotions after that date are cancelled as well. Forty more are planned until the end of April.
Internships of the Faculty of Medicine and internships elsewhere that normally take place in one of the university buildings will also be discontinued until the end of this academic block (April 20). The consequences of this are discussed on an individual basis.
Buildings closed
It has also been decided to close almost all university buildings from Thursday March 19 until at least April 16. In the first place, of course, to comply with regulations issued by the government. Another reason, the Executive Board writes, is to continue to comply with regulations such as the presence of company emergency response personnel, security, cleaning and facility services. Only a few employees are allowed to enter the premises. The buildings that remain open to employees are buildings where vital processes take place, such as the administrative building where the ICT employees work. Buildings where animals are cared for or the Botanical Gardens where the plants must be maintained are still open as well. Laboratories with ongoing experiments are also accessible under strict conditions. This includes research related to the coronavirus. Deans must give permission for this. All other research can be continued from home. No new studies are started. The properties that can only be entered with an XS-pass have been given different opening hours. These buildings will be open from half past eight in the morning until half past four in the afternoon.
Last chance
This means that today (March 18) is the last chance to pick up things from offices, after which permission must be requested from the manager and security to enter a building. If you want the plants in the office to be watered until mid-April, it is best to take them home. Only the plants in the common areas will receive water. All fridges will be emptied after Thursday.