The quiet bike route to the Uithof that no one knows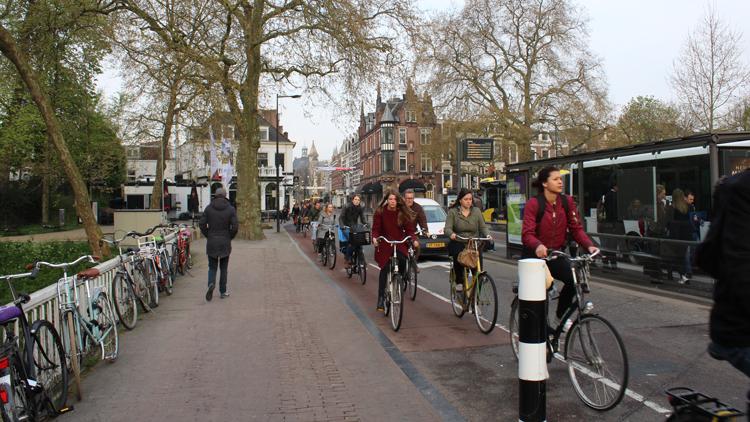 Every day, around 24.000 people bike from the central station to the Uithof. Most of them bike past the Vredenburg. During rush hour, the cyclists form traffic jams at every traffic light, and overtaking becomes impossible with that many cyclists on the city center's narrow bike lanes. To take the pressure off this route, an alternative was introduced a few years ago. This route – called the Herenroute – takes the cyclist through the Mariaplaats, Herenstraat and Lepelenburg Park to the Uithof.
Most of the people interviewed by DUB take the Vredenburg route. It's the first route they learned about, they explain their choice, and 'everyone goes that way'. "I'm quite fond of that route," Milou says. "In the mornings, you can really see the city wake up." Mohammad, a student from Pakistan who has been here for a year now, says his reason for choosing the Vredenburg route is very practical. "Google Maps says this is the most efficient route." It's also Mirte's main route, she says as she squeezes her bike between many others at the Coïmbrapad. "I don't mind that it's a busy route, although it doesn't always feel safe, all those people biking on those narrow bike lanes."
None of them have ever considered taking a different route, although Mirte once biked the Herenroute 'by accident'. "I was cycling with a friend of mine, and he took that route." Mohammad says he'll think about biking the Herenroute. "It sounds quite nice, biking this green route through the city center."
The so-called Herenroute
The Herenroute isn't well known among the Uithof commuters yet. To show the new students there's more than just one way to get to the Uithof, the city council wants to promote the Herenroute during this year's UIT-week. By showing the first years the quiet, green bike route, they hope to tempt the newcomers to avoid the busy Vredenburg route.
To make the Herenroute more appealing, the city is improving the pavement. "We're going to ensure the entire route is really easy to cycle on," city spokesman Matthijs Keuning says. "We're laying down pavement that will let you bike as smoothly as possible. We'll make sure you don't bounce off your bike when you encounter a manhole, and we're going to see if we can get rid of any inconvenient posts." So far, the city has spent over 187.000 euros on the Herenroute project. Some supporters of the local chapter of bicycle association Fietsersbond would like to see the entire route paved with tarmac, chairman Peter van Bekkum says. "But that's a sensitive subject, since the route goes through the historic city center."
Keuning says it's difficult to measure whether people actually use the Herenroute. "People often bike a small part of the route, or they're not even aware of biking the Herenroute."
Work on the project is done in stages. "Our goal is to have the biggest part of the work done before the end of the year," Keuning says. "We're working on many other projects in the city center. As work on the Kromme Nieuwegracht is delayed, we can't start work at the Herenstraat until 2018."
Not everyone chooses the busy route past Vredenburg. Some students have found their own alternative routes. Thomas bikes via the Galgenwaard stadium. "That's the easiest and fastest route, because I live at the Catharijnesingel." Others opt for a route via the Berenkuil. "I usually take the Vredenburg route," Mart says. "When I'm in a hurry, I take the Berenkuil route. It's less fun, but it feels a lot faster." Jacobien and Noa take the Berenkuil route sometimes, too. "Overtaking is much easier that way. In the Wilhelminapark, the bike paths are just too narrow."
The Herenroute was conceived when the Smakkelaarsveld was under construction. A bus lane was added and the road had to be opened up for new underground cable work.  The first version of the route dates back to 2008, and went from the Stationsplein and Stationsstraat in the direction of the Catharijnesingel. "We came up with an alternative route past the city side of the station," chairman Peter van Bekkum of the Fietsersbond explains. "We made signs to advertise it and hung them on street lights. The city didn't like that much and made us remove the signs."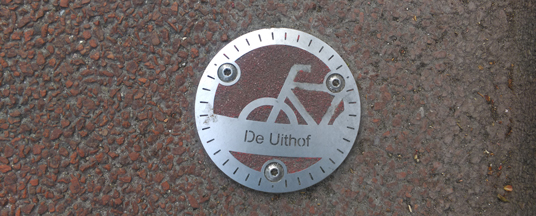 The pins in the road direct the cyclist through the Herenroute
Today, red-and-silver pins in the pavement guide the cyclist through the Herenroute, from the Mariaplaats in the direction of the Uithof. The Herenroute and the Vredenburg eventually merge in the Burgemeester Reigerstraat. Cyclists will still need to bike along a narrow path in the Wilhelminapark. "You have to pass under the Waterlinieweg somewhere, and the wide bike lane on the Weg tot de Wetenschap is easily capable of handling all that traffic."
When designing the alternative route, the Fietsersbond mostly focused on how easy it was to bike without having to stop. "The Herenroute has fewer traffic lights, for instance, and fewer cars, which is great for a bike route," Van Bekkum explains. "So yes, technically the route itself is longer than the Vredenburg route, but it's just about as fast."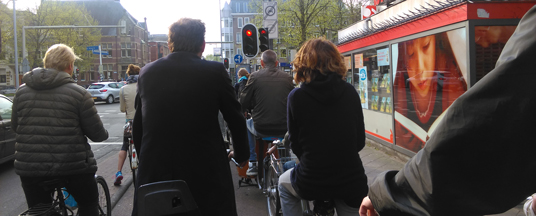 The Vredenburg route has more traffic lights than the Heren route
The city thinks that with the new Moreelsebrug bridge, more students will take the Herenroute. "After crossing that bridge, it makes more sense to continue to the Mariaplaats than biking back along the Catharijnesingel to the Vredenburg," says Keuning. The Fietsersbond does not share Keuning's enthusiasm about the bridge. "It's nice that you can cycle on the bridge, sure, but you have to take your bike up and down the stairs, which doesn't exactly encourage people to take the bridge – or the Herenroute."