Research on bracelet that detects Covid infection is still looking for volunteers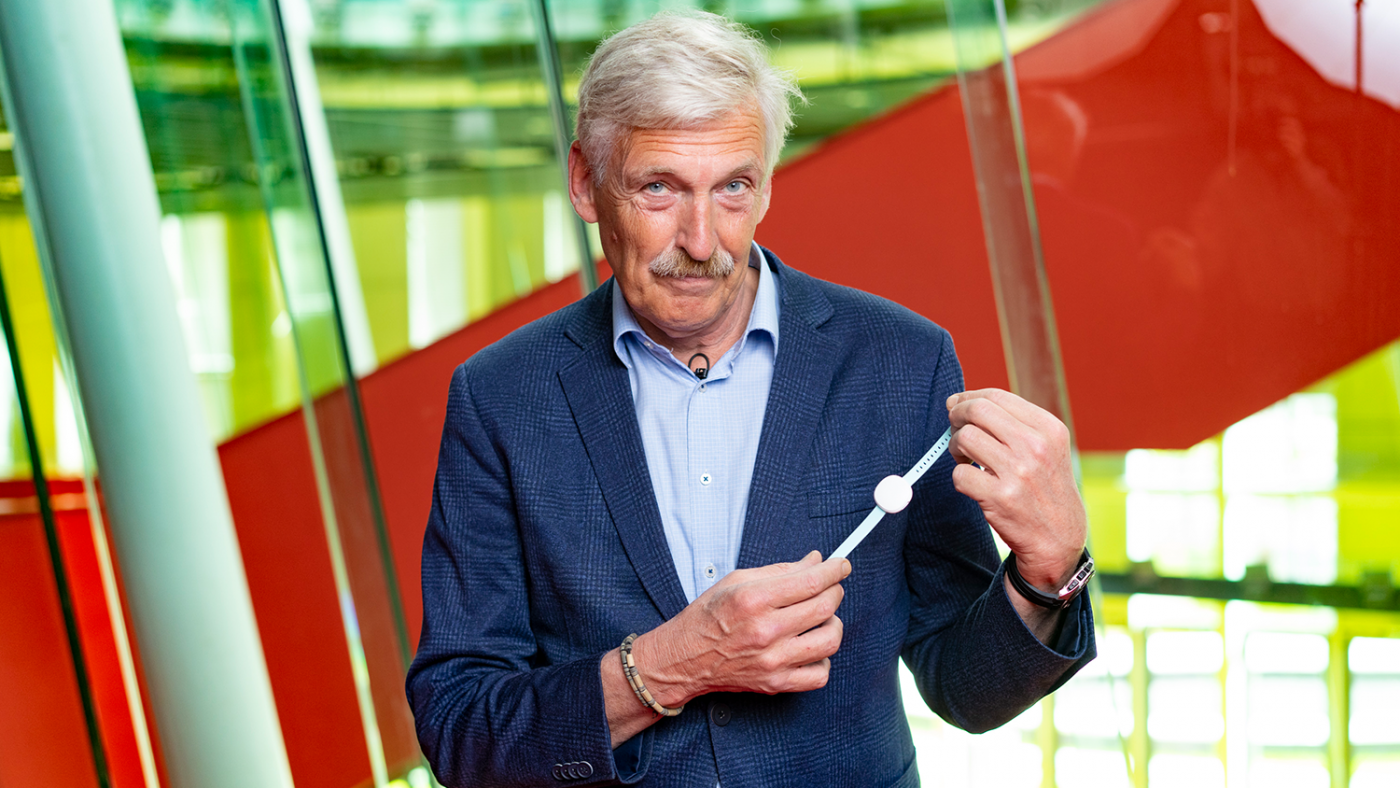 Clinical epidemiologist Rick Grobbee believes these bracelets can help the fight against Covid-19. Photo: UMC Utrecht
Titled Covid-red, the study utilises pre-existing technology. Made by the brand Ava, the bracelets are currently used by women to assess when they're ovulating. "But the bracelet's data can also inform us about a possible infection", explains head researcher and clinical epidemiologist Rick Grobbee. An increased body temperature can point to the early stages of fever and changes in respiration rate can indicate coughing or shortness of breath.
UMC Utrecht is looking for 20,000 volunteers for the clinical trials in Utrecht. Over 10,000 applied in just a couple of weeks. They must wear the bracelet every night and then upload the data to an app in the morning, in addition to filling in a questionnaire every two weeks and sending a few drops of blood four times. Blood bank Sanquin is helping out by measuring whether the volunteer has contracted the coronavirus without either the bracelet or the wearer having been able to detect it.
The sensors in the bracelet measure vital signs such as body temperature, pulse rate, and respiration rate, as well as their variability. The quality of the wearer's sleep is assessed, too. An occasional increase in pulse rate, for example, is no problem, because it doesn't necessarily indicate an infection. "We differentiate between what is a specificity of the virus and what isn't. The sensors work in the same way they do to measure whether a woman is ovulating, but the data is used differently. We've developed an algorithm to predict Covid, instead of an algorithm to predict fertility", explains Grobbee.
False positive
The research will run for a maximum of nine months, but the preliminary results can already help in our battle against the pandemic. "It's really hard to predict how long we'll need to develop a good algorithm, but we're trying to present the preliminary results as soon as possible. We must be extremely careful with this, in order not to worry too many people. At the moment, between a third and a fourth of the transmissions detected by the bracelets are false positives", says Grobbee. If the bracelet says someone is probably infected with Covid-19, then they must take a test to confirm it. After all, Covid shares many symptoms with other types of infection.
The study is being financed by the Innovative Medicines Initiative (IMI), an EU public-private partnership backing health research and innovation, with a corona-related grant worth 10 million euros. Nine international partners have joined this research, but around 90 percent of the activities take place in the Netherlands.
Liechtenstein has already managed to present its preliminary results. "That was the first analysis in which we really could test an algorithm. A total of 1,100 people participated in the study and, in a hundred cases, they were indeed infected with Covid. Of those cases, 71 percent were detected by the bracelet at least two days before the symptoms began". Promising results, Grobbee attests, but more research is needed to draw conclusions.
Future pandemics
The couple of days "gained" before a patient starts getting symptoms (and gets tested) can make a world of difference in how fast the virus spreads. Grobbee: "This the first smart device in which data is processed in real time. That matters because, when one is diagnosed in the early stages of the infection, they can go into quarantine right away, thus reducing the chances of infecting others. That would allow us to contain this pandemic much more quickly, not to mention that this research is not restricted to the present pandemic. With a few adjustments, the bracelet could be used to detect other infectious diseases in the future".
Culture sector
More than 5,000 people responded to the first call for volunteers, including Nick Schilder, member of Dutch musical duo Nick & Simon, who made a video explaining his decision to take part in the research. "The music sector has been in a tough situation for quite some time now. We would really like to return to the stage, just like the 100,000 other people who work in this sector. Such a study can be of great use to the event sector, enabling people to attend a concert or festival in a safe way, and I'm sure everyone needs that right now".
Volunteers must be 18 years old or older and they may not participate if they have already had Covid before, or if they've already been vaccinated. The bracelet is sent to the volunteer's address for free.