Second-year student Mathijs Geurts voted Campus Columnist 2019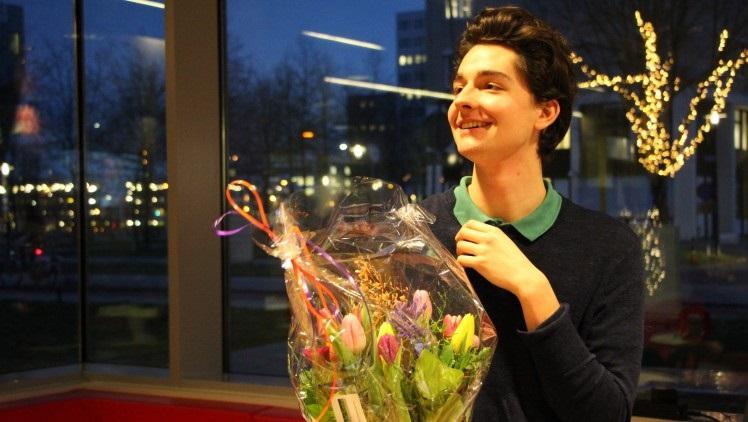 Mathijs Geurts is de nieuwe Campuscolumnist 2019. Foto: DUB
Mathijs Geurts, second-year student of Liberal Arts & Sciences, was voted DUB Campus Columnist 2019 this past Wednesday afternoon. His column The nightclubtest (in Dutch)
led him to victory. He is the successor to last year's Campus Columnist, philosophy student Michiel Hekkens.
At DUB's New Year's Drinks, Mathijs received the 1000-euro Erik Hardeman stipend. In the coming year, his biweekly columns will be published on the DUB website.
Matthijs is very happy with his win. "I love writing, and I enjoy having a deadline, creating something every two weeks. I hope it'll help me find a routine."
In the column that gave him the victory, Mathijs writes about the 'challenges' of a free study. Little structure, hard to make friends, and the need to take a lot of initiative. When he started his studies, he discovered the real problem many 'new' studies struggle with: they fail what he calls 'the nightclub test'.
The jury praised Geurts' use of language, and the original way in which he presents the problem of a free study programme.
With fifteen contenders, the number of entries was lower than last year. This year, twelve students and three employees entered the competition. Two entries were submitted by international students.
The jury noticed that for many participants, it seemed as though a column had to contain a negative message – which is okay, but there's a danger of becoming too whiny, they say. A column also needs to be well-written, surprising, and has to have a clear point.
Thankfully, there were some submissions that met those criteria. On Wednesday, Mathijs Geurts won the title, beating two other nominees.
One of the other nominees was Stefan Semenczuk. He's the first international student to be nominated for the position of Campus Columnist. He's a student for the research master's in History of Art of the Low Countries. At 53 years old, he's not a typical student, and his column A point of view focuses on that age difference. A column filled with wonder at his own position.
The other nominee was student dean Anne Hamburger. Her column, De vluchteling (The refugee) (in Dutch), is about a conversation with a Syrian refugee who wants to study at the UU. The student dean thinks she's well-prepared for the conversation, but is honest about her surprise at how the conversation goes.
This year, the jury consisted of Tine de Moor, professor of Social & Economic History; writer and columnist Michiel Stroink; Marieke de Bakker, head of Student Counselling; Juliette Smits, student of Communication and information sciences; and Ries Agterberg, DUB editor-in-chief.