Six talented Utrecht scientists to go abroad with Rubicon grant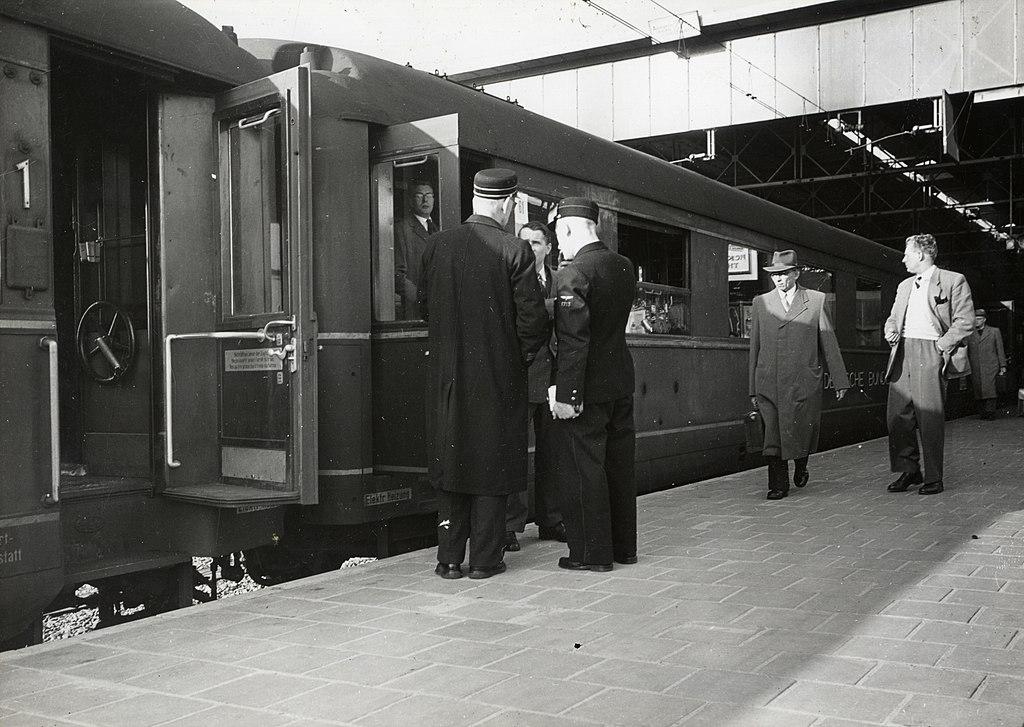 Photo: The Utrecht Archives / L Hessels, 1955
Most of the 24 laureates will go to renowned research institutions in the United States, Germany and the United Kingdom. Other destinations include Sweden, Switzerland, Canada, Finland, Denmark and Spain.
Research topics cover the reason for the continued wage gap between men and women, the effects of chemicals on biodiversity and how to stop bullying. Most researchers will be leaving for two years, others for 12 to 18 months.
Important step
The NWO received 76 applications for the grant, 31.6 percent of which were approved. NWO believes work experience abroad is an important step in the careers of young scientists. The award is also a step towards winning the highly coveted Veni, Vidi and Vici research grants.
The coronavirus crisis may still cause travel delays, however. fThe researchers who receive Rubicon funding will not leave the Netherlands "until the situation is safe for them", writes the Dutch Research Council.
Two more rounds
NWO plans to hold two more rounds to award the grant, funding a total of 60 researchers. Each year, seven million euros are distributed among young researchers. The level of funding they receive depends on the duration of their stay and their destination.
UU was the most successful of all universities, with six approvals. Additionally, a researcher of the Utrecht Hubrecht Labratorium of the KNAW received a scholarship. Amsterdam based scientists received five scholarships, the TU Delft three.
---
The Utrecht young scientists are highlighted below. The description of their research comes from NWO:
Dennis de Bakker – Fishing for the causes of neurodegeneration. Leibniz Institute on Ageing, Jena (Germany).
The biologists will study neurodegeneration in killifish, the only species that's known to lose neurones with old age like humans. By comparing and copy/pasting in fish DNA, the researchers hope to find out DNA variations causing neurodegeneration in fish and humans.
Lydia Laninga-Wijnen – Being defended in bully situations: When are victims really helped? University of Turku (Finland).
Anti-bullying campaigns encourage young people to stop bullying by defending the victims and making them feel better. However, this defensive approach isn't always effective. Sometimes, it is even counterproductive. This project investigates to what extent social-cognitive processes, defender/victim characteristics, and group values contribute to a successful defense.
Feline Lindhout – The logistics of molecular transport in the human brain during sickness and health. MRC Laboratory of Molecular Biology Cambridge (United Kingdom).
Logistic problems surrounding molecular transport in brain cells often lead to neurological conditions. Scientific knowledge comes primarily from animal research, but are these results translatable to humans? Scientists can now investigate this by studying these processes in the cultivation of human brain tissue.
Kadi Lõhmussaar (Hubrecht Laboratory / KNAW) – Control over the faith of the cel during homeostasis and sickness. University of Kopenhagen, Biotech Research & Innovation Centre (Denmark).
When the intestines suffer from an inflicted damage, the surviving cells adopt a fetal-like identity to repair said damage. The researchers aim to investigate how a cell's fate is decided in this process to advance the regeneration of the intestines.
Iris Pit – Synthetic chemicals as cause for biodiversity loss. Stockholm University, Department of Environmental Science (Sweden).
European rivers contain a mix of synthetic chemicals coming from wastewater discharges. However, the effect of synthetic chemicals on biodiversity is still unknown. This project will determine if chemicals can cause a decrease in biodiversity -- and if so, which chemicals are the most harmful. Results will help us to monitor the quality of water and create a poison-free environment.
Valerie van Weperen – Resetting the nerve system of the heart. University of California, Los Angeles, Cardiac Arrhythmia Center (United States).
Heart diseases disrupt the activity of heart's nerve system, which can cause dangerous arrhythmia. This research will study how such a disruption of the nerve system causes arrhythmia in the case of heart diseases not caused by blocked arteries, and whether the situation is treatable. 
Advertisement