Staff at university hospitals to strike for better wages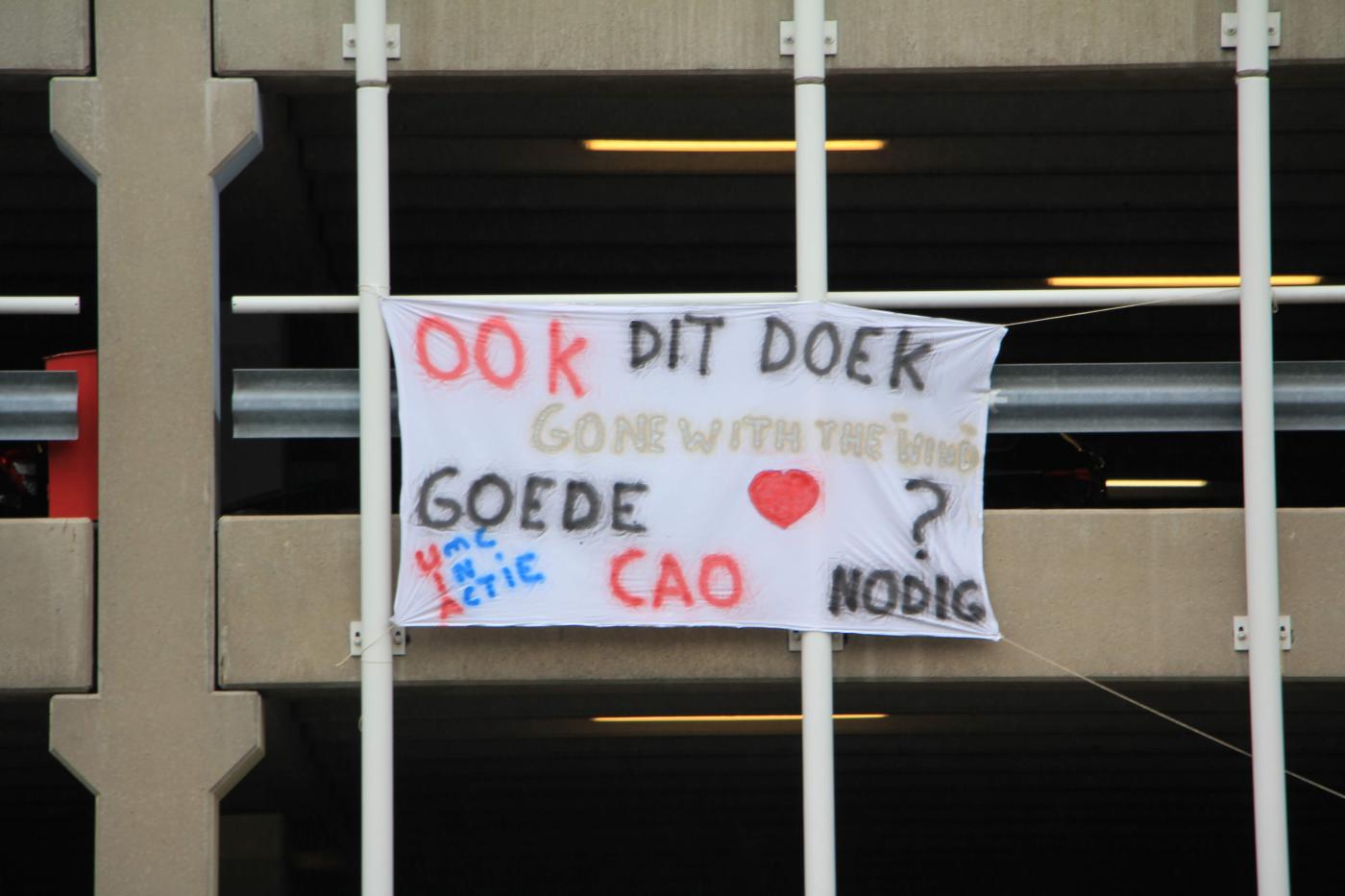 Protest group UMC in Actie protests for a better collective labour agreement. Photo from 2018, DUB.
The university hospitals in Amsterdam, Leiden, Utrecht, Groningen, Rotterdam and Maastricht will join in the work stoppage. The only institution missing is Nijmegen. Nearly 80,000 employees from all professional levels at hospitals, including researchers, lab workers, cleaners and receptionists, are planning to go on strike.
All scheduled care is cancelled and only emergency care, intensive care, oncology, coronary care and neonatal/premature birth care will be in operation. The other departments that are being kept open vary by university hospital.
Negotiations
The strike is the result of intractable difficulties with the employers' organisation, the National Federation of University Medical Centers (NFU), in reaching a new collective labour agreement. They are not offering a wage increase this year. Instead, there would be a 3.5 percent raise for nurses and doctor assistants in 2022, and a one percent raise for other hospital employees, plus a one-off bonus payment of 750 euros. No offer has been made for 2023.
"We feel that everyone should make gains in terms of standard of living, and that is not the situation now", said FNV spokesperson Danielle van Essen regarding the disagreement. FNV is demanding a yearly raise of three percent for all employees, plus an extra allowance if staff are called up on short notice.
Those planning to strike also feel that more has to be done about the high workload. "It was already high, but the coronavirus crisis has really magnified it significantly", Van Essen states. Another union, CNV, also turned down the NFU offer.
NFU says (link in Dutch) that it is impossible for them to meet all the demands, given the restricted financial resources. "In our view, our shared interest is that the national government in The Hague has to provide money for healthcare and nursing staff."
Extra funding
The outgoing government is earmarking 675 million euros to raise salaries in the healthcare sector on a permanent basis. A portion of that amount will go to personnel in university hospitals. With that funding, average incomes in healthcare will increase by 1.5 percent.
NFU is pleased that the government has reserved extra funding for healthcare personnel, as the employers association has been pushing for this for quite some time. FNV called it a "first step in the right direction", but feels that these additional funds are inadequate to ensure that all healthcare workers can maintain their standard of living. Tuesday's strike will therefore go ahead as planned.
Advertisement