Public transport
Strike causes students to run late or not come to class at all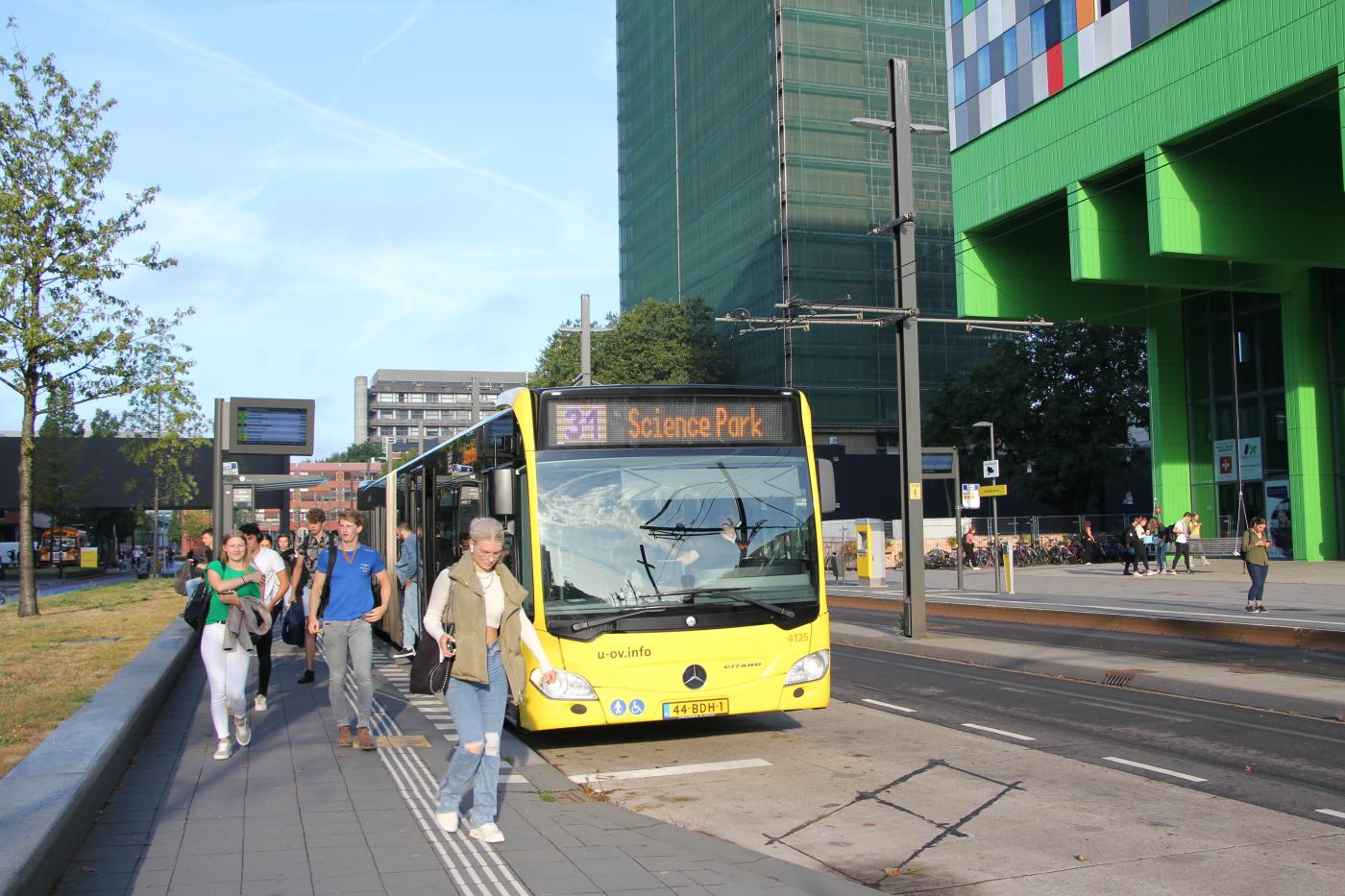 There are fewer buses running to the Utrecht Science Park today. Photo: Isabella Hesselink
The students who managed to step out at bus stop Heidelberglaan this morning may consider themselves lucky. "The bus did show up, but I had to check the public transport app all the time because the trams are not running," says one student, in a rush.
Esmee, a second-year Bachelor's student in Biology, says that it took her a bit longer to get to the campus. Usually, she reaches it by tram. "Fortunately, I managed to get to Utrecht by train. Then I took an OV Fiets (the bike rental service offered by NS, Ed.) to bike to the Utrecht Science Park," she explains. "But there weren't a lot of bikes available at the station." A friend told Esmee that the buses were "packed", which is why the student decided not to take them.
Roos, also a second-year Biology student, notes that first-year students are finding it particularly hard to reach the campus. She mentors a group of freshers and many of them don't have a room in or near Utrecht. Of the 14 students in her group, only two managed to get to class. 
"They live in a village near Utrecht, so they had to cycle for a long time to part had to cancel that."
Attendance requirement
Many of Esmee and Roos' classmates didn't come to class today. "I think the lecture hall was half-full at best," estimates Roos. "The teacher held a Teams meeting as well because so many students weren't there."
That was not the case for Associate Professor Barbara van den Berg. Because of the strike, her lecture was ministered in a hybrid way — a "huge exception" — but most of the 150 first-year students in Mathematics showed up in person.
Utrecht University states that educational and introductory activities will be carried on as usual during the strikes. The university asks students to delay their trips "whenever possible." In addition, the attendance requirement has been put to a halt, so there will be "no consequences" for the students who are not physically present in class.
More strikes to come
Due to the strikes held throughout the entire province of Utrecht on September 7, there are fewer trams and buses available. Employees of regional public transport providers are calling for a better labour agreement. The bus drivers linked to the trade union FNV are going on strike, which means that part of the buses run by Syntus Utrecht and U-OV are not operating today. Tram staff working for Qbuzz are walking out too.
Travellers can expect more strikes to come. On Thursday, September 15, employees of the train operator NS will stop working in the centre of the province to demand a better raise than the one proposed by the company in the negotiations for a new labour agreement. On Friday, September 16, regional transport operators are set to walk out across the country. NS has come up with a counteroffer, but the trade unions haven't responded to it yet. The strikes are expected to go on.
Advertisement