Student house in Utrecht scores free vacuum cleaner as 'influencer'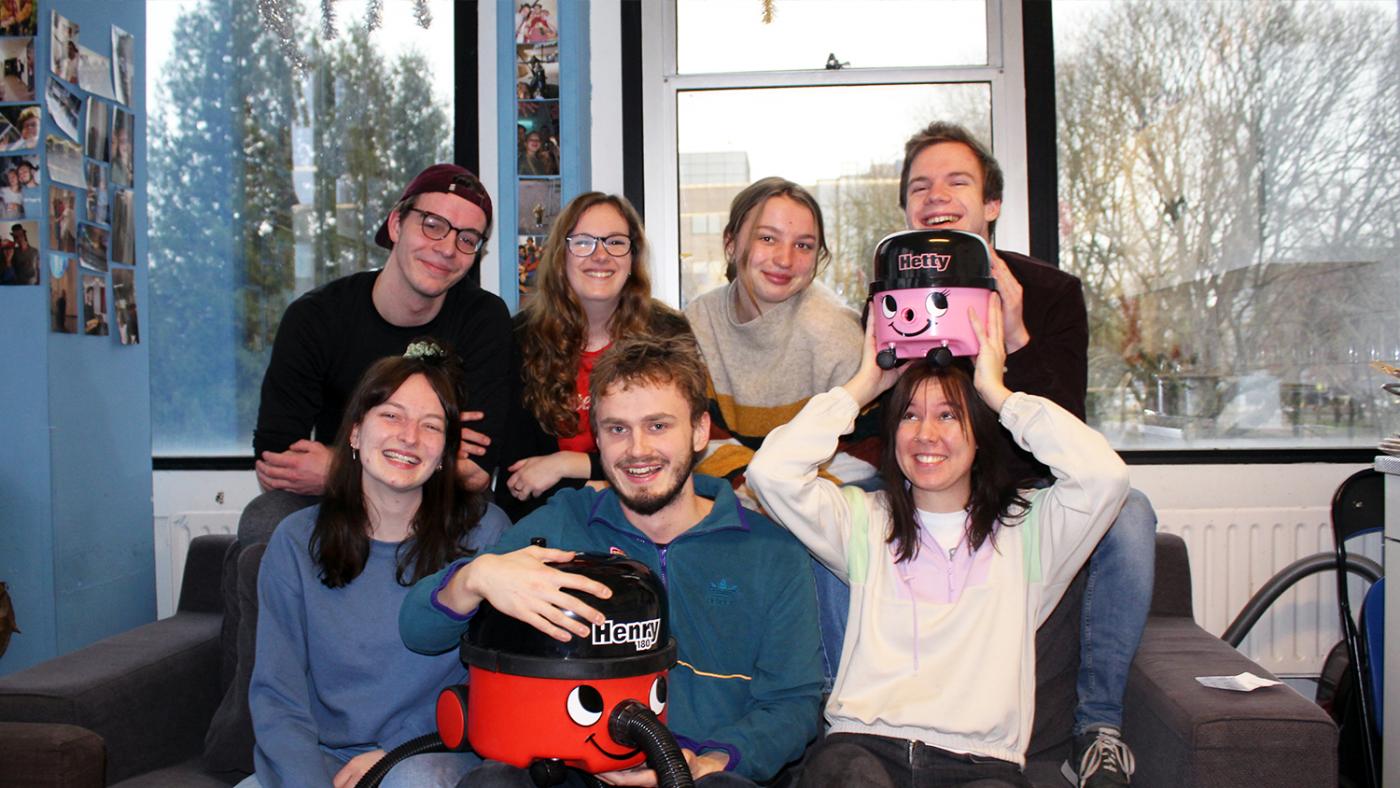 The residents of Huize Zeven Dagen with the fruits of their influencer labour. Photos: DUB, Marieke Braat
The Instagram account @het.utrechtse.studentenhuis started out as a joke, according to Jade, one of the roommates in the house located on Ravellaan avenue, in the Oog in Al neighbourhood. "We would be glad to get anything for free, really. So, when posting pictures of our dinners, for example, we tagged the supermarket where we usually do our groceries, hoping to score a free meal eventually. But we never expected that someone would send us a new vaccum cleaner".
On the Instagram page of the student house, you can get to know the rooms and lives of its seventeen residents a little better. Vindi, the cat, is also featured in the feed, of course -- after all, what's an influencer without cat videos? The roomates even promised to play Caper live if they managed to get 250 followers. Housemate Tijn was the victim in a livestream.
One day, online retailer Bol.com contacted the students via Instagram. "We had tagged Bol.com in one of our posts, but we did that with many companies", Jade explains. The roommates also interacted with Bol.com's posts, catching the retailer's attention. "Dear residents of Huize Zeven Dagen. In just one week, you have managed to turn the influencer world upside down. It's amazing to see how your apparently simple content has caused so much stir", wrote Gerda van Bol.com's accounting department.
Around a week later, Bol.com sent them Hetty, a miniature vacuum cleaner. As a new member of the house, Hetty obviously had Instagram posts dedicated to her, with captions like "Hetty is staying home. You too?" or "Hetty cooked today" or "Hetty did the groceries."
It didn't take long for Bol.com to send the students a real, grown-up vacuum cleaner: Henry. "Hetty and Henry are now displayed as trophies in our living room. Henry is the only vaccum cleaner we have that works, so he gets used quite a lot, too", says Jade.
Even though the students have reached their ultimate goal, Jade doesn't think that's the end of their influencer life. "We're still taking care of our Instagram profile, but we haven't thought of a new goal yet. Maybe a new sandwich iron or a crockery set? We broke some plates last Christmas, so it would be nice to get new ones. To be honest, everything is welcome, including new followers. The more followers, the more sponsors!"