That's one in five students
'Students should pay less rent for houses with single-glazed windows'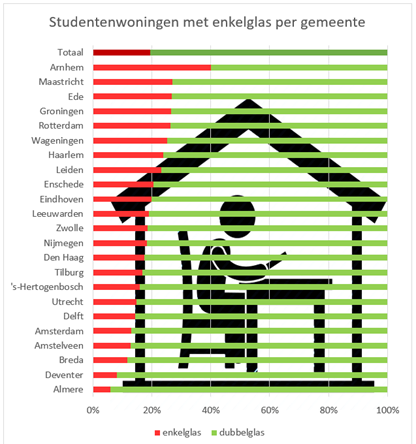 Image: courtesy of HOP. Source: ABF Research. Graph depicts the biggest university cities in the Netherlands and only considers student houses with an energy label.
Some 80,000 students out of the nearly 409,000 who no longer live with their parents are renting homes with single-glazed windows, according to a study conducted by ABF Research on behalf of the organisation Natuur en Milieu (Nature and Environment, Ed.)
Single glazing is very common at student homes: about 19 percent of accommodations rented by students have it, compared to 11 percent when looking at all homes in the Netherlands. Considering the biggest university cities in the country, Arnhem is the one with the most student homes with single-glazed windows (40 percent). Almere comes last with only 6 percent.
Natuur en Milieu has been campaigning against single-glazed windows for quite some time. This week, they joined forces with the Young Climate Movement and the National Student Union to present a manifesto to the Dutch Parliament in which they call for the prohibition of single-glazed windows in rentals as of 2029. To get landlords to take action before that, they propose single-glazed windows to be taken into account in the home valuation system as of 2024. That way, they would be forced to charge a lower rent for this type of home.
According to the study, each student home would be able to save up to 217 m3 of natural gas each year if their windows were double-paned. "Many students are paying hundreds of additional euros for their gas and electricity bills and they can't do anything about it.  With the rising prices, it's set to become completely unaffordable," state the organisations.
Advertisement