Students write manifest against Covid pass at universities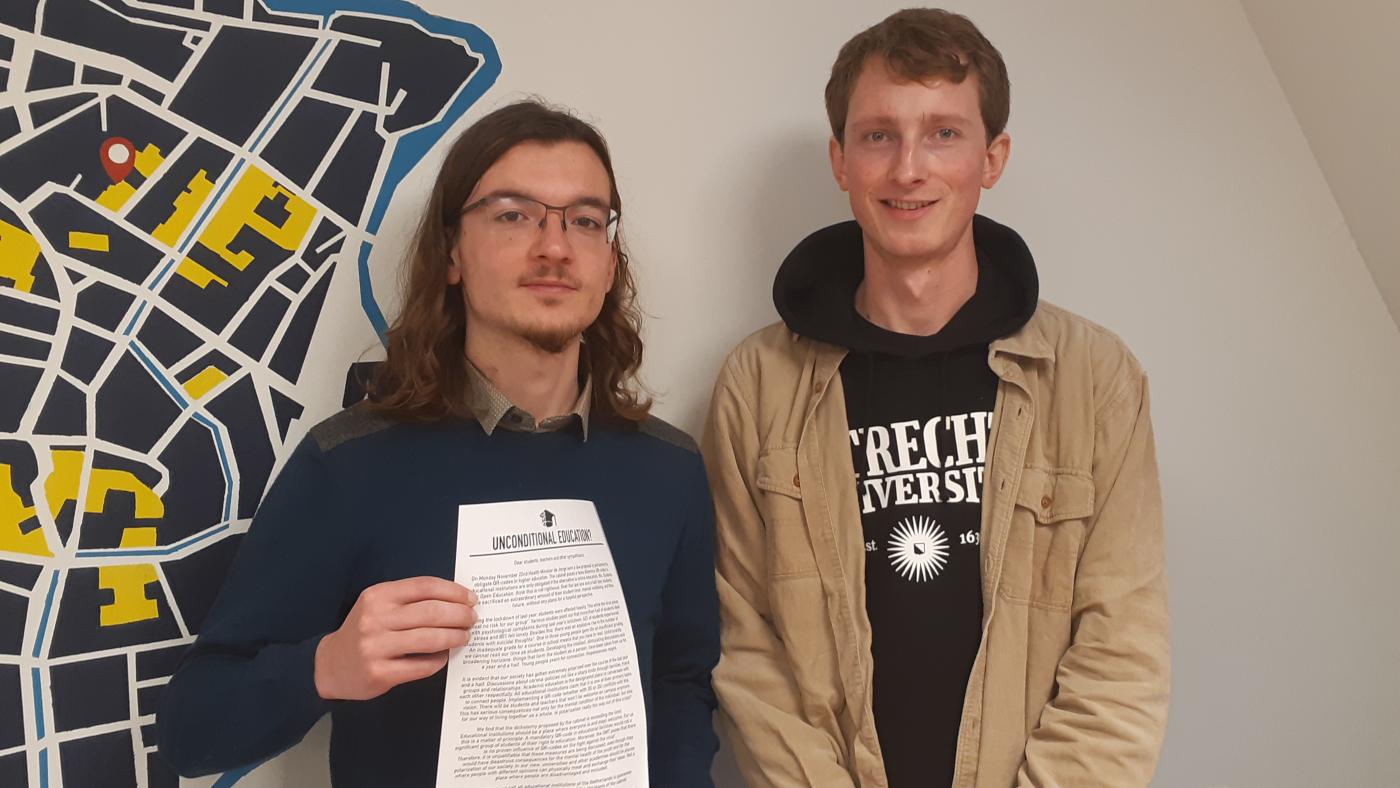 Cedric and Thomas holding the manifest by Students for Open Education. Photo: DUB
"The dichotomy proposed by the cabinet takes things much too far. Educational institutions should always be a place where everyone is and remains welcome. If universities would require a QR code, then a significant group of students, they would be depriving them of their right to education." These words are part of the manifest signed by a group called Students for Open Education (Studenten voor Open Onderwijs in Dutch). The initiative comprises students from Utrecht, Amsterdam and Rotterdam, but is supported by students in other universities and universities of applied sciences across the country. Today, December 1, they demonstrated in The Hague as the House of Representatives held a debate about the coronavirus.
If you agree with the group, you can also sign their petition.
Handed to the Executive Board
A group of UU students who support the initiative had a meeting with Anton Pijpers, chair of the university's Executive Board, on Monday. Pijpers is also getting a copy of the manifest today. "We would like the university to refuse to adopt the QR codes, even though it's an order from the government", says Cedric Sounard, student of Politics, Philosophy & Economics (PPE). But UU's President is not willing to go that far. He told the students that the Executive Board, too, is against the Covid pass, but if forced to choose between the pass and going back to online teaching, it would go for the former.
To Cedric, that's not enough. "If they make it almost impossible to attend classes in person, that's discrimination. Everybody has the right to receive education on location." Thomas de Groot, student of Natural Science and Innovation Management, also thinks that's unnaceptable. "The measure is disproportionate, not to mention that it doesn't help to suppress the pandemic. After all, you can still transmit the virus to other people after being vaccinated. The green checkmark creates a false sense of security. Besides, this is a huge inconvenience to the students. In the beginning, students were the scape goat, we had to show solidarity with the elderly. Now here we go again, even though recent research has shown that not being allowed to follow classes online is detrimental to students' mental health."
Right to receive education
It doesn't matter to them that, according to UU, about 90 percent of its students are fully vaccinated. After all, the remaining 10 percent also has the right to receive education. "People immediately lump this entire group together. But that's not right. There are good reasons for healthy young adults not to get the Covid vaccine," declares Cedric, who did not get vaccinated and prefers to walk without a mask on in the hallways. He says he would like to have an open debate where people would really listen to each other.  
Yesterday, DUB published an opinion piece from a student who also refuses to get vaccinated. 
Samuel de Weerd would also like the Executive Board not to keep students like him from having classes on campus.