Studying at the Oudegracht: 'I can concentrate better here'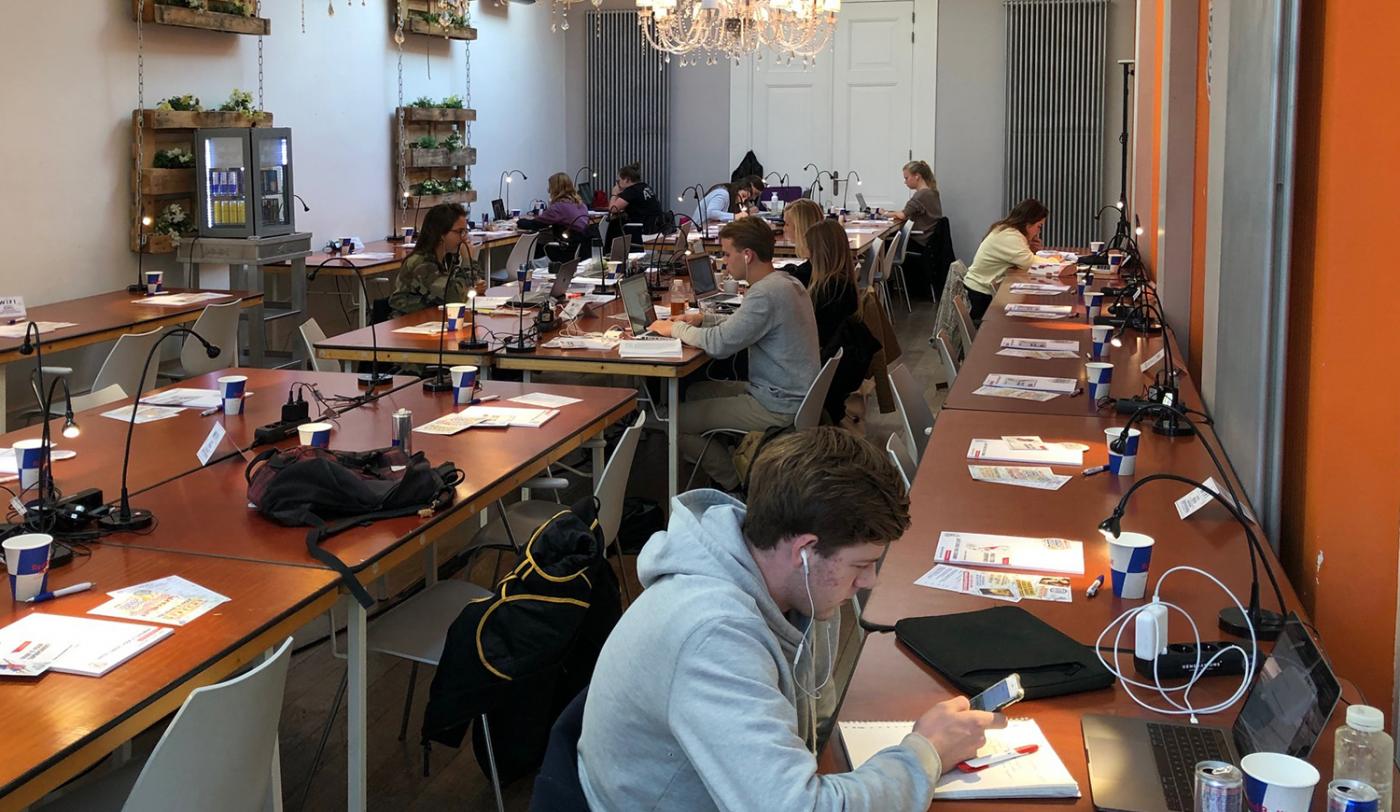 More colourful, less sterile and a looser ambiance. That is what various students prefer while studying at the Winkel van Sinkel instead of at the University Library. "I think it's rather terrible to study at the University Library. It is so quiet there that you hear the ticking on the computer," says student of Social Sciences Frederieke, who is studying for her exam next week. Laura, a Cancer, Stem Cells & Developmental Biology student, also thinks you can study well here: "The ambiance is very important to me. I am very selective in terms of learning environment. The University Library is far too quiet and far too clinical. I always get the feeling that I can barely breathe. There is a homely ambiance here and I really like that." She prefers not to sit at home either. "That is far too restless." Lieke: "I will definitely come back here. I think it's a great initiative."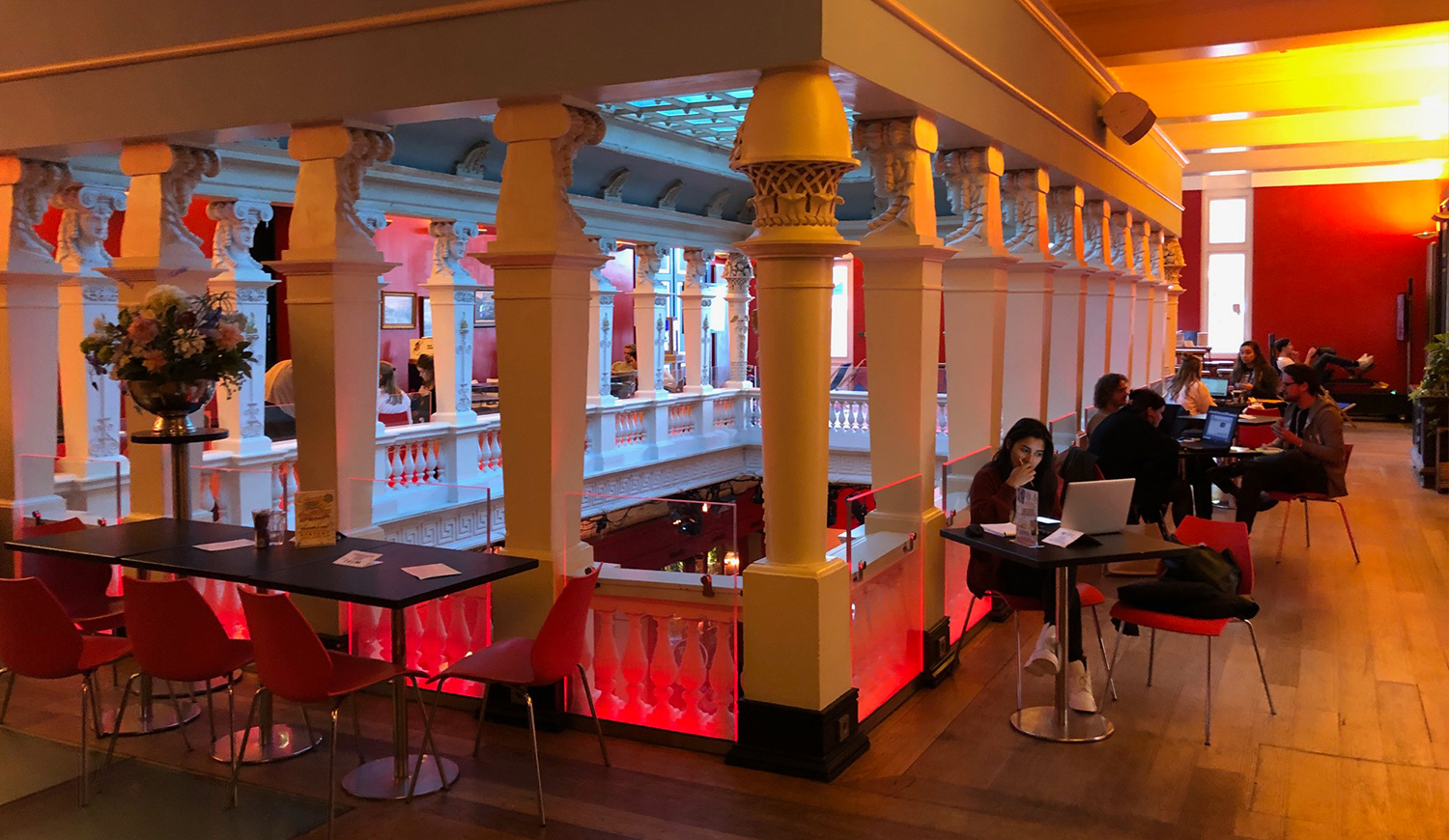 It is not the first time that Red Bull has started a Study Club for students. The concept is originally from Belgium. The first Dutch edition was in Amsterdam at De Markthallen last year. Carmen Reissig, student of Psychology at UU and working at the beverage manufacturer, has taken the initiative for the Utrecht club. "Red Bull has a very large student network and is active in the nightlife. What could be better than doing something together with the Winkel van Sinkel, a nightclub, about the shortage of study places during the exam period."
Through a side entrance of the Winkel van Sinkel you walk to the Red Bull Study Club on the first floor. You enter through the Energy Lounge. "Students can relax here after studying hard," says Carmen. In the lounge, students can play on the race simulator or play a game of Mario Kart. Two students stand next to the race simulator to take turns playing on it. People are studying in the Energy Lounge as well. Chris is one of them. "At home I only end up watching videos and the library is full. So it is actually my only option to study here," says the Neuroscience & Cognition student. "I like to sit here in the Energy Lounge, just enough stimuli to concentrate."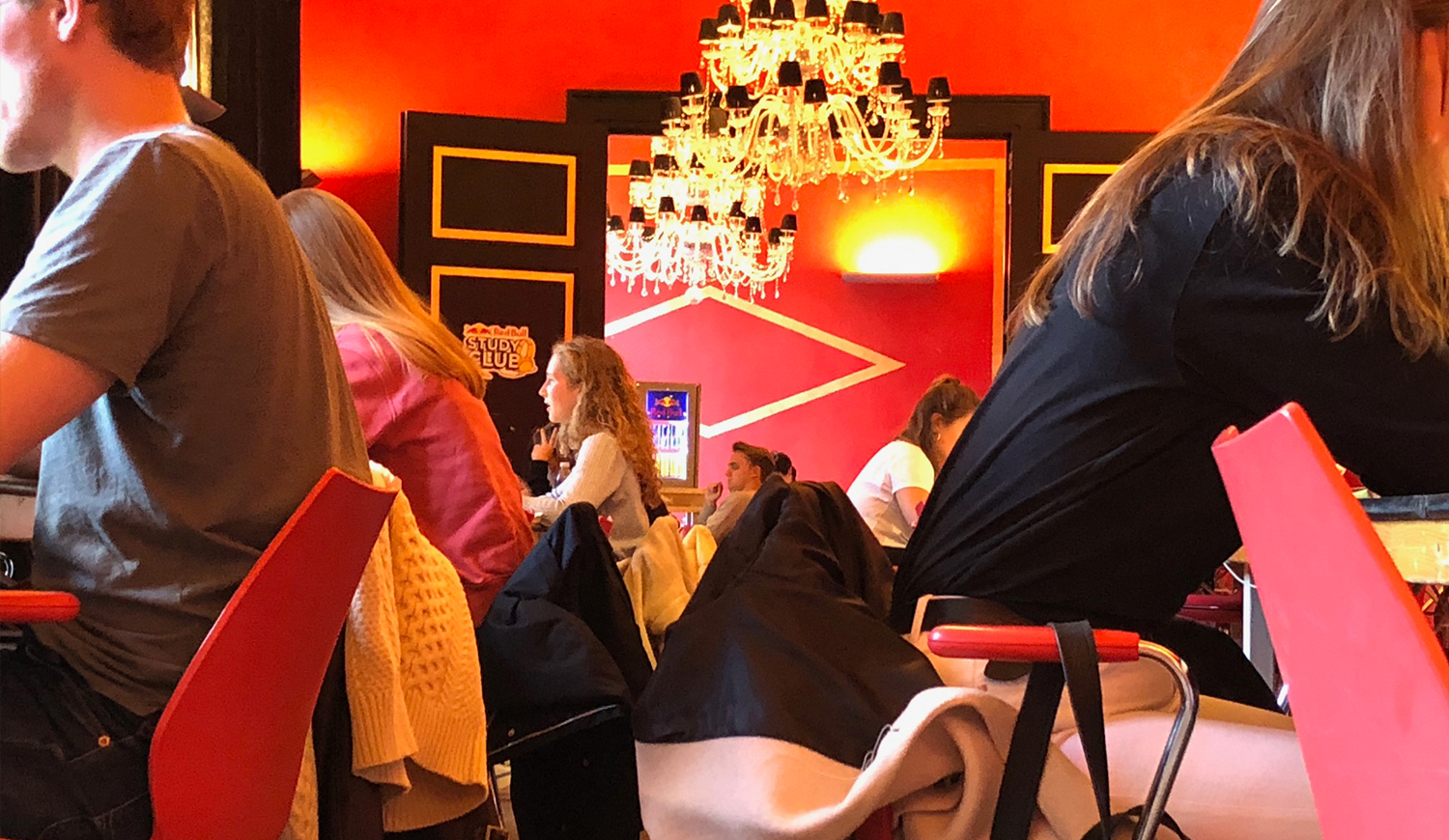 Most students sit in one of the three quiet rooms. There is room for about thirty to fifty students per room. There are tables with a desk lamp and in each quiet room there is a mini fridge with an energising drink. Not all spots in the quiet rooms are occupied yet. Students could reserve a spot online. Carmen: "Even if you have not claimed a spot, you can walk in here and see if there is room."
The study club is merely open for four days. On Friday November 8 there will be a closing party in the Winkel van Sinkel. Happy Feelings takes care of the dance tunes. You can enter with the Study Club ticket. Individual tickets are also available.