Trams will only run again from September 6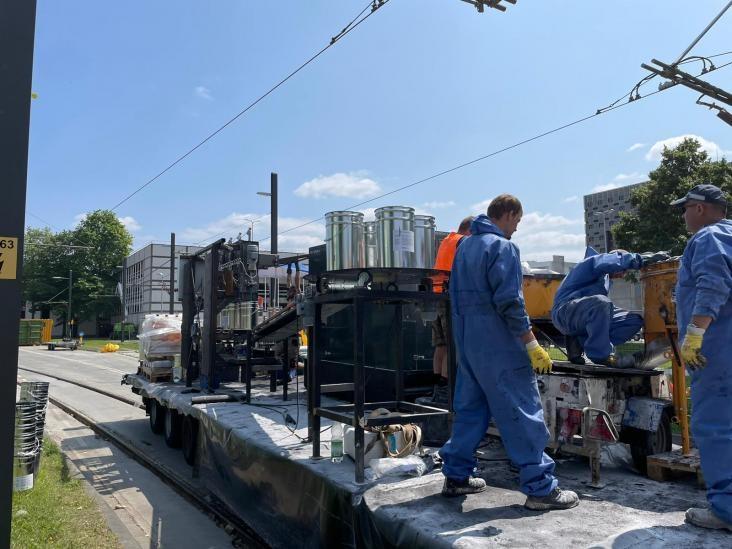 Workers were busy with the new top layer all summer. Photo: courtesy of the Province of Utrecht
Since June, there are no trams running between Utrecht Central Station and the Utrecht Science Park. The top layer on the Heidelberglaan, which was made of concrete, had to be replaced with an asphalt one as the concrete was crumbling way too quickly.
Initially, the province of Utrecht was hoping to cap the renovation works on August 23, although they did consider the possibility of the works lasting until September 6. It turns out that this spare week will be necessary, after all. The delay was caused by the abundant rainfall in July. UU's academic year starts on September 6, and many students will have classes on campus again from then.  
Now that the subsoil is ready, the asphalting works will start between August 5 and 23. That's expected to cause some nuisance to the neighbours, as new asphalt can spread an unpleasant smell, especially in warm weather. Depending on the weather and wind speed, the smell can keep hanging in the air, in between the buildings, explained a spokesperson for the province, adding that this effect can be annoying on hot days. Luckily, the smell dissipates fast.
Test rides will be carried out in the week of September 2. That's because the tracks connecting the central station to the campus must be derusted, since no trams rode on them for ten weeks. Rust is usually removed by the trams themselves as they ride. The regular schedule will be resumed from Monday, September 6, when the busses will once again ride through their original route.