Triton men collide and miss their chance of winning Varsity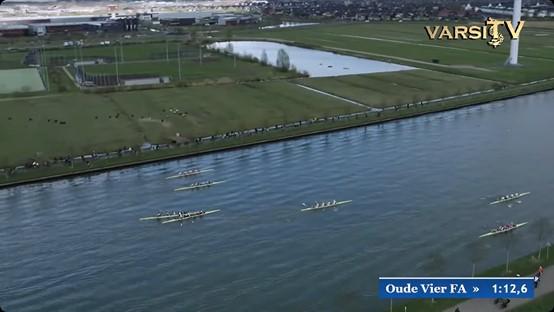 Still taken from the transmission provided by Varsity TV. You can see the two boats colliding on the left.
Triton's male team surprisingly won their preliminary match against Nereus. However, it all went wrong rather early in the finale of the 138th Varsity. The boat of the Utrecht-based team collided with the boat of the Amsterdam team Skøll, which was also among the favourites.
Triton finished fourth. Orca managed to reach the finale in the women's competition. The boat from Utrecht finished fifth, whereas Nereus was again the fastest.
It was cold and wet at the Amsterdam-Rijnkanaal by Schalkwijk. But about five thousand row enthusiasts were happy that they could finally attend the largest student row feast, after all the restrictions caused by Covid-19.
Two years ago, the competition was cancelled entirely. Last year, only the main matches of the four biggest teams, best known as "the Old Fours" were held, without an audience.
The interest was so great this year that ticket sales had to be halted prematurely for the first time in history. Afterwards, many visitors were faced with the problem that no NS trains were running.