Street length ahead of Amsterdam rowers
Triton men's team wins Varsity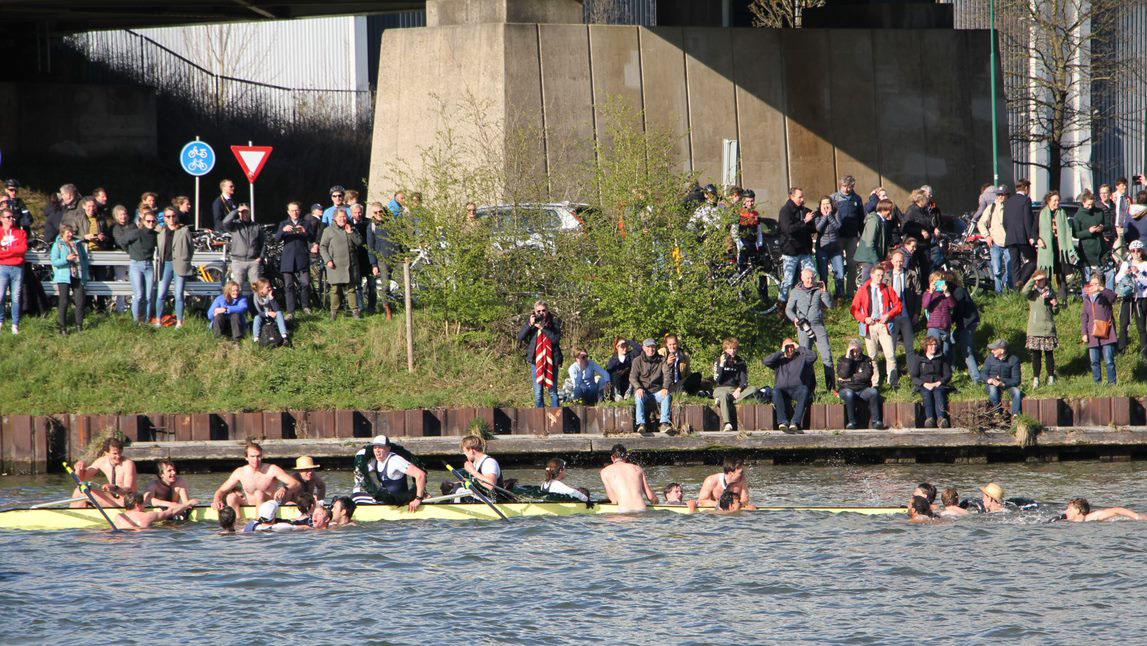 Photos: DUB / Remy Fraanje
The battle cries "UUUUU" and Utreg me stadsie echoed all along the Amsterdam-Rhine Canal, near Houten, as the Old Four (Oude Vier) crossed the finish line in triumph. The Triton fans from Utrecht then jumped into the water undressed to welcome the winners.
Eli Brouwer (Life Sciences), Jaap Schenck (Communication & Organisation), Bart Lauwers (Pharmacy), Casper van der Steen (from the Utrecht University of Applied Sciences) and the coxswain Ellen Bijkerk (Veterinary Medicine) rowed to eternal Triton fame. They defeated Nereus from Amsterdam in the final and Proteus-Eretes from Delft with apparent ease.
The organisers of Triton can thus celebrate for the second time in five years. In 2019, the team from Utrecht won for the first time since 1967, which put an end to an obsession that lasted more than five decades.
The pub crawl traditionally organised by the winning association took place last Sunday around Janskerkhof square. The men of the second rowing club from Utrecht, Orca, did not make it to the final.
As for the women, Orca came second, behind Skadi from Rotterdam. The Utrecht-based ladies of Triton did not make it further than fifth place. 
The Old Four drove in a carriage from the Railway Museum to the Utrecht University building on Dom square Sunday night.