University Council approves agreements on study finance millions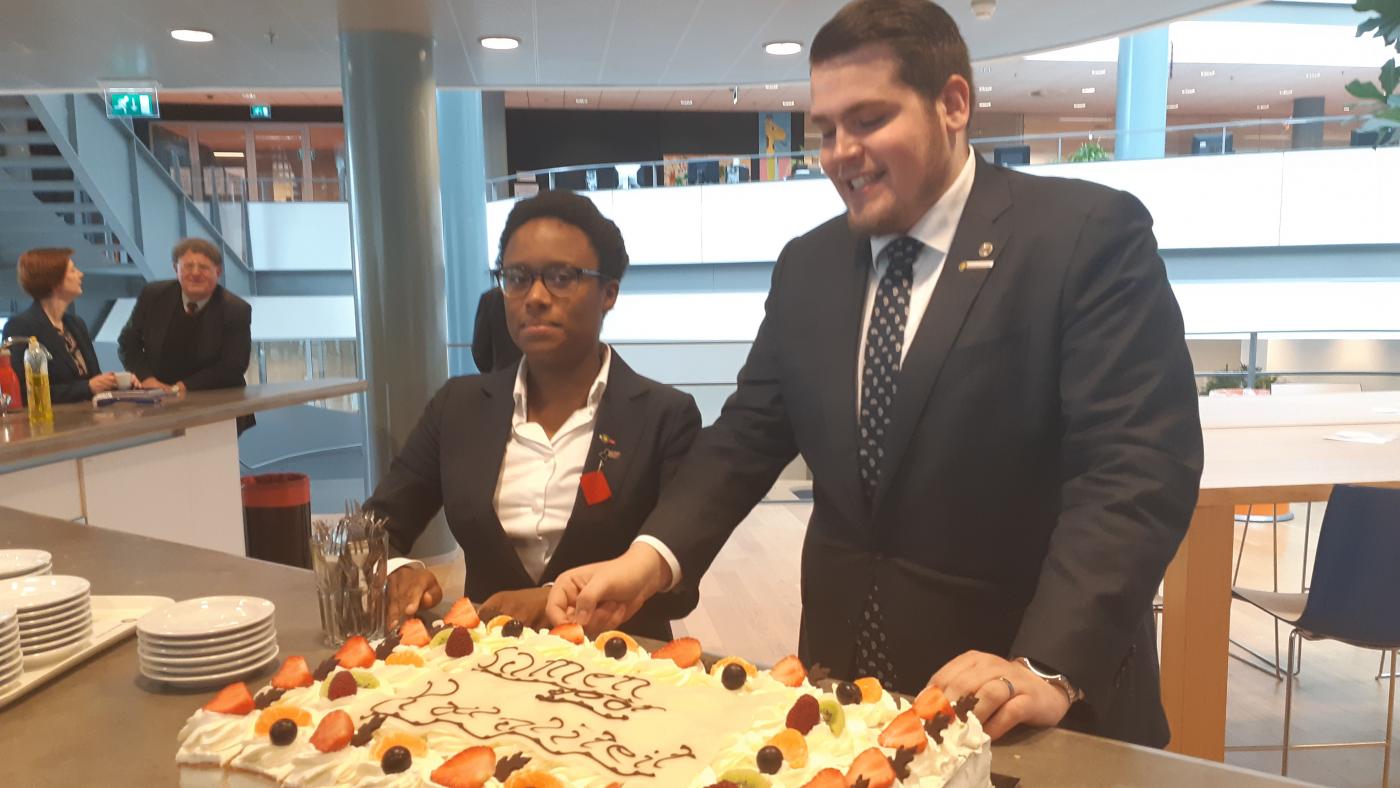 Nadat de Universiteitsraad had ingestemd met de kwaliteitsafspraken was er taart.
When the 'basisbeurs' – or basic study financing – was abolished, the minister of Education promised to invest the money these cutbacks would yield in the improvement of the quality of Dutch higher education. For this goal, so-called quality agreements were created. Universities, together with their students and teachers, will decide for themselves what they'll do with the additional income from 2019 onwards. A total of 69 million euros will be available next year for all Dutch academic education; the amount will increase to 209 million euros by 2024. The UU will receive 9 million euros of this next year, up to 27 million by 2024.
For the past six months, the university has asked the faculties to collaborate with students and write down concrete plans. The university and the University Council had previously agreed to spend the money on three things: intensive, small-scale education; professionalisation of teachers; and guidance of students.
The relatively short time span this had to happen in caused the process to run through a 'pressure cooker'. The faculties submitted their plans in mid-February; DUB made a list of them when they were announced. Many additional teachers, more intensive classes, and working with new teaching methods were the common thread of the plans. They were checked one final time, and now, as the University Council has definitively approved them, they can be sent off to education assessor NVAO.
On Monday, the University Council stated that they're content with the plans. The council did ask for more attention to monitoring the proceedings of the execution of the plans – both with the University Council and the faculties. UU president Anton Pijpers agreed to hold at least twice-yearly meetings to discuss the status. He is said to call for the faculties to regularly put the topic on their council meetings as well.
Council member Frank van Rijnsoever did have one additional question, based on TV show Nieuwsuur. In a recent airing, CDA politician Sybrand Buma and ChristenUnie politician Gert-Jan Segers (both parties are coalition members) said they wanted basic study financing to return. "If they were to get their way, what would happen to these plans then?" Van Rijnsoever asked.
Anton Pijpers replied that in his opinion, the plans are the guiding principles. "These are good plans, and we support them and wish to implement them. If study financing is reinstated, and the financing that comes from its abolition ceases, we'll have to find another way of making sure we can still realise these plans."
An NVAO committee will visit the UU on May 15 to assess whether these plans contribute to the improvement of educational quality, whether they're realistic, and sufficiently supported by students. If the committee gives a positive assessment, the next step is for the UU to execute the plans.