Utrecht start of Vuelta further and further away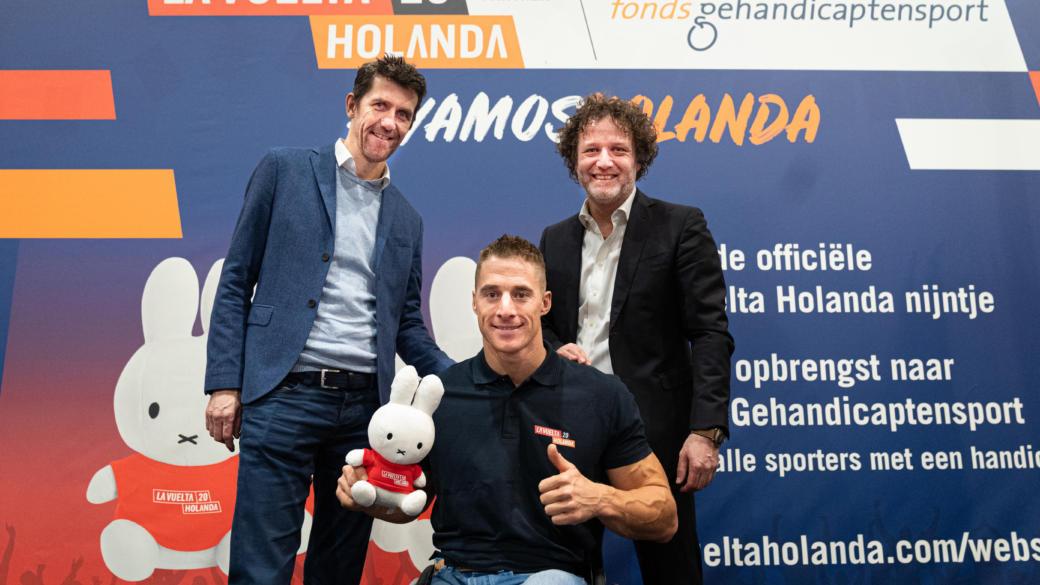 Last month, the Vuelta organisation presented a special stuffed Nijntje. The proceeds were meant for disabled sports. Press photo.
The original planning of the cycling season has to be changed completely because of the corona crisis. On Wednesday, cyclist union UCI and organiser ASO announced the new start date of the Tour de France: it will now take place between August 29 and September 20.
That means the Vuelta, which was supposed to start in Utrecht on August 14, will have to make way. The team time trial run through Utrecht – starting at the Jaarbeursplein, and finishing the second leg in Utrecht Science Park – has been put on hold for now.
A new date for the Spanish stage race has not been announced yet. Utrecht alderman Klaas Verschuure calls the decision – although not unexpected – "a shame". "Especially for all the volunteers, residents, and active entrepreneurs who had been looking forward to the Vuelta coming here."
Verschuure says Utrecht is waiting to see what new start dates the organisers will suggest. Once that is clearer, Utrecht will discuss with other start and finish locations Den Bosch and Breda, as well as with the provinces of Utrecht and Noord-Brabant, whether it will still be possible to welcome the Vuelta to the Netherlands. The question also remains what corona advice the governments of the Netherlands and Spain will give concerning large-scale events.
Spanish sports newspaper AS is not ruling out the notion that the Vuelta will be postponed to November. The newspaper also thinks that a Dutch start of the Vuelta will not be possible anymore. Similar sceptical sounds can be heard throughout the Netherlands. Breda Alderman Quaars told Dutch newspaper Trouw: "The 1.5-metre society is a beautiful term, but how would you enforce that on the sides of the tracks? To be honest, I don't know."
UU history student Thymen Arensman made his debut as a professional cyclist this year, for the German SubWeb formation. He sympathises with the decision to postpone the Vuelta. "Everyone's health has to have the highest priority, of course! It's a good thing that races are being cancelled at the moment and moved to a date when things are safe again."
Arensman is still hopeful he can participate in a Tour of Spain that starts in his own college town of Utrecht, and is still training hard. The fact that several stage races will be held in a short time frame might increase his chances of being selected to participate in one of them. "But I don't know anything either. It's a matter of waiting, and staying healthy."