Utrecht students organise protest march against tree felling at Amelisweerd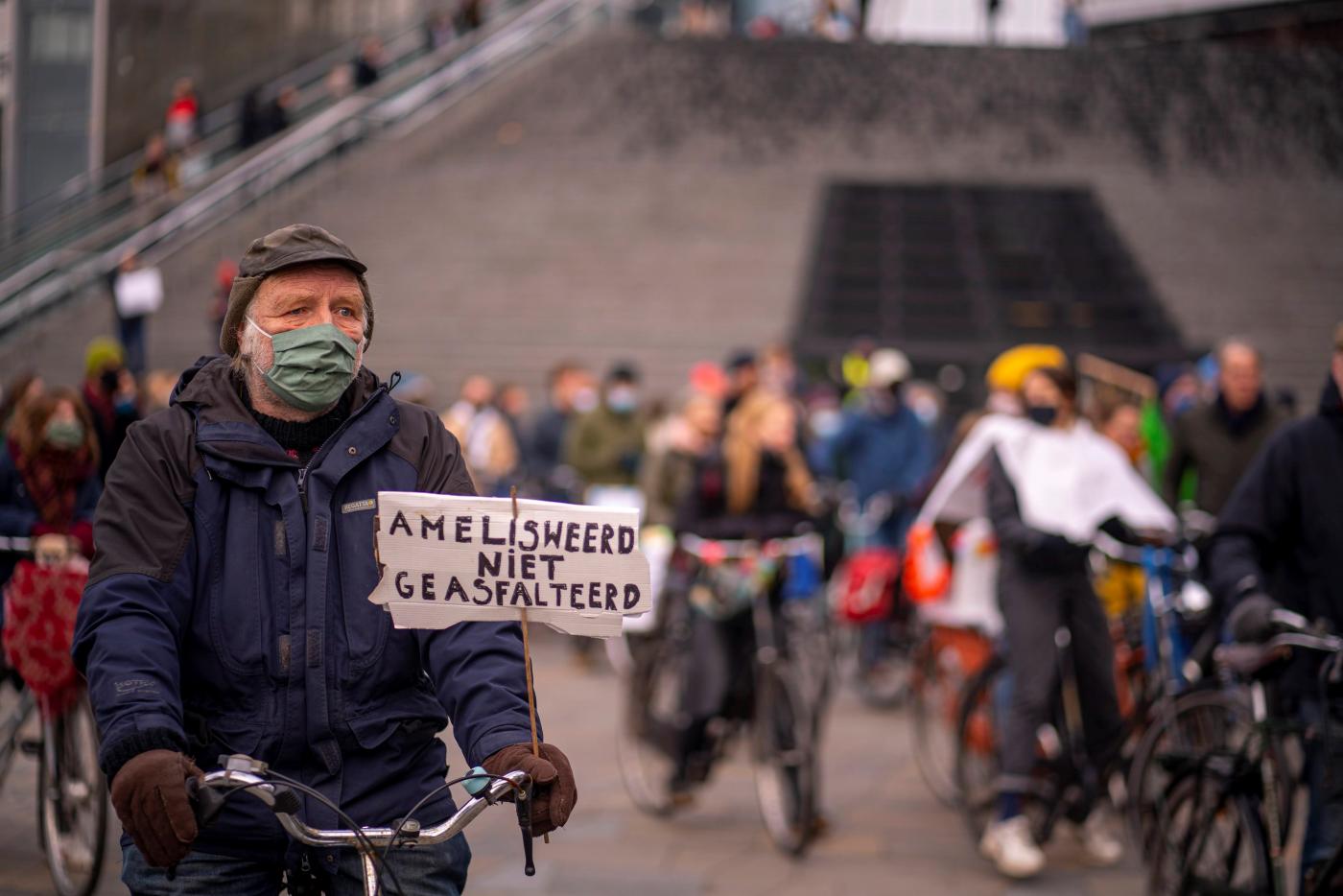 In December 2020, a cycling protest took place against the plans to widen motorway A27 at the expense of hundreds of trees at Amelisweerd. Photo: John Akerman Özgüç
It's not the first time Utrecht residents manifest their disagreement with the idea of prioritising motorway A27 in detriment of the Amelisweerd woords. In the 1970s and 1980s, there were fierce protests against the construction of the motorway, which was to run through Amelisweerd. They were in vain. Current demonstrations are trying to keep the motorway from being widened, which would mean hundreds of trees would have be cut down again.
The municipality of Utrecht and the province of Utrecht are also against the plan, but the Dutch government insists that it is necessary to widen the road. Students for Amelisweerd (Dutch Acronym SvA) regards this plan as one of the many examples of government mismanagement in the Netherlands. "The climate crisis, the nitrogen crisis, the environmental crisis, and the housing crisis are all crying out for a different course of action, yet the government is stubbornly clinging to outdated policies without considering what is necessary for a liveable society. We would like Sigrid Kaag (leader of Dutch political party D66, Ed.) to hold onto her statements against the widening while negotiating the formation of the new cabinet", says Lianne Suurenbroek, part of the student activist group.
The students are going to gather on Thursday, October 14, at 2:00 pm at Dom square. They start off with a few short speeches and music. Then, around 3:00 pm, they will march towards the woods, with an estimated arrival at 4:30 pm by Weide ter Vermaeck, near tea house Rhijnauwen. There will be information stands on the location, and soup will be provided to the protesters. Utrecht-based band Neef, who wrote a song about Amelisweerd, will perform live.
The activists hope to be able to save the trees. In a press release, they state that the nature reserve is crucial for students since they often live in small student rooms. Amelisweerd is 'the backyard' of many who seek rest in nature. On the website ikgadeboomin.org, where 2,600 people have backed the protest, SvA announces that they will protect Amelisweerd with their bodies if necessary. They plead for a policy that fits within a sustainable and climate-conscious agenda: a speed limit of 80 kilometres per hour at the Utrecht Ring and "more trees instead of less".
Advertisement