UU gives out decoration packages to student houses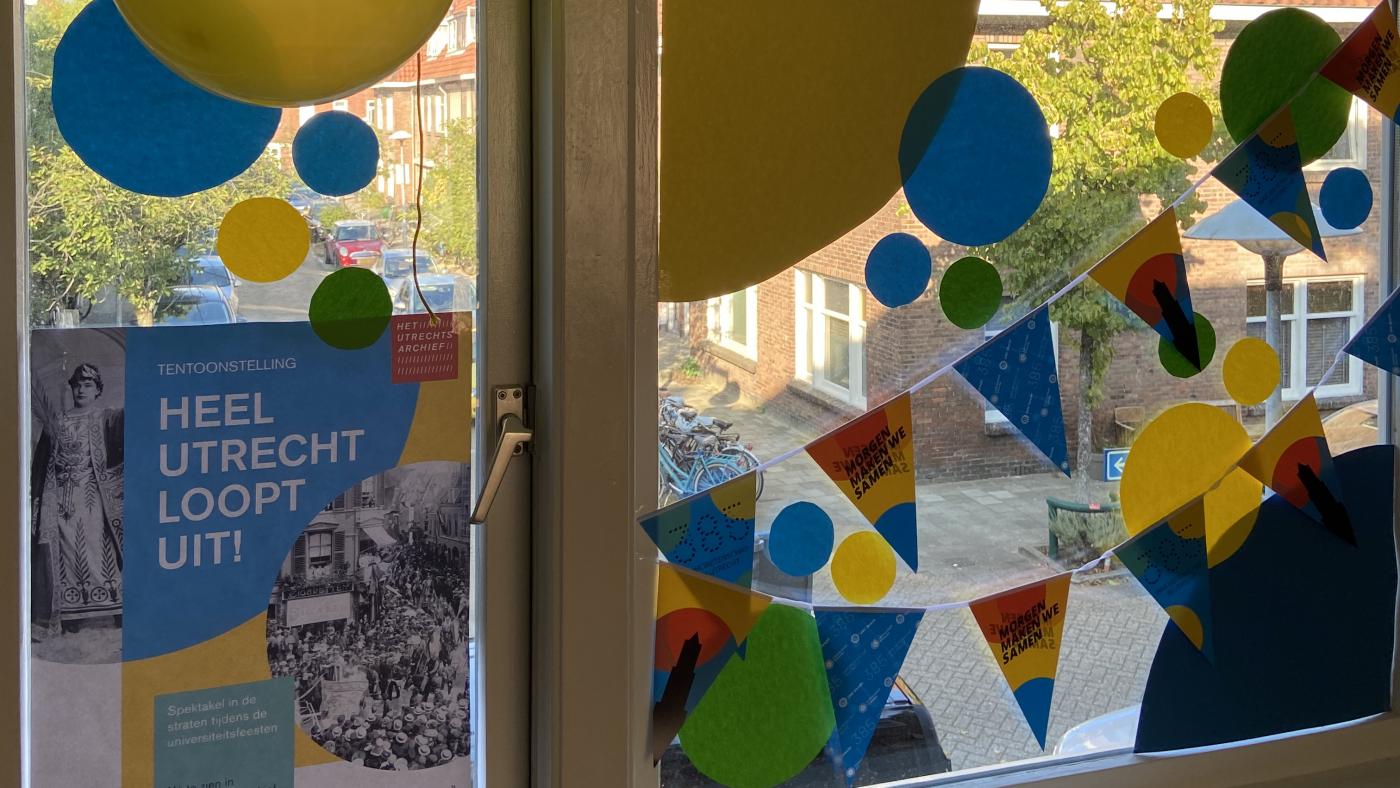 This year, Utrecht University and the University Medical Centre Utrecht celebrate 385 years of science in the city of Utrecht. Project leader Sara Pot explains the initiative.
What do you hope to achieve with this initiative?
"The goal is to make the lustrum visible in the city and promote it among the students. The package also includes flyers with information about what is going to happen as part of the lustrum celebrations. The project is called Together We Colour the City."
Which student houses received a decoration package?
"We sent out a message by e-mail to all students, and got quite a few enthusiastic responses. We also got in touch with student associations and sent packages to association houses through them. Lastly, the medical faculty sent an open call to medical students.
Are there any packages still available for those interested in getting one? 
"The student houses who signed up were invited to collect their packages on Wednesday, September 29, at the Administration Building (Bestuursgebouw). About thirty students did so. We want to make it easier, by placing the packages at the University Library City Centre next week. If students still want to request a package, they can do so by sending a mail to lustrum@uu.nl."
What is inside the package?
"Various goodies are included in the lustrum package: window stickers, garlands, posters and folders, a tea towel and a board game."
How can student houses be original if everyone is getting the same package?
"Take the package as a starting point. Students can let their creativity run free. We've uploaded a few examples on Instagram, to inspire students".
The University is committed to sustainability. To what extent was that taken into account in this project?
"We certainly considered that. For example, we have chosen garlands made of paper instead of plastic, and the lustrum tea towel is made of sustainable cotton."  
How will you decide who has got the best decoration?
"Houses who want to compete for the prize can send us a photo of their decoration before October 14. Then, we'll post all the pictures on UU's Instagram page. The three houses with the most likes win."
What kind of meal can the winner expect?
"The three student houses with the best decoration are invited to have dinner with the entire house at the Faculty Club. It's going to be a three-course meal, with drinks and coffee included.
Student houses can also get a free meal when they participate in the city dinner. How's that?
"You mean the Great Utrecht City Dinner on Sunday, October 17? That is an initiative of various social parties in Utrecht. UU and UMCU have joined because of the lustrum.
Students, employees, and alumni can order a free dinner package through us to cook the typical  – and vegetarian – dish Vijfschaft. UU has made 350 packages available for both employees and students. The idea is to eat with people you are not very familiar with, such as your neighbours. Eating together connects people, a message that also suits the lustrum. And if the participating students share a meal in a nicely decorated house, that is even better."