UU looking for alternatives to lectures for over 75 students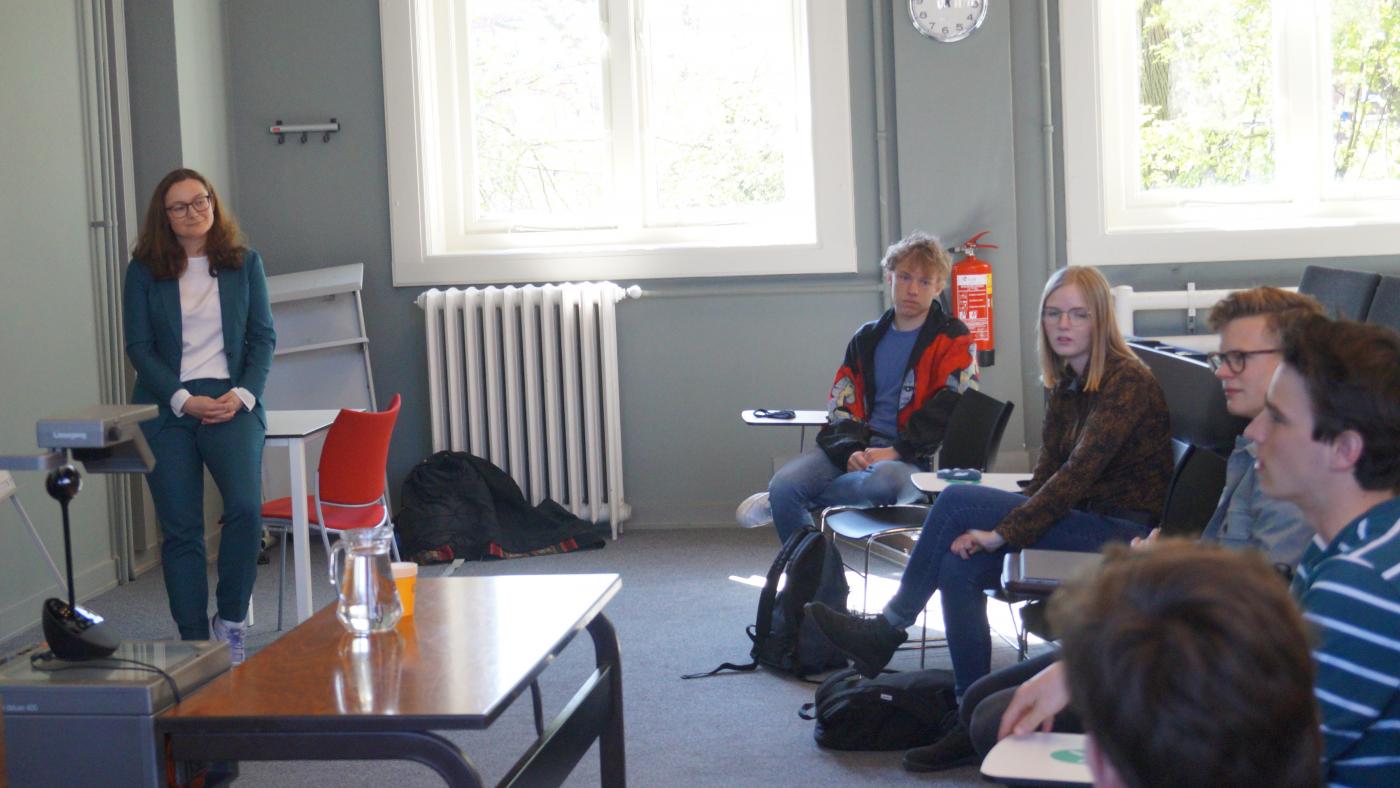 Lecture on Public Administration, ministered last April. Photo: DUB
UU's schedulers completed the educational programme right before the summer. They decided that practically all educational activities would be offered on campus, including lectures. This decision was informed by the advice of a task force that recommended the university to offer even activities for groups larger than a hundred students on campus. 
"In this case, we can split the students in groups and book additional rooms in advance", explains Renée Filius, UU's Educational Chair. "We heard that the most students were keen on coming to the campus, even for lectures. That way, they can meet each other again."
Back to the drawing board
However, the schedulers had to go back to the drawing board following Prime Minister's Mark Rutte's press conference on August 16. "It would be impossible to split those groups of 100 students into even smaller groups. But we still didn't want to do everything online."
The vice-Deans then got together to come up with alternatives. Other universities were also consulted. It has been decided that the lectures will go on, but part of the students will have to watch them online. How many students will do it online depends on the programme and the lecture in question. Filius: "For example, we could establish that students with last names starting with A to K get to come to campus every other week, while the rest of the students will do it on the weeks after that. It's up to each course to find a formula that works for them. Some classes might need to be offered completely online, but that has to be decided in agreement with the teacher. We don't want to overwhelm them with a lot of extra work."
Always an alternative
Besides the scheduling issue, the university has also been busy with the question of what to do with the students and teachers whose health situation does not allow them to attend classes on campus, such as those with an auto-immune disease or who live with someone with a health condition. Filius: "we've already started to take measures to deal with such cases. The general guidelines will be the same, but the way these guidelines will be implemented may differ by faculty". This has been informed in the most recept update sent by the Executive Board.
In theory, there must be an alternative for each course feature. Filius: "Suppose someone cannot attend a tutorial on campus because they have to quarantine. In that case, the easiest alternative is to allow them to watch it online. If that's not possible, then we must look for creative alternatives, like an assignment to replace the tutorial. It is true that few courses at UU have an attendance requirement. But if students do want to follow the class, they just cannot be on campus, then we must offer them an alternative." Nevertheless, he acknowledges the impossibility of offering the entire programme both physically and online. "That would require too much customisation."
Getting to choose
Some study programmes have already announced that their courses will be offered online as well as on campus. The university has asked the students who have enrolled for these programmes if they prefer to follow it entirely online. In total, about 180 students said "yes", most of them at Master's level. About half of the students enroled for the Master's in Clinical Psychology, which can be offered either online or on campus, chose to do it remotely. But not all programmes can offer students the same choice, of course.