New academic year
'UU should get to work to provide a safe environment'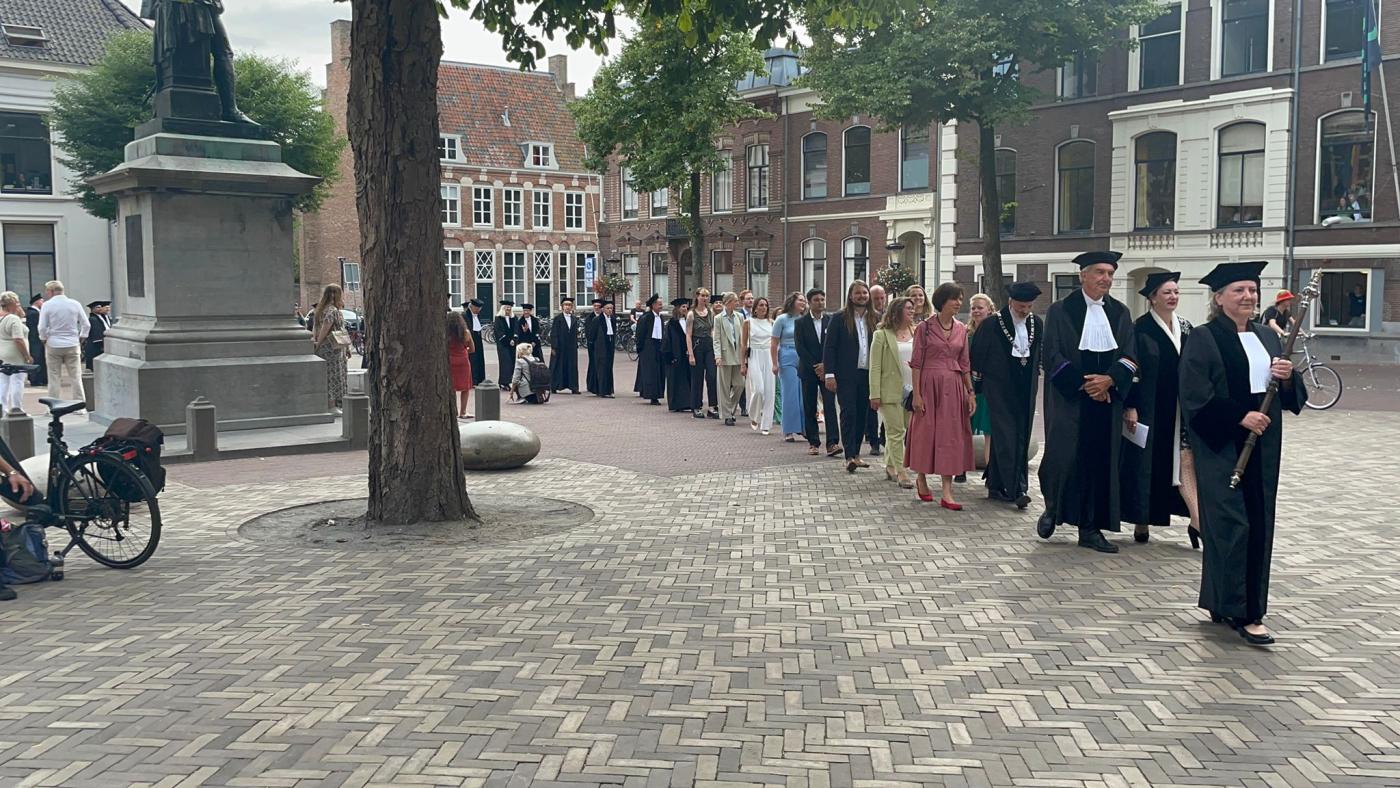 Photos: DUB
"Let's embrace the discomfort". That was the main theme in the annual celebration of the start of UU's academic year. This year's keynote speaker was Distinguished Professor Naomi Ellemers, who recently published a report, together with the Royal Netherlands Academy of Arts and Sciences (KNAW), advising the Dutch Ministry of Education on how academic institutions can guarantee a safe working environment for all.
In her speech, Ellemers described a pattern in which employees who complain about inappropriate behaviours in the workplace often have to face immense frustrations. But the same goes for the ones who would like to do something to combat the problem, such as confidential counsellors, deans, and rectors. Thanks to the many conversations she's had about the subject, she's learned that everyone feels powerless.
According to the distinguished professor, this is due to the discomfort that such a topic inherently arouses. "As a result, we often look away from behavioural problems, justify them or take symbolic actions."
Repeating what she said in a recent interview with DUB, Ellemers called on universities to really get to work to build a different culture in which this discomfort becomes something people dare to talk about. In her view, the university should acknowledge that the current habits and procedures often do not work. "This new academic year is a good time to get started. So, I would say: time to get to work!"
In his opening speech, UU President Anton Pijpers also highlighted the importance of the social component of a safe working and learning environment. He talked about difficult situations he's experienced himself and mentioned the employee survey, in which many respondents pointed out how hard it is to file a complaint.
In the meantime, a new committee has been set up, chaired by an external party, to investigate the complaints. The university also has an ombudsperson for its employees and is soon to hire an ombudsperson for the students, too. But we're not there yet, Pijpers recognised. He promised to follow Ellemers' recommendations.
Moreover, Pijpers' speech emphasised that Utrecht University is committed to offering overworked employees more "peace and quiet". The new administrative agreement signed with the Ministry of Education, which determines how the extra resources foreseen in the coalition agreement are to be spent, should help in that regard as it includes starting grants and stimulus grants aimed at reducing the pressures of demand and competition.
Speaking one week after a former teacher lost a court case demanding the university to give him a permanent contract, Pijpers also expressed the hope and expectation that new sector plans will also lead to more permanent contracts.
Student Awards 
The ceremony also included the announcement of the winners of this year's Student Awards. The award for best social or administrative initiative went to Kimia Milani, a Master's student in Medicine, while the Best Master's Thesis award went to the recently-graduated Science Historian Chiara Lacroix.
With her foundation Abadi, Kimia Milani helps refugees by organising activities for kids living in asylum seeker centres. She also helps them learn the Dutch language and process their traumas.
Chaired by Emeritus Professor Dop Bär, the jury found Milani's contribution to refugees "admirable", but the "enthusiastic" and "versatile" winner is also remarkable in other areas, they write in the laudation. For example, Milani is involved with the Collective for Diversity & Inclusion in the Dutch Medicine (Coding), an organisation calling for cultural and background differences to be taken into account in the Dutch healthcare system.
The other nominees were Renate Bosman, who studies Interdisciplinary Social Sciences, and the four students who founded the Gelijkspel Foundation. Bosman is involved with the platform Studying Without Limitations, which helps UU students with disabilities, while the Gelijkspel Foundation aims to improve students' thoughts on sexuality.
Relevant to a wider audience
Chiara Lacroix is the winner of the Best Master's Thesis Award this year. She graduated with a Research Master's in History & Philosophy of Science with an average grade of 9. Titled Birth of the Human Being: Historicising the Concept of Human in the Study of Reproduction, her thesis discusses the concepts of "human" and "human being".
According to the jury led by Associate Professor Christianne Smit, she convincingly demonstrates that these concepts are not only defined by biology, but are also cultural and historical constructions. The term "human", for example, only appeared in the 19th century – before that, people just said "man".
In her thesis, Lacroix researches many French and English medical texts about human reproduction. She demonstrates that even within the category of "human" there is a hierarchy. For instance, scientists only referred to an embryo as being "completely formed" when the baby was a white male. Girls or kids with a non-European background were considered "semi-developed".
In the laudation, the jury says that Lacroix's findings, supervised by science historians Hieke Huistra and Bert Thuinissen, are extremely relevant not only for scientists but for a broad audience as well. "After all, it raises our awareness of the possibility of hidden inequalities in terms considered neutral or equalising such as 'human'."
Alongside Lacroix, who is now a PhD candidate in Florence, there were two others competing for the Best Master's Thesis Award: the historian Niels Drost and the climate researcher Sophie ten Rietbrink. Drost wrote a Master's thesis titled Tsarstruk, which analyses the historically-laden rhetoric of the Russian President, Vladimir Putin. As for Ten Rietbrink, her thesis covers a ship where research was conducted on pollution in the Atlantic Ocean.  
Both winners received a certificate and a cash prize of 1,500 euros.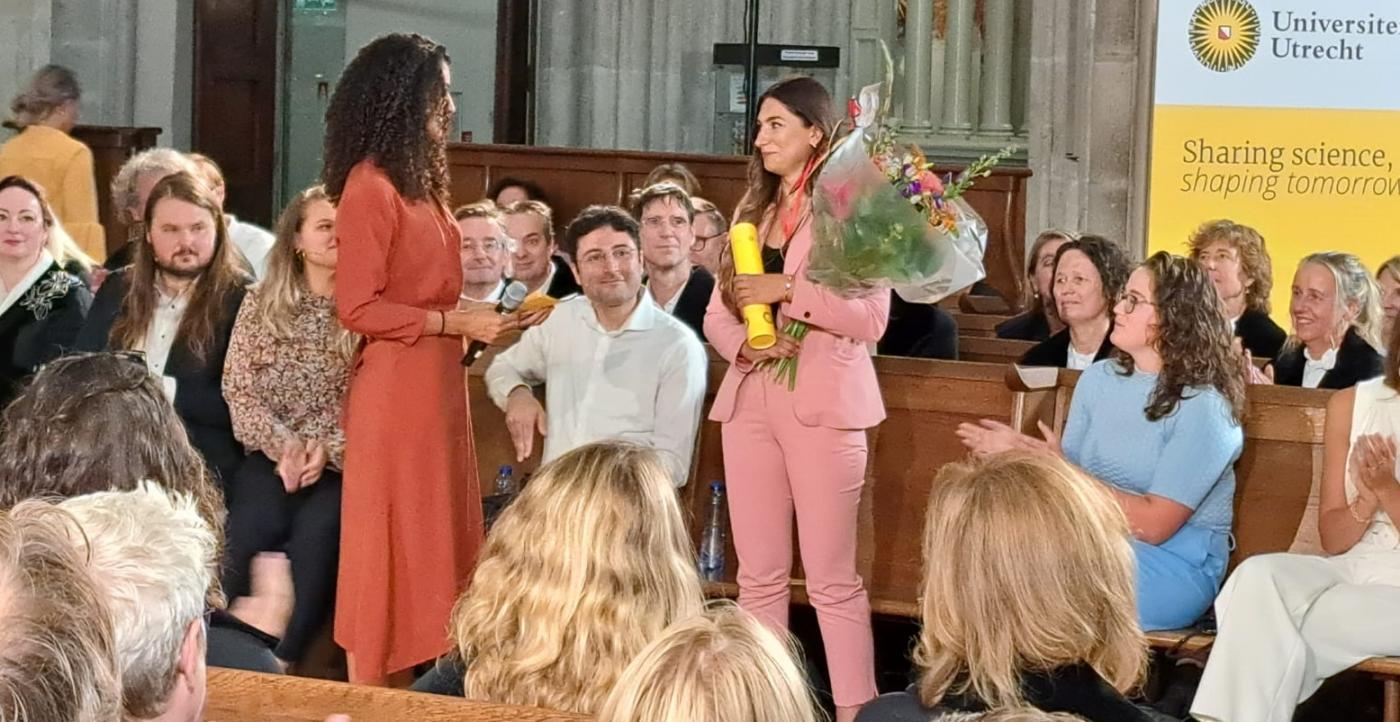 Advertisement