After sexist remarks
UU will wait for Veritas' own sanctions against its members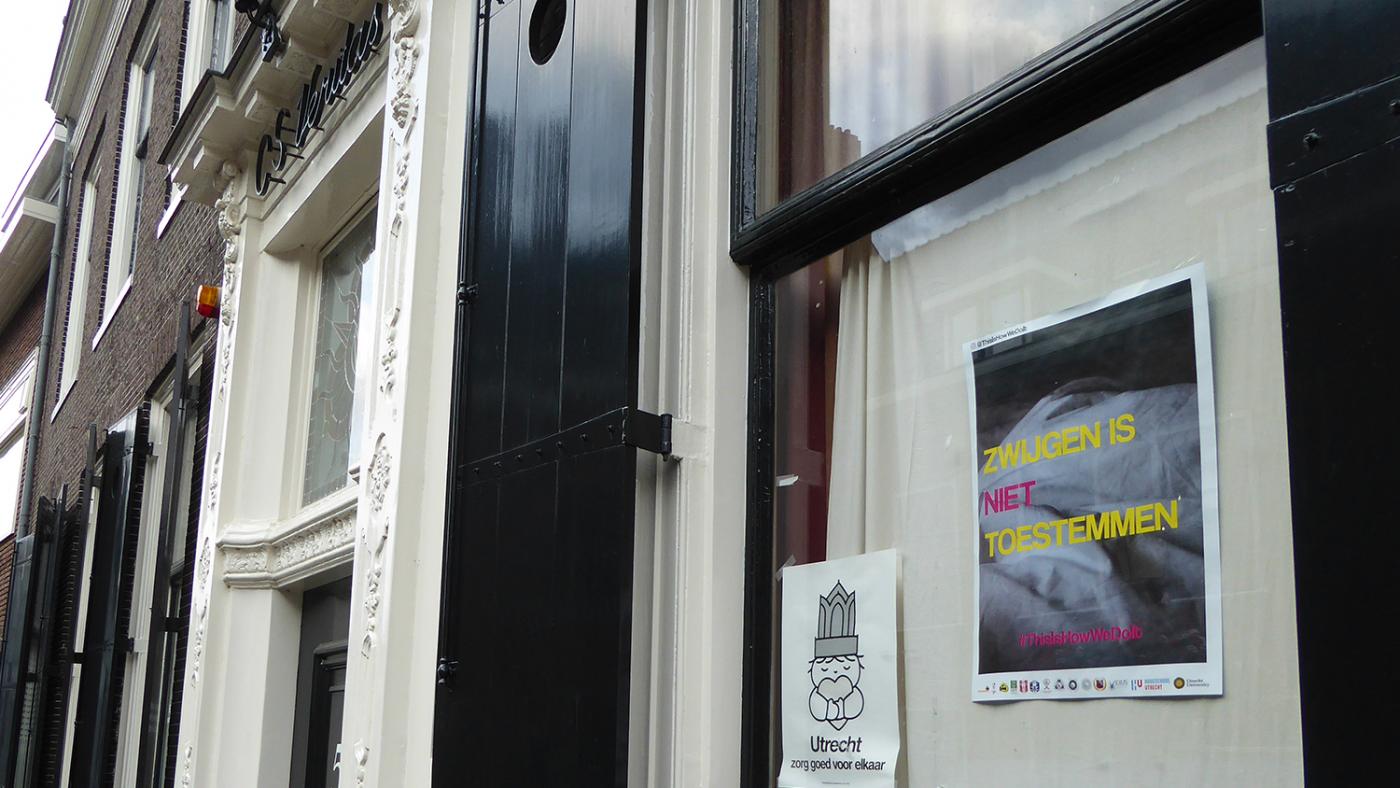 Veritas' headquarters during a campaign against abusive behaviour, two years ago. Photo: Noah Moeys
The commotion began on Monday, December 12, after the Dutch investigative journalism series Boos published messages exchanged by two of Veritas' year clubs on social media. Dutch fraternities usually encourage the members who joined the association in the same year to bond in so-called "year clubs".
In the message, year club Bandolero complains to fellow year club Moto Moto about "the leftist transition" that another fraternity, Fubar, would like to implement. Apparently, Bandolero members do not appreciate the fact that "conviviality, togetherness and female-friendly remarks will prevail in the get-togethers." The association's board also gets a whipping in the process.
"Surely we're no bitches, we are testosterone bombs, proud monkeys on the rock of Utrecht," the year club writes. Furthermore, Moto Moto members are described as "stoma lickers" and asked to provide "the phone numbers of the three horniest whores from your year".
Veritas president Sophie Pizzuto says her board condemns the statements. "There is no place for such texts in this association." Other members are as shocked by the messages as the board itself, according to Pizzuto.
She adds that the association has gotten in touch with the year clubs. "They will be called to account before we take specific steps."
The sexist remarks of Utrecht-based fraterny members come at an inconvenient time. Many of these associations – including Veritas – have been campaigning to reduce sexual abuse and harassment among their members.
UU's Executive Board states that the remarks are "unacceptable." However, since the case involves messages exchanged by members and not the board or commissions of the association, both UU and the Utrecht University of Applied Sciences decided not to take any measures for the time being. They are awaiting to see what Veritas' approach will be.
"We realise that the board cannot always prevent individual members from showing this type of behaviour but we do think it's vital that fraternities take action against it," declares a UU spokesperson.
The web series Boos has taken to Instagram to search for students who know more about the issue.