UU's Executive Board: 'We're going to gradually get used to the relaxations'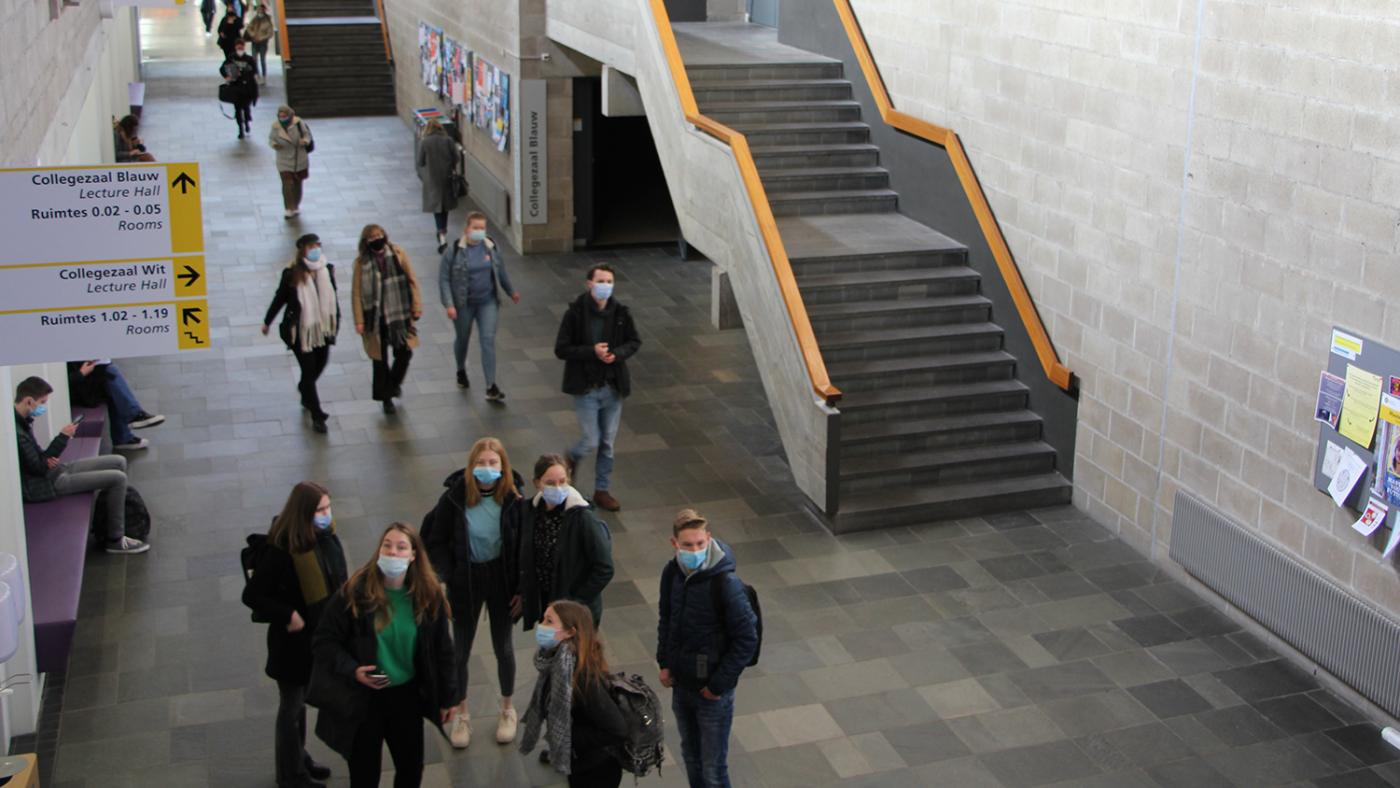 Classes in-person started again last week. Photo: DUB
Tomorrow, February 18, the Netherlands is going to get rid of many coronavirus restrictions. The cabinet has announced, for example, that universities can use their lecture halls at full capacity, ditching therefore the limit of 75 students per hall. UU is not going to adopt the relaxations right away, informs the Executive Board in the coronavirus update sent on February 16. "It is up to each programme to decide if they're going to offer classes to more than 75 students at a time instead of online or hybrid classes - and if they do, which courses will do so. We'd like all classes to go on as usual, but, technically, scheduling isn't always possible."
The Executive Board asks for the understanding of students and staff, as there might be other reasons for the classes not to go back to campus right away. There are still many people getting infected or sick with the coronavirus, which means online classes will remain useful for those having to quarantine, the board writes. Teachers will make agreements with the students in that case. From block 4, the schedule is going to reflect the relaxations, allowing for the lecture halls to be full again.
For those who like to study at the university, from Friday, February 18, there will be no limit to the number of students allowed in the study places. However, students will still need to reserve their spot.
In addition, events like PhD defences and graduation ceremonies will be allowed again, as long as they have a maximum of 500 guests. Until February 25, guests will be assigned seats, but after that, they can seat wherever they want. These rules are valid for university locations.
Last but not least, the cabinet has changed its advice to work from home. Now, employees are advised not to spend more than half of the time on location. That means everyone is allowed to go back to the office, but the Executive Board thinks that managers should discuss the switch with their teams. "We would like to give each other enough time and space so our return to the office goes as smoothly as possible". Soon, the board expects the average employee to work two days from home and three at the office. But further agreements must be made in this regard.
 From Friday, February 18
- It is still mandatory to wear a face mask on campus. Once seated, you can take it off, as long as you are 1.5 metres away from others
- The limit of 75 students per lecture hall no longer applies
- If you test positive for the coronavirus, you only have to quarantine for five days if you don't have any symptoms for at least 24 hours
- Educational events, graduation ceremonies and PhD defences may take place, with a limit of 500 guests and designated seats
- You can work in the office half of the time. There, you must observe the 1.5 metre social distancing rule
- Catering will be allowed for meeting rooms and educational spaces
From February, February 25
-Face masks are not mandatory anymore, except on public transport 
-You don't have to stay 1.5 metres away from others 
- Events for up to 500 people will be allowed again
- Educational activities, graduation ceremonies and PhD defences will maintain the limit of 500 guests, but there will no longer be designated seats
-In-person conferences will be allowed
- Employees may work at the office half of the time, but it will no longer be necessary to keep a distance from others or wear a mask
- Drinks, lunches, and dinners may take place again the university's premises, but if there are more than 500 guests, they have to be tested negative to be allowed entry
Advertisement