Veterinary pig education to move to outside circular farming company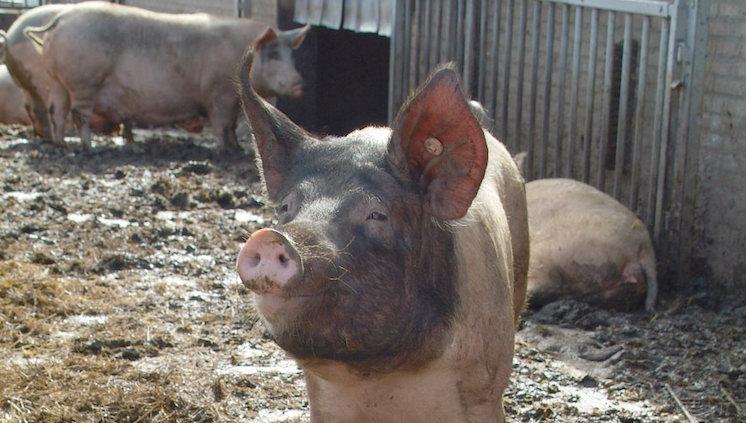 Pigs at the Tolakker. Photos: Faculty of Veterinary Medicine
The Faculty of Veterinary Medicine and the Executive Board have decided not to renovate the pig stable on the on the Tolakker and seek a new pig stable to conduct education and research. They had several reasons to do so, including costs, environmental impact, available space, support from the surroundings, and a new national policy, not to mention the alliance with Wageningen University. Both institutions want to investigate whether it is possible to have a fully circular pig farm. Ideally, the project should be located halfway between Utrecht and Wageningen.
The idea to move the research and education on pigs to a location outside the Utrecht Science Park had been discussed for years before the decision was finally made. The current stable on the Tolakker educational farm will have to be replaced in a few years' time as building a new barn implicates high costs. However, price is not the only objection raised to building a new stable on the grounds of Veterinary Medicine.
Harmful air emission
Environmental factors also plaid a role in the decision. Around the Tolakker farm, there is less of a need for pigs than for other animals, according to the Executive Board. Removing the stable will contribute to the University achieving its climate targets. "A pig stable emits a lot of harmful air, including ammonia from the manure", says the Board.
The University would prefer to have a new stable that meets the principles of circular agriculture and complies with the new 2030 standards of the Ministry of Agriculture. Such a farm would be less of a burden on the environment, but according to the Executive Board, there isn't enough room to do at the Tolakker because of the housing plan for the veterinarians. Since the M.G. de Bruinge building for agricultural animals will be demolished, the animals needed for education will move to the new building on the grounds of the Tolakker, rendering the space left insufficient for a circular pig stable.
Collaboration with Wageningen
Veterinary Medicine had already looked at the possibilities of collaborating with Wageningen. The alliance that Utrecht University made with Wageningen and Eindhoven in December last year increased the opportunities for joint projects. In addition, Wagening University's pig testing facility closed earlier this year, which is why the university is currently conducting research into pig nutrition and animal-friendly stables at a temporary location. The Executive Board calculates that a pig farm in collaboration with Wageningen will not only save costs but also diminish the environmental pollution.
Professor Arjan Stegeman, who specialises in the healthcare of farm animals, and lecturer Tijs Tobias, who is investigating the wishes and possibilities of a joint farm with a colleague from Wageningen, think it's a shame that the Tolakker pig stable will no longer exist. "Especially for our Bachelor's students", explains Stegeman. "We want to organise education for them at a safe location as much as possible. Therefore, at their own faculty".
"The advantage now is that lecturers and students can come to the stable quickly, which is beneficial for both education and research", adds Tobias, while Stegeman stresses that "a circular company at the USP could have been a nice showcase for the University".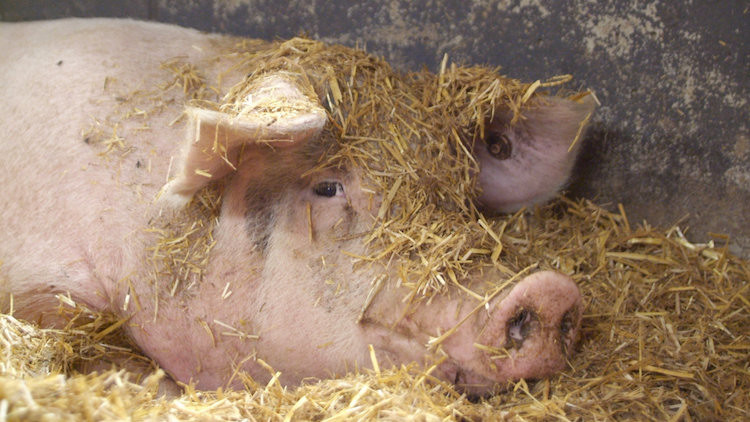 Opportunities for education
Stegeman and Tobias also see new opportunities for education and research on a circular farm. "In the area of sustainability, for example", mentions Tobias. As so-called quartermasters, he and his Wageningen-based colleague are investigating whether and how the education and research of the two institutions can be combined on a circular farm. They are also looking at future possibilities for education and research. "Up until now, Wageningen has mainly carried out research into nutrition, behaviour, and housing. That is complementary to our research into animal welfare and animal health, but university education involving pigs was secondary at the trial company. They fold the education around the research. With us, it's the other way around".
At the moment, education at Veterinary Medicine is being tinkered with. The curriculum of the Bachelor's programme is going through a review and part of it involves examining how education about pigs will fit the curriculum in the future. Stegeman: "That is indeed something we are struggling with. We want our students to get to know all kinds of animals at an early stage, because we are training them to be veterinarians who can treat all animals. So we have to think hard about how we are going to solve this issue".
From environmental polluters to waste collectors
In terms of research with pigs, Stegeman and Tobias see many opportunities in the alliance with Wageningen in the field of circular livestock farming. "The Ministry of Agriculture has announced that the environmental burden must be reduced. So, we have to become more sustainable no matter what", states Stegeman. "Pigs are an interesting species when it comes to becoming more sustainable, because they can feed themselves with residual waste flows from human food production".
As an example, he mentions what pigs could gain from beer brewers. "The brewer only needs the sugar from the barley. What remains is beer brine, which can serve as cattle food". The examples of food waste that could be feeding pigs are numerous. "This way, the pig goes back to the role it had in the very old days. The wild boar was domesticated to scavenge waste around houses. On a circular farm, they get that role back. From being an environmental polluter - as the pig is often seen today - it becomes a waste collector".
This in turn offers many opportunities for research into animal health and welfare. "At present, pigs are given high-quality food that often comes from Asia or South America, but how do they fare on Dutch residual waste flows? If we want the Netherlands to only have circular agriculture, then we need to ensure that it is responsible in terms of animal health and welfare, and that these farms and the pigs' meat do not pose a risk to public health". A circular system is great for preserving the earth, says the researcher, "but we have to be careful that germs and toxins do not become circular as well. As a society, we need to come up with solutions for that issue, and a university has a role to play in that regard".
Location
Tobias and his colleague from Wageningen are also looking for a suitable location. They might work with an existing company. "Preferably between Wageningen and Utrecht, of course. It would be ideal if we could cycle there from the faculty". Tobias does not have to worry about the costs for the time being: he has not been given a financial assignment.