Video from disturbed lecture on Dumpert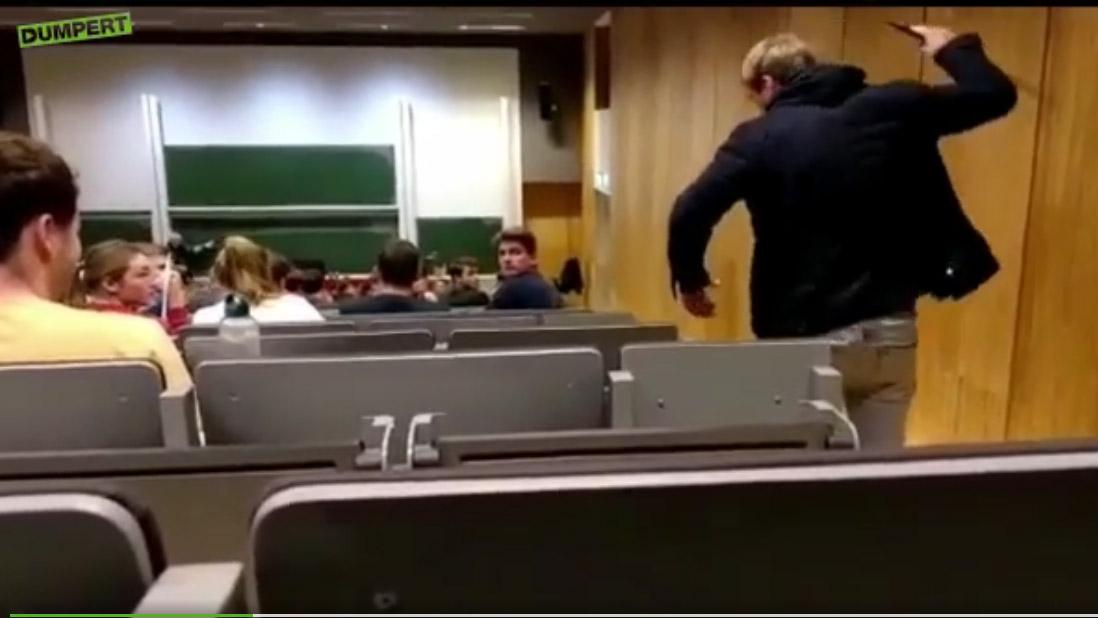 screenshot from Dumpert movie
"I'm paying 3000 euros for this cheap crap and you don't even bother to try and understand me. What the fuck am I doing here?" During the Mathematics lecture in the Cosmos hall in the Koningsberger building, a student stood up and started screaming quite aggressively. He then grabbed a laptop and smashed it against the benches in the lecture hall. Immediately afterwards, he left the hall to great laughter from the 160 students.
"I was shocked", says teacher Ruud Schotting. "At first I, thought of a mad student who is clearly in need of help. The mood was a bit lighthearted, but I pointed out to the students that it wasn't funny. As chairman of the jury for the UU Teacher Awards, I hear that teachers must create a 'safe' educational environment every year. I feel unsafe now. It was extra bothersome for students because they had an exam after the incident.
It soon became clear that nobody knew the student. Since another student filmed the incident, it seems as if the act was set up in advance. The same day, a video was released on Dumpert. There are various stories about the reason behind the campaign, both among the students who participated in the lecture and in the reactions to the Dumpert video. The situation would be about a student from a university of applied sciences with a challenge to stand out, or about a bet from a student association. On Dumpert, someone writes that it would be one Laurens who normally has no classes in the Koningsberger building.
It is reminiscent of an event in 2018 when 'a wizard' made the University Library unsafe. Afterwards, that turned out to be a theater student who had been instructed to be prominently present somewhere.
Schotting is not happy with the way the situation has unfolded. He has written a letter to the Dean of Geosciences to find out who has disrupted the lecture. "These people are ruining it for the students who have to make an exam shortly thereafter. It just couldn't be worse."