Virologist Marion Koopmans is the Alumna of the Year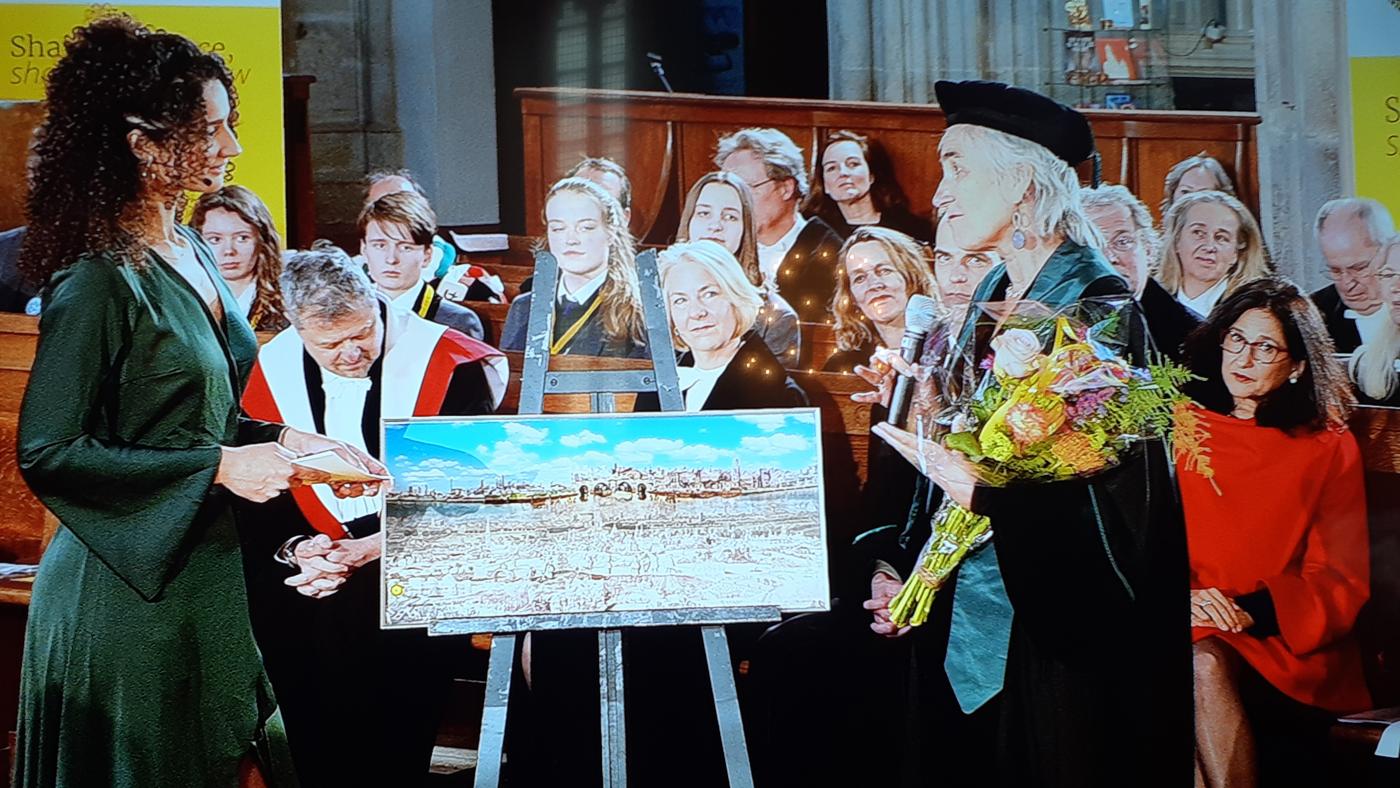 Marion Koopmans receiving her Alumnus of the Year painting from Dies Natalis host Naomi Kok-Luis. Photo: DUB
Marion Koopmans (65) studied Veterinary Medicine in Utrecht in the 1970s. "I remember going to lectures on Veeartenijstraat. Now the Paardenkathedraal hosts a theatre", Koopmans said during the celebration in the Dom church. This landscape, the Anatomy building and the Paardenkathedraal, are depicted in the painting she was offered.
Her dream was to become a veterinarian, but towards the end of her studies, she researched a bovine virus that could also infect humans. "That was my first encounter with Epidemiology." According to Koopmans, humans can learn a lot from the way viruses spread in animals. "In animals, herd immunity plays a much larger part".
She then dove further into virus research and is now a Virology Professor at Erasmus University, in Rotterdam. Last year, Koopmans became famous after joining the Outbreak Management Team (OMT), the team of experts advising the Dutch government on how to tackle the pandemic, as well as the research team of the World Health Organisation (WHO).
Impact and public debate
The panel commended the way Koopmans shares her impressive research results with the public. She became famous almost overnight and the way she deals with the negative sides of sharing unwelcome news is remarkable in the eyes of the panel. Additionally, Koopmans has experienced the friction between politics and science firsthand. Despite all the people trying to intimidate her, she kept fulfilling her role, engaging in dialogues with tremendous energy – not just in real life but also on social media, on the radio and on television shows. Marion Koopmans was nominated for the Alumnus of the Year award by the Faculty of Veterinary Medicine, which celebrates its 200th anniversary this year, making her victory even more special.
Alumnus of the Year
The Alumnus of the Year award aims to stress that alumni are an important and integral part of UU's academic community. After all, UU is looking for solutions for the challenges of this time alongside students, scientists, societal partners, the government, industry, and, of course, alumni. The Alumnus of the Year is someone who has helped their field progress and dares to venture off the beaten track. They are societally engaged and an inspiration to current students. Previous winners of the Alumni of the Year award include Marjan Minnesma, Feike Sijbesma, Cathelijne Broers, Jan Beuving and Rutger Bregman.
Award
The Alumnus of the Year award itself is a work of art by Utrecht-based artist Nissim Men. It depicts a place in Utrecht that means a lot to the winner. The award is an initiative from the Utrecht University Fund.
Panel
The panel consists of Harald Miedema MBA (panel chair, alumnus and vice-chair of the board of the Utrecht University Fund), José van Dijck (alumna, university professor and member of the board of the Utrecht University Fund), Merel Dekker (alumna and student assessor to the Executive Board), Monique Mourits (alumna and Communication & Marketing Director), Floris de Gelder (alumnus), and James Kennedy (professor).